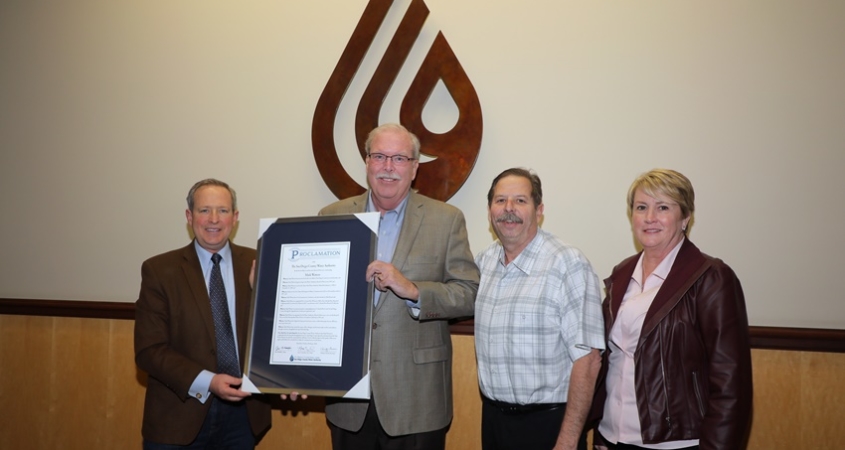 The San Diego County Water Authority's Board of Directors on Thursday honored Otay Water District General Manager Mark Watton for 37 years of public service in the water industry.
The Board issued a proclamation congratulating Watton on "his long and distinguished service to San Diego County upon his upcoming retirement from the Otay Water District" and commended him "for a lifetime of service that has improved the quality of life in our region."
After 15 years leading the water agency that serves Southeastern San Diego County, and nearly four decades representing the water interests of the county and state, Watton plans to retire in late March. He first served on the Water Authority's Board of Directors in 1985 and was Board Chair from 1995 through 1996.
"A wonderful career" — Mark Watton
Watton's water industry career began in 1983, when he was elected to Otay's Board of Directors. He served in that role for 18 years. Watton was then hired as Otay general manager in 2004.He currently manages the district's $106 million annual operating budget and 138 employees.
"I'm completely satisfied. It's been a wonderful career," said soon-to-retire General Manager Mark Watton. "It's so gratifying to retire in this industry, knowing there is a new generation coming in, like our new general manager, to continue doing a great job."
Watton was referring to Otay's Assistant Chief of Water Operations, Jose Martinez, a U.S. Navy veteran, who was recently hired to be Otay's new general manager.
Watton also was instrumental in securing high-priority Colorado River water for San Diego County through the Quantification Settlement Agreement.
"Mark was a key player in diversifying the region's water supply by securing highly reliable supplies from the Colorado River that will continue to benefit our region for decades," said Water Authority Board Chair Jim Madaffer. "If we had a hall of fame for water pioneers in the San Diego region, Mark Watton would definitely be a member."
Today @sdcwa honored @OtayWater GM Mark Watton with a proclamation for "his long distinguished service to SD County upon his retirement from the Otay Water District." Chair @JimMadaffer commended him for a lifetime of service that has improved the quality of life in the region. pic.twitter.com/VgfhGG2xOa

— Otay Water District (@OtayWater) February 28, 2020
Innovative leadership
The Otay Water District provides water, recycled water, and sewer service to approximately 224,000 customers within roughly 125 square miles of southeastern San Diego County, including the communities of Chula Vista, Jamul, Spring Valley, Rancho San Diego, and unincorporated areas of El Cajon and La Mesa, as well as Otay Mesa along the international border with Mexico.
Under Watton's leadership, Otay has enlisted the use of drones to modernize preliminary inspections of the district's 40 potable water reservoirs, four recycled water reservoirs, 20 pump stations, and a recycled water treatment plant. Drone technology saves employee time, improves the safety of workers performing inspections, and ultimately delivers greater value to Otay's customers.
Watton has also presided over Otay's deployment of its state-of-the-art leak detection and repair program that has reduced water loss 43% over seven years. In 2018, a 3.3% reduction in water loss saved Otay customers $1.3 million, helping to keep rates low.
"Not only has Mark made a significant impact locally for Otay's service area, but also regionally and statewide," said Otay Board President Gary Croucher. "He is an influential thought leader in the water industry and his commitment to our region is unmatched."
Prudent financial manager
Watton's leadership has maintained Otay's AA credit rating from Standard & Poor's for more than a decade. While many public agencies struggle to keep up with their pension obligations, Watton's prudent management of Otay's finances made it possible to fully fund the District's Other Post-Employment Benefit plan and substantially fund its pension plan in upcoming years.
An innovator throughout his career, he identified an opportunity for a binational solution to Otay's continued need to diversify its water supplies. On May 16, 2017, the U.S. Department of State granted Otay a presidential permit to build a nearly four-mile potable water cross-border pipeline and associated facilities at the U.S.-Mexico border for the importation of desalinated seawater produced in Mexico. Although obtaining the presidential permit was a milestone accomplishment, Otay's part of the project is no longer moving forward.
https://www.waternewsnetwork.com/wp-content/uploads/2020/02/Bd.Meeting.2.27.2020x004-Resized.jpg
579
850
Ed Joyce
https://www.waternewsnetwork.com/wp-content/uploads/2018/02/water-news-network.png
Ed Joyce
2020-02-27 20:37:53
2020-02-28 16:20:58
Water Authority Board Honors Retiring Otay Water District GM Mark Watton