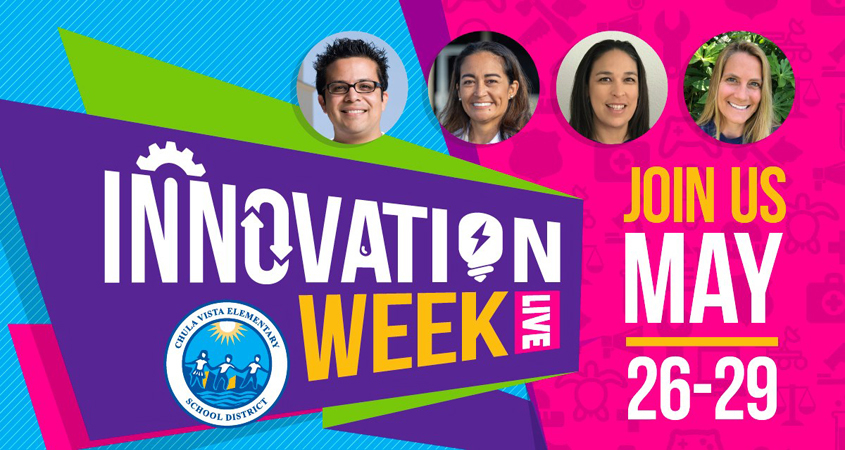 The Chula Vista Elementary School District's "Innovation Week 2020" from May 26 to 29 will make a virtue of going virtual, inviting the community to participate along with its students in four live science education events. The activities include a Hydro Station lesson about groundwater aquifers.
The Hydro Station is an interactive educational space at the Richard A. Reynolds Groundwater Desalination Facility, operated as a joint partnership between the school district, the Otay Water District, and the Sweetwater Authority.
"We're proud that the school district can continue offering its programs at a time that's needed now more than ever," says Tenille Otero, Otay Water District communications officer. "Even better, is that anyone outside of the school district can experience these wonderful programs that the district offers."
Live interactive events for students and public
"We are very excited to bring our innovative learning experiences to the San Diego region and beyond through these live, online events," said Michael Bruder, instructional services coordinator with the Chula Vista Elementary School District. "We are also grateful to have the support of our wonderful community partners in making this happen."
Treats teach kids about groundwater on May 28
On Thursday, May 28, at 1 p.m. Hydro Station instructor Christy Bystrak will lead "Building an Edible Aquifer."
Participants will learn about the geology of an aquifer including confining layers, contamination, recharge, and water tables, while constructing their own version using items found at home in the kitchen, including clear plastic cups, straws, food coloring, soda, ice cream, and different types of small candy or cereal.
Additional presentations include "Engineering Superhero Tech," "Cooking Up S'More Energy," and "Structures for Survival."
Located in southern San Diego County, the Chula Vista Elementary School District's 46 schools serve more than 29,600 students. Schools serve a vibrant, diverse community that features a blend of residential areas, recreational facilities, open space, and light industry.
CVESD offers innovative partnerships such as the Hydro Station project with the Otay Water District and Sweetwater Authority as a vital part of its technology-based curriculum to develop students' creativity, critical thinking, communication, and collaboration skills.
https://www.waternewsnetwork.com/wp-content/uploads/2020/05/Innovation-Week-Banner-845X450.jpg
450
845
Gayle Falkenthal
https://www.waternewsnetwork.com/wp-content/uploads/2018/02/water-news-network.png
Gayle Falkenthal
2020-05-26 15:11:28
2020-05-27 05:41:08
Hydro Station Joins Virtual 'Innovation Week' May 26-29