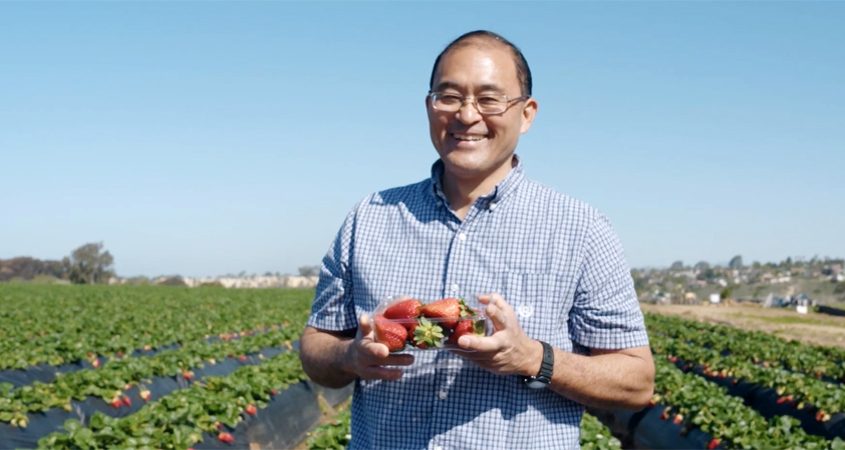 The San Diego County Farm Bureau named third-generation Oceanside farmer Neil Nagata its 2021 Farmer of the Year. The Farmer of the Year award is presented to an active or retired farmer who has had a positive impact on the agriculture industry, is active in the community beyond agriculture, and has represented the agricultural industry publicly on behalf of farming interests.
Nagata is the President of Nagata Brothers Farms. In 1902, Nagata's grandfather immigrated to California from Japan and began farming strawberries in 1920. Nagata's father George and his brothers formed Nagata Brothers Farms, and his son Neil took on the business 34 years ago. "From that point on, I've been farming strawberries ­– so three generations of California strawberry growers."
Nagata joined the California Strawberry Commission in 1991 and served as a board member and past chairman of their organization. In a video produced by the California Strawberry Commission, Nagata talked about his life as a farmer alongside his 98-year-old father George, who retired just a few years ago and who still lives on the farm in Oceanside.
Facing the challenges of farming in a drought
Throughout his three decades in farming, Nagata says water management has always been a significant challenge.
"We've had to become very efficient and very conservative with our water. When I first started, (irrigation) technology was more rudimentary," said Nagata.
Now, advances are helping California's family farms survive.
"Electronic controls and electronic monitoring offer efficiency," he said. "There is greater ease of application for field use. Costs have come down. The quality of materials has improved with advances in technology and materials. Things have become more efficient. We're still here."
In addition to his growing experience, Nagata is an expert in many aspects of agriculture and biological science, including field and commercial research and production. He says it takes a scientific mind and a lot of passion to be a good strawberry grower. Nagata says his father made a strong impression with his care of the land.
"All the strawberry farmers that I know including myself, really care about the land, the fruit that we produce, and the people that work for us," said Nagata. "It's really all-encompassing. We try to do what's right for everybody.
"At the end of the day, we want to present something that is beneficial to our consumers and healthy and good for you, and tastes good. I still eat strawberries, and my favorite way is right out of the field," he said. "My favorite thing about strawberry growing is being able to have people enjoy what I produce. It's really rewarding when people just say, "You have the best strawberries."'
Advocate, mentor, and philanthropist supporting farming
Neil Nagata served as San Diego County Farm Bureau President from 2017 – 2019, and has been a board member since 2008. He works with regulators and legislators to support fruit and vegetable production in the U.S. and Internationally. Nagata has also been involved with many other agricultural associations.
Nagata is the founding president of the non-profit California Strawberry Growers Scholarship Fund, providing scholarships for children of California strawberry farmworkers. During the past 26 years, over $2 million has been raised and gifted to farmworkers' children.
Nagata will be the guest of honor at the County Farm Bureau's annual Farmer of the Year event in October and celebrate his recognition among the agriculture community with family and friends.
(Editor's note: The San Diego County Farm Bureau is a non-profit organization supporting the more than 5,700 farms within the county. The mission of the Farm Bureau is to foster San Diego agriculture through education, public relations, and public policy advocacy in order to promote the economic viability, sustainability, and community building of agriculture. For more information: www.sdfarmbureau.org.)
https://www.waternewsnetwork.com/wp-content/uploads/2022/09/Nagata-Farms-845X450.jpg
450
845
Gayle Falkenthal
https://www.waternewsnetwork.com/wp-content/uploads/2018/02/water-news-network.png
Gayle Falkenthal
2022-09-22 10:34:37
2022-09-22 10:34:37
Neil Nagata is 2021 San Diego County Farmer of the Year