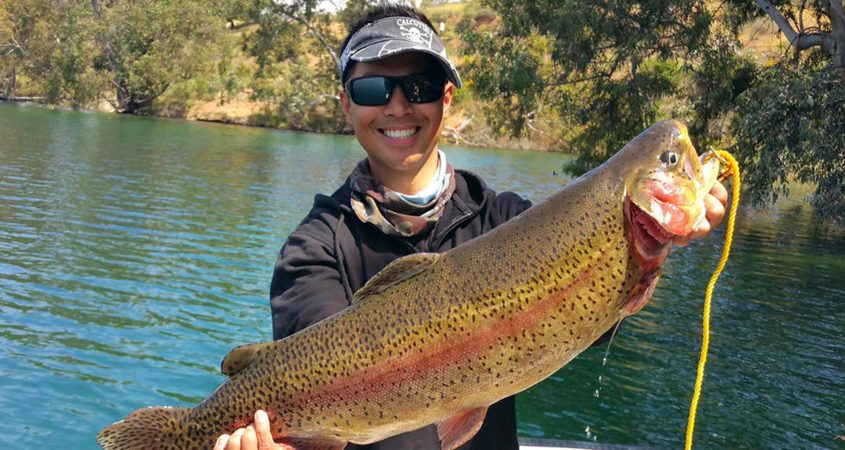 The 2021 trout season opened Nov. 19 at Lake Jennings, the Helix Water District reservoir in Lakeside. The lake is one of San Diego County's hot spots for trout fishing, ranked second in the county by SDFish.com.
The first delivery of 2,000 pounds of trout traveled 913 miles from Idaho in an oxygenated truck to stock the lake. The first of 12 biweekly trout stock came from Wright's Rainbows in Thatcher, Idaho. A total of 20,000 pounds will be stocked every two weeks through the week of April 18. Anglers can also catch large-mouth bass, red-ear sunfish, bluegill, channel and blue catfish.
Fishing one of several fall family activities  at Lake Jennings
In addition to other recreational activities, Lake Jennings is where the Helix Water District stores imported water from the Colorado River and Northern California. After treatment, the water is supplied to 277,000 people in San Diego's East County, including the cities of La Mesa, Lemon Grove, and El Cajon, the Spring Valley community.
Helix Water District is also part of a collaborative partnership for the East County Advanced Water Purifcation project, along with Padre Dam Municipal Water District, the County of San Diego, and the City of El Cajon. The plant is expected to provide 30% of current drinking water demands for East County residents when completed in 2025.
Trout fishing on the shore
Fishing is accessible on the shoreline, on the lake's fishing dock, or from kayaks or a 16-foot skiff with an outboard motor available for rental. Rental boats are on a first-come, first-served basis. Anglers can also launch privately owned boats.
During the opening weekend of trout season in 2020, Lake Jennings issued 931 permits, including 161 for children, an increase of 10% over 2019. The lake is open for shore fishing daily from 8 a.m. to 5 p.m. Anglers must purchase a daily permit from the campground check-in kiosk. Five miles of shoreline provides ample space for social distancing.
Catch our trout opener this Friday, November 19, at @lakejennings! We're kicking the season off by stocking the lake with 2,000 pounds of trout. Details at https://t.co/cqk0BaxydI. #LakeJennings #fishing #hiking #camping pic.twitter.com/mctYKg5foQ

— Helix Water District (@helixwater) November 18, 2021
Record catch, recommended lure
The recommended lure for trout arriving this weekend is mini jigs, an all-purpose lure that attracts trout, bass, crappie, and bluegill. To help cast the lightweight lure, lake staff recommend attaching a bobber five to six feet above the mini jig. Popular jig colors for trout season are pink, orange, and chartreuse.
The current lake record is held by Chris Sprecco, who caught an 84.4 lb. blue catfish on January 18, 2020. Sprecco broke a longstanding previous lake record of a 71.3 lb. blue catfish held by Bob Bowden on June 1, 2014.
Dock and boat fishing are available Friday, Saturday, and Sunday. The bait and tackle shop is also open Friday through Sunday.  Check the lake's website for the latest hours and information. Anglers can sign up for the weekly Lake Jennings fishing report sent by email at the lake's website.
(Editor's note: The Helix Water District and the Padre Dam Municipal Water District are two of the San Diego County Water Authority's 24 member agencies that deliver water across the metropolitan San Diego region.)
https://www.waternewsnetwork.com/wp-content/uploads/2021/11/Trout-Opener-1-845X450.jpg
450
845
Gayle Falkenthal
https://www.waternewsnetwork.com/wp-content/uploads/2018/02/water-news-network.png
Gayle Falkenthal
2021-11-18 05:47:54
2021-11-19 18:05:38
Trout Season Opens at Lake Jennings