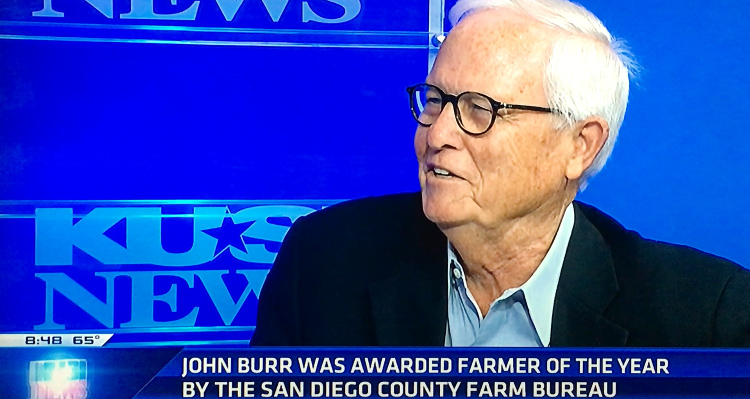 Growing water-intensive crops like avocados in San Diego County is no small feat. Producing avocados requires the use of innovative farming methods to supply the trees with enough water.
It's the use of innovative farming methods that earned John Burr the title of San Diego County's Farmer of the Year – an honor he recently celebrated on KUSI-TV with Water Authority Board Chair Jim Madaffer as part of the agency's Brought to You by Water outreach and education program.
Innovative farming methods
Over the past few months, the Water Authority partnered with local agriculture industry leaders like the San Diego County Farm Bureau to highlight the importance of safe and reliable water supplies for more than 5,500 local farms that are part of the county's $4.8 billion agriculture industry.
Local farmers like Burr are invaluable in growing the agricultural bounty that sustains 3.3 million residents and the region's quality of life.
Found in everything from tacos to smoothies to toast, avocados have become a staple in California cuisine and, with only about 10 inches of annual rainfall in the San Diego region, it takes innovation and technology to grow the popular fruit.
Technology saves water
For decades, Burr has been perfecting the operations on his Escondido farm, using state-of-the-art technology like the California Irrigation Management Information System. Two different satellite systems allow him to regulate irrigation by zones to determine precise water amounts to prevent using too much or too little water on his trees.
Satellites collect data, which Burr then analyzes with spreadsheets to determine how many gallons of water each tree requires. Every bit of data collected, from water usage to atmospheric conditions to soil type, allows Burr and his team to streamline their operations to be even more water-efficient.
"In San Diego County, we have to get the most out of our crops with the least amount of water," said Burr, who irrigates his farm with water from the City of Escondido. "When the weather varies with changing seasons or fluctuating weather patterns, providing the right amount of water at the right time is paramount to using water efficiently. These technologies provide the information and tools that allow us to do that consistently, and ensure our crops grow successfully."
Efficient land use conserves water
Those who see Burr's farm may also notice another difference from the typical avocado farm, which is that his groves are designed for high-density planting.
"A typical avocado grove can have about 100 trees, but ours have about 400 in the same area of land. This cuts our water usage in half," he said.
Each tree is also limited in height to prevent water loss through transpiration. This is especially important in a region like San Diego County, where temperatures can rise quickly on summer days.
https://www.waternewsnetwork.com/wp-content/uploads/2019/06/john-foty845x450.jpg
399
750
Kristiene Gong
https://www.waternewsnetwork.com/wp-content/uploads/2018/02/water-news-network.png
Kristiene Gong
2019-06-24 08:22:09
2019-06-26 11:29:59
San Diego's Farmer of the Year Taps Every Drop