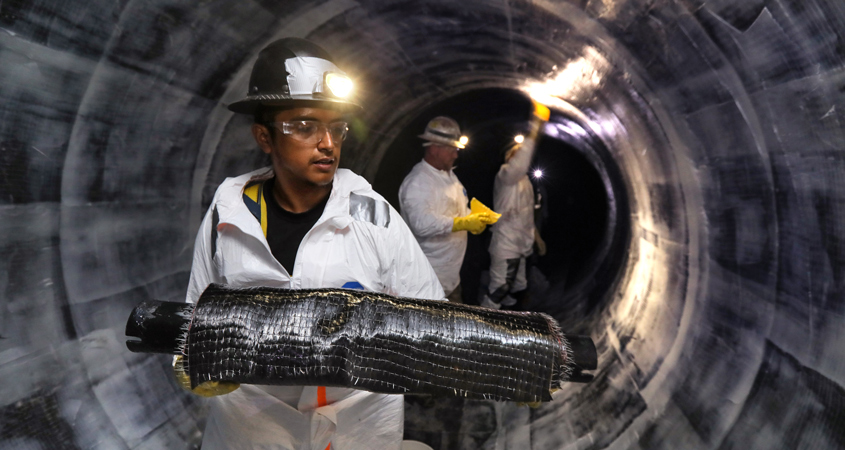 Pipeline 4 – one of the San Diego region's major water pipelines – is back in regular service after a leak was repaired, a testament to the San Diego County Water Authority's proactive asset management program.
The pipeline resumed normal operations November 10 after nearly two months of modified operation. The leaky section was near Camino Del Rey in Bonsall, in an area with no adjacent homes or businesses.
"The shutdown and repair work went smoothly, and we could not have done it without the support and coordination from Water Authority staff, our contractors and member agencies, particularly, Fallbrook PUD, Rainbow MWD, Valley Center MWD, and Vallecitos Water District," said Neena Kuzmich, Water Authority engineering manager.
Carbon fiber section will protect Pipeline 4
Water Authority crews detected a leak in the 90-inch diameter Pipeline 4 in the Moosa Canyon area in August.
Crews installed bulkheads in the pipeline to isolate the leak area for repairs. The bulkheads allowed the pipeline to continue treated water deliveries throughout the county in a modified fashion and restored full service to retail water agencies.
The Water Authority installed a carbon fiber liner to give the pipeline several more years of service, while a longer-term solution is developed and implemented.
Once the repairs were completed, a second shutdown was needed to remove the bulkheads and return the pipeline to full, normal operations.
Pipeline 4 is one of five major pipelines operated by the Water Authority.
Proactive approach keeps pipelines healthy
By relining the pipes and conducting timely repairs with the latest technology, the Water Authority has avoided major pipeline failures for more than decade.
Extending the life and reliability of major pipelines is one facet of the agency's proactive asset management program. Real-time monitoring and other pipeline assessment tools help the Water Authority avoid pipeline failures by identifying potential problems in advance.
As part of its proactive approach, the Water Authority continually assesses and rehabilitates pipelines serving the San Diego region. The agency operates 310 miles of large-diameter pipelines, along with 1,600 aqueduct-related structures, and approximately 100 metering/flow-control facilities.
Approximately 82 miles of the pipelines are pre-stressed concrete cylinder pipes. These types of pipes were installed between the early 1960s and late 1980s and have experienced premature failures and shown areas of degradation.
In the past few years, the Water Authority has continued to extend the service life of pipelines with relining projects, including Pipeline 3 between Lake Murray and Sweetwater Reservoir, and Pipeline 5, in the Fallbrook area.
https://www.waternewsnetwork.com/wp-content/uploads/2019/11/845x450-Fibrwrap.pipe_.10.17.2019.jpg
450
845
Ed Joyce
https://www.waternewsnetwork.com/wp-content/uploads/2018/02/water-news-network.png
Ed Joyce
2019-11-13 08:28:32
2019-11-14 11:14:50
Pipeline 4 Repairs Completed In North San Diego County