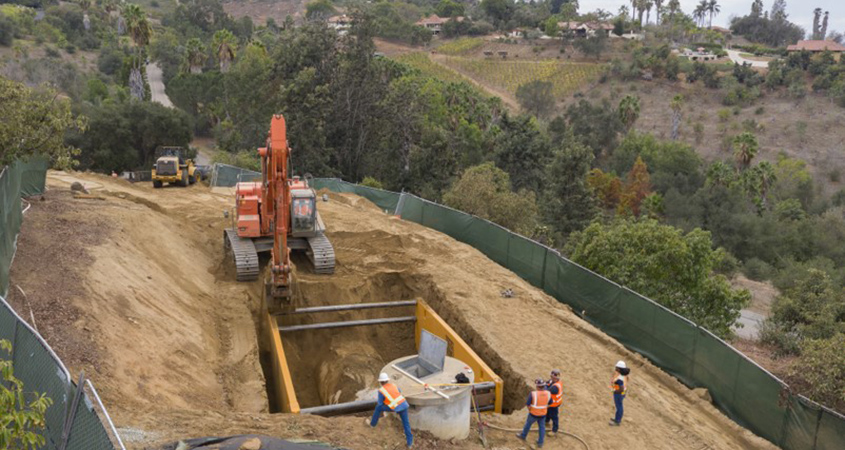 San Diego County Water Authority crews completed relining a segment of Pipeline 5 in Fallbrook and San Marcos in late July, reaching a milestone in a strategic, multi-decade pipeline relining program. The 2.3-mile segment of Pipeline 5 was relined with new steel liners that are planned to last for more than 75 years.
The proactive pipeline relining program is a crucial part of asset management efforts that improve the reliability of San Diego County's water supplies.
30-year pipeline relining program
Since the relining program began in 1991, nearly 47 miles of pre-stressed concrete cylinder pipe have been rehabilitated. This constitutes more than half of the total PCCP in the Water Authority system. The remaining 35 miles are expected to be rehabilitated by 2027.
The Pipeline 5 project was conducted in eight segments to minimize impacts to the nearby communities of Fallbrook and San Marcos.
Proactive measures to protect infrastructure
Pipeline relining is an efficient technique used on long stretches of pipelines. It involves inserting new steel liners into the existing pipes. The new liners can extend the lifespan of the pipe by several decades.
"Relining our existing pipes is quicker and more cost-effective than excavating, removing and replacing an entire pipeline," said Gary Olvera, senior construction manager at the Water Authority. "In partnership with our member agencies, the Water Authority has developed an efficient and proactive plan to ensure continued water supply reliability for the entire region."
Innovative technique to minimize impacts
To access Pipeline 5, crews excavated dirt to create eight 25-foot by 60-foot access portals spaced roughly 525 to 2,500 feet apart. During construction, crews eliminated two of the originally planned portals, helping save more than $217,000. Most of the work was then performed underground, inside the pipe.
Once the new liner was installed, the joints were welded together. Then, each new steel liner was coated with a cement mortar lining. Finally, the portals were backfilled, the pipeline was disinfected, and the pipe was put back into service.
Maintaining regional water supply reliability
Large-diameter pipelines operated by the Water Authority and its 24 member agencies extend approximately 310 miles to convey water throughout San Diego County.
Approximately 82 miles of the pipelines are pre-stressed concrete cylinder pipes. These types of pipes were installed between the early 1960s and late 1980s and some are nearing the end of their service life.
By relining the pipes ahead of time or conducting timely repairs with the latest technology, the Water Authority and its member agencies avoid pipeline failures and improve the reliability of future water supplies.
https://www.waternewsnetwork.com/wp-content/uploads/2019/08/portal-excavation-shored-trench-845x450.jpg
450
845
Kristiene Gong
https://www.waternewsnetwork.com/wp-content/uploads/2018/02/water-news-network.png
Kristiene Gong
2019-08-07 16:22:27
2019-08-07 16:22:27
Innovative Pipeline 5 Relining Completed