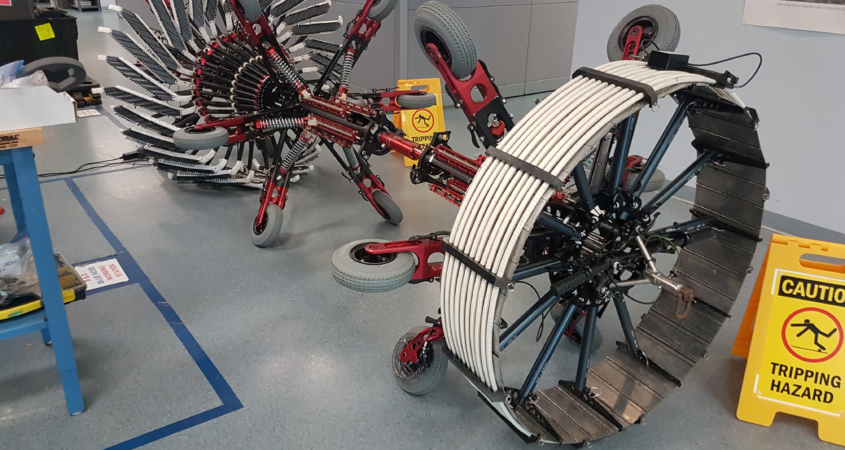 This summer, the Water Authority is partnering with three technology companies to test the condition of the agency's oldest pipelines forming the First Aqueduct in Valley Center. Technology providers test their new and improved tools on Water Authority and member agency pipes. The tools are then used to assess the condition of those same pipes.
This efficient strategy ensures maximum condition assessment accuracy. The strategy also allows for technology to keep up with what water agencies need and minimizes costs. Targeted repairs and maintenance activities maximize the life expectancy of some of the region's most critical infrastructure.
Industry leaders in pipeline condition assessment
The Water Authority turned to experienced contractors from the oil and gas industry to effectively and efficiently identify corrosion issues on the 70-year-old pipe:
Pure Technologies' regional headquarters in San Diego brought its near-field electromagnetic inspection expertise to assess low-pressure portions of the reinforced concrete pipelines using the PipeWalker® tool.
Pipeline Inspection and Condition Analysis Corp. (PICA) from Edmonton, Alberta, assessed medium-to-high pressure zones on a similar type of pipe construction that includes an additional steel cylinder. Their Electromagnetic Inspection Tool (EMIT®) was deployed to find areas of distress and corrosion.
Diakont, based in Carlsbad, deployed two of their unique RODIS® robotic tools to use laser profilometry and Electromagnetic Acoustic Transducer (EMAT) technologies to assess thick steel pipe in the highest-pressure zones.
About a quarter of the planned work has been completed. The remainder is scheduled over the next 18 months.
Did you know the Water Authority uses robotic technology to inspect large-diameter pipelines? These robotic inspectors were designed by Diakont to help check within pipelines for areas that may need repairs. ? #cawater #innovation pic.twitter.com/4ywnyQ1Eb6

— San Diego County Water Authority (@sdcwa) September 20, 2019
Outstanding record of innovation
For more than 20 years, the Water Authority has been developing innovative ways to maintain major water infrastructure worth billions of dollars.
Establishing unique partnerships with leading technology providers has ensured the best available tools are used in the most cost-effective ways. And, the strategic partnerships allow operations and maintenance teams to extend the lifespan of pipes as well as prevent failures.
In addition to extending pipeline lifespan, high-tech inspection tools are part of a proactive maintenance and repair process by reliably detecting pipeline anomalies and alerting staff to where potential problems may arise. As the tools travel through pipes, data is collected, downloaded and analyzed by staff. Then specific areas where repairs may be needed are identified. Without accurate data, staff would not be able to identify potential issues within the pipes, which could lead to disrupted service and inflated costs.
https://www.waternewsnetwork.com/wp-content/uploads/2019/07/pipewalker_845x450-e1564502232827.jpg
450
845
Kristiene Gong
https://www.waternewsnetwork.com/wp-content/uploads/2018/02/water-news-network.png
Kristiene Gong
2019-08-01 16:58:26
2019-09-23 16:15:04
Proactive Partnerships Keep Pipelines in Top Shape