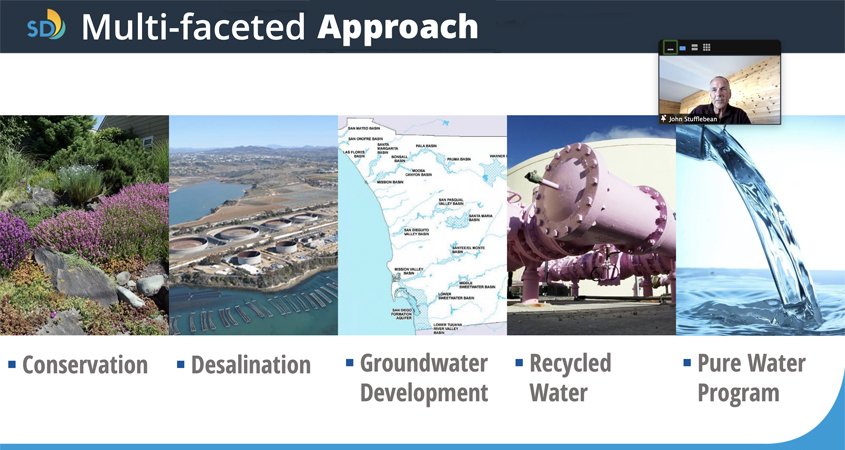 Three potable water reuse or recycling projects under development in the San Diego region were highlighted this week during the San Diego Green Building Council's inaugural "Sustainable Building Week San Diego."
The Sustainable Building Week programs focused on sustainable practices and creating collaboration and networks among San Diego professionals involved with environmental stewardship and green building.
The panel discussion, "Potable Reuse: New Local Sources of High-Quality Drinking Water for San Diego County," updated the development status and future benefits of three projects: Pure Water Oceanside, Pure Water San Diego, and the East County Advanced Water Purification program. Attendees learned how the technology works and how it reduces reliance on imported water, while increasing local supply.
Multiple benefits to the environment
"Potable reuse has multiple benefits, including sustainability and drought resilience," said Lesley Dobalian, principal water resources specialist for the San Diego County Water Authority and the panel moderator.
Pure Water Oceanside
"Water supplies are subject to lots of vulnerabilities, including rising costs, energy consumption, natural disasters, and eco-system and environmental issues," said Cari Dale, City of Oceanside water utilities director. "Pure Water Oceanside replicates and accelerates Nature's natural recycling process."
The City of Oceanside is working toward creating 50% of its water supply locally, including Pure Water Oceanside, by 2030.
East County AWP
Kyle Swanson, director of advanced water purification with the Padre Dam Municipal Water District, said the East County Advanced Water Purification project would recycle 15 million gallons of annual wastewater discharge into a resource. Currently, wastewater from East County travels 20 miles to be discharged into the San Diego metropolitan wastewater treatment system and eventually into the Pacific Ocean.
"Redistribution of this water would meet 30% of the demand for potable water in East County," said Swanson. "It is sustainable, uninterruptable, and competitive in costs."
Pure Water San Diego
Pure Water San Diego is the $5 billion project designed to generate 83 million gallons of water per day by 2035, nearly one-half of San Diego's water demand based on the new 2021 urban water management plan.
"That's pretty exciting, half our water supply is from this project," said John Stufflebean, assistant director, City of San Diego Water Utilities Department.
Phase 1 will produce 30 million gallons of water per day by 2025; Phase 2 will deliver the remaining supply.
Potable reuse will provide a new source of safe, high quality drinking water in San Diego County. This local supply is sustainable, drought resilient, and benefits the environment. It will also help prepare the region for future droughts and a changing climate.
https://www.waternewsnetwork.com/wp-content/uploads/2021/04/SDGBC-John-Stufflebean-845X450.jpg
450
845
Gayle Falkenthal
https://www.waternewsnetwork.com/wp-content/uploads/2018/02/water-news-network.png
Gayle Falkenthal
2021-04-14 12:35:08
2021-04-15 17:45:58
Water Reuse Projects Highlight Sustainable Building Week