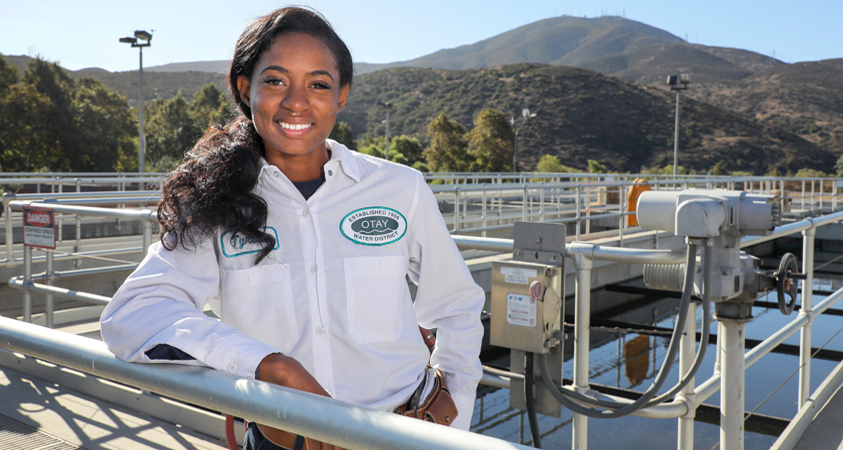 Career opportunities for women in the water and wastewater industry at every level are the focus of the third annual Women in Water Symposium January 16 at Cuyamaca College.
Vanessa Murrell, grant manager for the Center for Water Studies at Cuyamaca College, said the conference's goal in its third year is to create a community of people with the interest and aptitude to take on what were previously considered non-traditional careers.
"It's a matter of recruiting great talent that transcends gender and ethnicity," said Murrell. "It's making sure the water workforce represents the community it serves."
For the first time, the Women in Water Symposium will have three tracks: sessions for those interested in starting their career in water; those seeking career advancement; and established professionals interested in forming professional alliances and promoting workforce diversity.
"We all have a vested interest in water," said Murrell. "We cannot function without it. It's vital for us to take part in maintaining this crucial resource."
"It is good for anyone to attend, regardless of gender," she said. "There is a lot you can learn from being in the room with the individuals and taking it all in. The energy has been amazing at the last conferences. This conference promotes the best of the industry."
Passing the baton to the next generation of water workforce professionals
The San Diego County Water Authority will be among the water industry employers offering career information at the conference.
The Water Authority and its 24 member agencies created a regional workforce development task force to address the 'Silver Tsunami' of employees reaching retirement age.
"There are approximately 4,500 water and wastewater positions in the San Diego region and more than 1,400 of those workers are expected to reach retirement age by 2024," said Gretchen Spaniol, acting special projects manager with the San Diego County Water Authority. "Those retirements provide an opportunity to diversify the water industry workforce, and the Women in Water conference is a great starting place to explore careers in water."
The series of workshops between 8 a.m. and 3 p.m. wraps up with a tour of the Water Conversation Garden.
Lunch, refreshments, and parking are included in the $35 registration fee. Registration is free for students. For more information about the symposium and Cuyamaca College's Center for Water Studies, go to centerforwaterstudies.org.
https://www.waternewsnetwork.com/wp-content/uploads/2020/01/Tyrese.Powell.003.845X450.jpg
450
843
Gayle Falkenthal
https://www.waternewsnetwork.com/wp-content/uploads/2018/02/water-news-network.png
Gayle Falkenthal
2020-01-09 15:40:53
2020-01-15 16:49:06
Workforce Diversity Focus of 'Women in Water' Conference