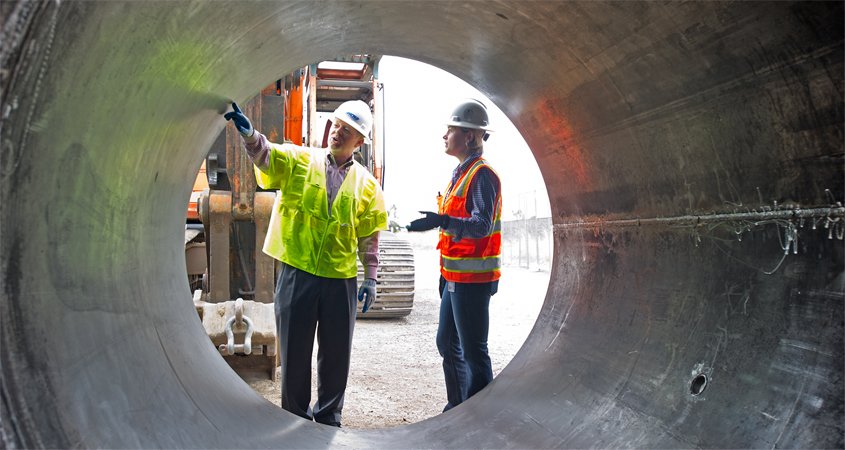 Driven by the rapidly growing demands for skilled career professionals in the water and wastewater industry, National University and Cuyamaca College will launch a new degree pathway program starting in February 2021.
Developed in collaboration with regional employers, the new Bachelor of Public Administration degree with a concentration in Waterworks Management provides a seamless pathway for graduates of the Cuyamaca College Center for Water Studies to transfer into the bachelor's program after earning their associate's degree. Transfers are also available to graduates of other community colleges.
"Responding to regional workforce needs, National University and Cuyamaca College are excited to roll out the Waterworks Management academic pathway, informed by industry leaders," said Dr. Sara Kelly, academic program director at National University. Transfer scholarships are available for qualifying students.
Transfer program reduces completion time, cost
The new collaboration allows students to complete both an associate's and a bachelor's degree while reducing the time and cost. Student support services at both institutions help foster a seamless process for students to transfer from Cuyamaca College to National University.
"Working collaboratively with National University, we can help our region and state respond to the need for skilled and educated water and wastewater professionals," said Cuyamaca College President Julianna Barnes. "We know that with impending retirements in the industry, there will be a need for 12,000 to 20,000 water and wastewater professionals throughout the state in coming years."
As current seasoned leaders retire, water and wastewater agencies struggle to fill job vacancies requiring a focused bachelor's degree. Students earning the new degree will complete National University's four-course concentration of upper-division courses studying water and waterworks management and leadership, water law and compliance, and human resources and labor law.
Graduates will be able to address the issues and challenges facing water and wastewater agencies at the state, regional, and local levels, including governing requirements and regulatory compliance while employing water management best practices.
Courses taught by water industry professionals
Dr. Joseph Allen, Director of Community College Pathways at National University, said the curriculum was constructed based on the insight and recommendation of regional employers, coordinated by Cuyamaca College and the San Diego County Water Authority.
"There was a need for highly trained leadership in this industry," said Allen. "This program provides a bachelor's solution to train the management and leadership in the specific leadership areas needed in addition to the Associate's degree in this field. Cuyamaca College has a solid program for the technical side and the frontline workers. Our new program is the next step in preparing the leaders of tomorrow for waterworks management."
The program took more than a year to develop. Qualified water industry professionals from the Water Authority, regional member agencies, and consulting experts will teach courses.
"There is phenomenal talent in connection with this program, from around the world and not just San Diego," said Kelly.
Cuyamaca College's innovative Center for Water Studies program is the oldest and most comprehensive of its kind in the California community college system. It prepares students for careers at water agencies as technicians, mechanics, electricians, engineers, plant operators, information technology specialists, and more. Program alumni are eligible for the National University program.
Degree program launches in February 2021
National University offers all courses online, starting with the first cohort of students in the program in February 2021. Administrators plan to eventually offer onsite and hybrid courses involving the Cuyamaca College Center for Water Studies field operations skills yard for hands-on experience.
As a veteran-founded, private nonprofit institution, National University is dedicated to serving service members, veterans, and their families. This new BPA waterworks concentration is particularly well suited for veterans using their GI benefits to further their education. Veterans are eligible to apply their military experience and education toward certifications in the water industry.
"There are so many different pathways in life," said Allen. "Whether you're 18, whether you're older. You've got family, children, and deployments. We're going to put you on the right pathway to help you reach your final destination in your career."
BPA program information is available on the National University website.
https://www.waternewsnetwork.com/wp-content/uploads/2021/01/Water-Careers-Pipeline-845X450.jpg
450
845
Gayle Falkenthal
https://www.waternewsnetwork.com/wp-content/uploads/2018/02/water-news-network.png
Gayle Falkenthal
2021-01-26 17:23:12
2021-08-08 15:00:56
New Regional Degree Program Responds to Water and Wastewater Workforce Needs