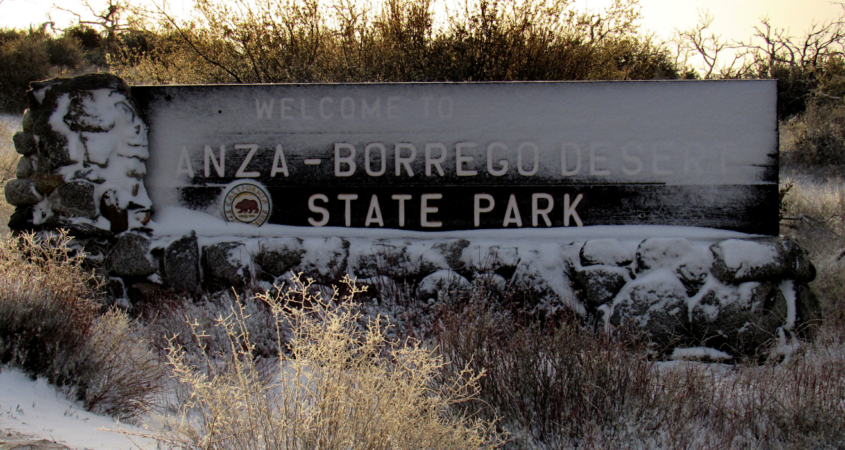 No 'March Miracle' for snow and rain in California, but the San Diego County Water Authority has diversified water supply sources to weather the boom-and-bust cycle of California winters.
March brought abundant precipitation throughout California, but not enough to offset a dry February. Most large urban water agencies in the state maintain a reliable water supply in wet and dry years.
"California's climate variability is why a water resilience portfolio is needed to provide a safe and plentiful water supply," said Goldy Herbon, Water Authority senior water resources specialist. "Whether a wet or dry year, the Water Authority and its 24 member agencies have successfully diversified water sources to ensure a reliable supply to meet the needs of the region's 3.3 million people."
The supply sources include water from the Claude "Bud" Lewis Carlsbad Desalination Plant, where ten workers volunteered to live on-site to keep the water flowing during the coronavirus pandemic.
March was wetter than normal for much of the region.

Some interesting numbers from last month: Palm Springs recorded their 4th wettest March on record, with more rain than San Diego!

San Diego recorded it's highest and lowest March temperature on the same day – March 3! #cawx pic.twitter.com/g0aIW7sqEv

— NWS San Diego (@NWSSanDiego) April 4, 2020
Lindbergh Field has received 9.76 inches of rain – or 108% of normal – from October 1, 2019 – April 2, 2020. Many areas in the San Diego region received snow in March, including the Anza-Borrego Desert State Park.
Even with a lackluster winter, the state's six largest reservoirs hold between 82% and 125% of their historical averages for April 1, according to the California Department of Water Resources. Lake Shasta is 98% of its historical average and is at 79% of capacity.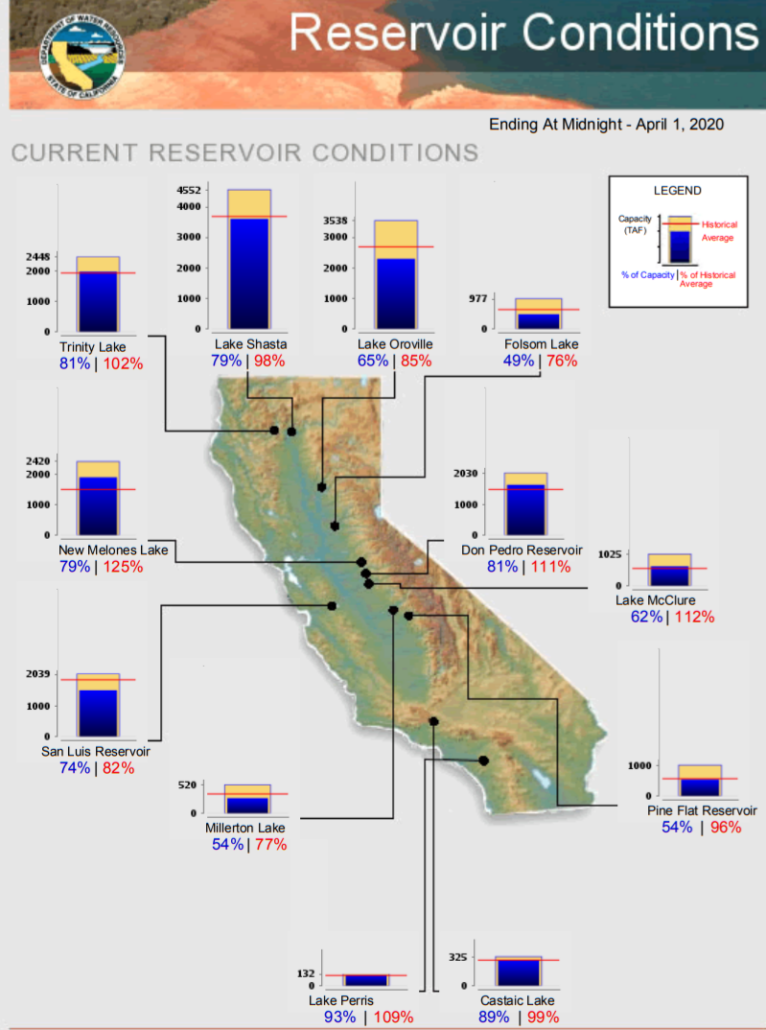 The Department of Water Resources April 1 conducted the fourth manual snow survey of 2020 at Phillips Station near Lake Tahoe. The manual survey recorded 43.5 inches of snow depth and a snow water equivalent (SWE) of 16.5 inches, which is 66% of the April average for this location.
The SWE measures the amount of water contained in the snowpack, which provides a more accurate forecast of spring runoff. Measurements from the 130 electronic snow sensors, scattered throughout the state, indicate that the statewide snowpack's water equivalent is 15.2 inches, or 53% of the April average.
"While today's survey results show our snowpack is better off than it was just last month, they still underscore the need for widespread, wise use of our water supplies," said DWR Director Karla Nemeth. "California's climate continues to show extreme unpredictability, and February's record dryness is a clear example of the extremes associated with climate change."
On average, the snowpack supplies about 30% of California's water needs as it melts in the spring and early summer, the state agency reported in news release.
#ICYMI DWR conducted the 4th Phillips Station snow survey of 2020. The manual survey recorded 43.5" of snow depth & a snow water equivalent of 16.5", which is 66% of avg. for this location.

Statewide, the Sierra snowpack is 53% of avg.

More here: https://t.co/LYJxIHicfC pic.twitter.com/8tRS9RrMFU

— CA – DWR (@CA_DWR) April 1, 2020
https://www.waternewsnetwork.com/wp-content/uploads/2020/04/Anza-Borrego-State-Park-Water-News-Network-Slider-e1585857333239.png
450
845
Ed Joyce
https://www.waternewsnetwork.com/wp-content/uploads/2018/02/water-news-network.png
Ed Joyce
2020-04-02 17:13:26
2020-04-04 11:51:03
Water Supply Diversification Overcomes Dry Winter