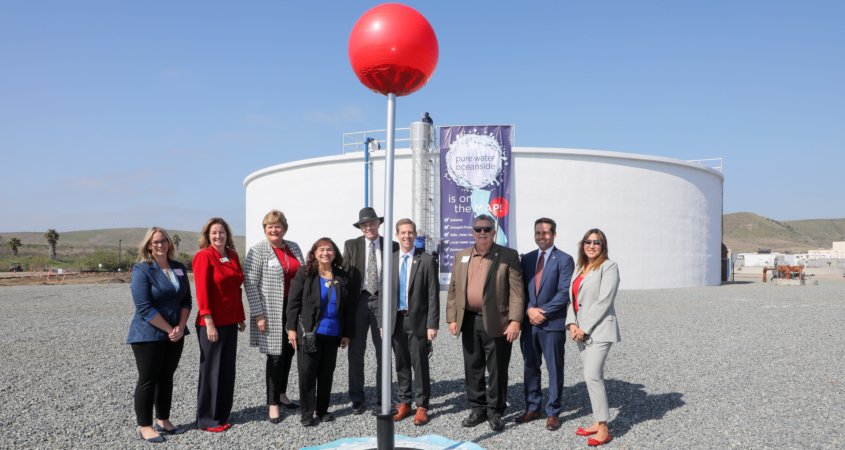 City of Oceanside officials and regional water industry leaders gathered today to break ground on Pure Water Oceanside, the first advanced water purification facility in San Diego County. The $67 million project – scheduled to be completed in 2021 – will purify recycled water sourced from the San Luis Rey Water Reclamation Facility.
"Today, we put Pure Water Oceanside on the map and are one step closer to achieving the goal of greater water-independence for our city, residents and businesses," said Cari Dale, Oceanside's water utilities director. "This future-focused project will provide multiple benefits by reusing our water resources to their full potential."
Reducing dependence on imported supplies
The local project will reduce Oceanside's dependence on imported water by more than 30%. The purification process is inspired by the natural water cycle and reduces the amount of recycled water discharged into the ocean.
The project is partially funded by the Local Resources Program through the San Diego County Water Authority and Metropolitan Water District of Southern California.
"The tremendous conservation focus, water infrastructure planning and investment by the Water Authority and its 24 member agencies has put our regional supplies in solid standing," said Water Authority General Manager Sandra L. Kerl. "The mission of providing reliable water supplies to San Diego County can be likened to a puzzle; there are many pieces that fit together to create an overall solution. Our next increment of supply in the San Diego region is from potable reuse projects."
Improving local resources in a sustainable way
During today's ceremony, city leaders and water experts placed a giant Google Maps "location pin" into the ground at the San Luis Rey Water Reclamation Facility, which marked that the new recycled water project is now officially on the map. Guests were invited to take tours of the existing facility to see the location of the new infrastructure and learn how purification technology works.
"Being on the map signifies not only that this project will be an historic landmark, but also a symbolic one that will serve as an example for other cities and agencies that are interested in initiating this type of program," said Jack Simes, acting area manager at the United States Bureau of Reclamation.
In addition to reducing dependence on imported water supplies, the project will improve groundwater resources and help protect the environment by reducing dependency on imported supplies that can disrupt ecosystems.
"We need to pursue new and innovative solutions to protect our land and water for future generations," said Congressman Mike Levin, whose district includes coastal North County. "Pure Water's commitment to providing over 30% of the drinking water in the City of Oceanside in a way that is clean, safe, sustainable and environmentally sound is commendable."
Technologically advanced water purification process
Pure Water Oceanside will use state-of-the-art water purification technology that replicates and accelerates nature's natural recycling process.
First microfiltration filters remove bacteria and suspended solids from reclaimed water. Then ultra-fine reverse osmosis filters remove salt, viruses, other bacteria, pharmaceuticals and chemicals. Next, the water is treated with ultraviolet light and advanced oxidation technologies that neutralize any remaining substances.
Minerals are injected back into the water before the water is added to Mission Basin in Oceanside. Water can then be extracted from the aquifer, treated once again at the Mission Basin Groundwater Purification Facility and finally, distributed to residents and businesses.
https://www.waternewsnetwork.com/wp-content/uploads/2020/02/PureWaterOside.2.19.2020x014_845x450-scaled-e1582161789631.jpg
450
845
Kristiene Gong
https://www.waternewsnetwork.com/wp-content/uploads/2018/02/water-news-network.png
Kristiene Gong
2020-02-19 17:32:36
2020-02-20 10:39:40
First Advanced Water Purification Facility in San Diego County is On the Map