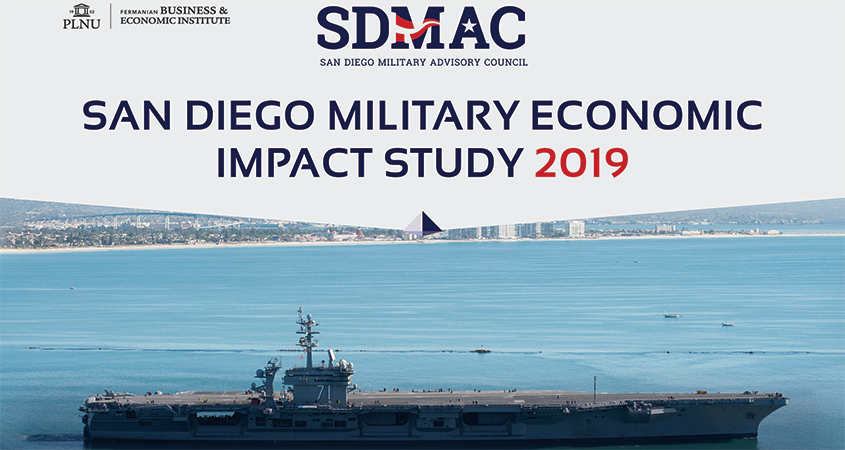 The military sector accounts for more than 20% of the San Diego region's economy, and that would not be possible without a safe, reliable water supply.
The San Diego County Water Authority and its 24 member agencies, including Marine Corps Base Camp Pendleton, provide the water needed for military operations, military families and military contractors.
A new report shows that an estimated total of $28.1 billion in direct spending related to defense flowed into San Diego County during fiscal year 2019, accounting for one-in-five jobs in the region.
Reliable water supplies support military economy
The 2019 San Diego Military Economic Impact Study was released Thursday by the San Diego Military Advisory Council, or SDMAC. The military sector was responsible for about 354,000 of the region's total jobs in fiscal year 2019, accounting for all the ripple effects of defense-connected spending, according to the report.
More than $28 billion in direct defense spending flowed into #SanDiego County during fiscal year 2019.

That spending generates jobs, says @CityofSanDiego Mayor @Kevin_Faulconer pic.twitter.com/1gQIXPY9UU

— San Diego County Water Authority (@sdcwa) October 10, 2019
Brought to you by water
"Water is a part of everything the military does in San Diego," said Mark Balmert, SDMAC executive director. "Everything to water for the troops, to washing aircraft and ships after operations – every aspect of what the military does. The military and water agencies have a history together, with the U.S. Navy partly responsible for bringing water to our region."
Balmert is referring to the time when San Diego became a hub of naval activity after Japan bombed Pearl Harbor and the United States entered World War I in 1941. The Water Authority formed 75 years ago, when it became clear that imported water supplies were necessary to sustain a booming region at the forefront of the war effort.
Ever since, the Water Authority and its 24 member agencies have played a vital – though often unseen – role in supporting the largest concentration of active and retired military personnel in the world, serving several military bases and sustaining the San Diego region's defense industry in a region with few natural resources.
Safe, reliable water 'major resource'
"The outlook for the military economy in the region for the coming year is positive," said Lynn Reaser, chief economist with Point Loma Nazerene University's Fermanian Business & Economic Institute.
Reaser, who provided oversight and analysis of the SDMAC report, said water is essential for military dollars to continue flowing into the region.
"Water continues to be a major resource that's required for operations of our defense contractors, for the Navy, Marines, Coast Guard, Department of Veterans Affairs, everything from support of the bases to water needs of medical facilities," Reaser said.
The Water Authority is a leader in water conservation, asset management, seawater desalination and water resource planning, delivering more than 400 million gallons a day to serve the region's 3.3 million residents and sustain its $231 billion economy.
A 2018 study by the San Diego Regional Economic Development Corp. concluded that $482 million a day in regional sales were supported by reliable access to water.
https://www.waternewsnetwork.com/wp-content/uploads/2019/10/SDMAC-v1.png
450
845
Ed Joyce
https://www.waternewsnetwork.com/wp-content/uploads/2018/02/water-news-network.png
Ed Joyce
2019-10-11 10:41:16
2019-10-11 13:54:11
Reliable Water Supplies Sustain San Diego's Military Sector