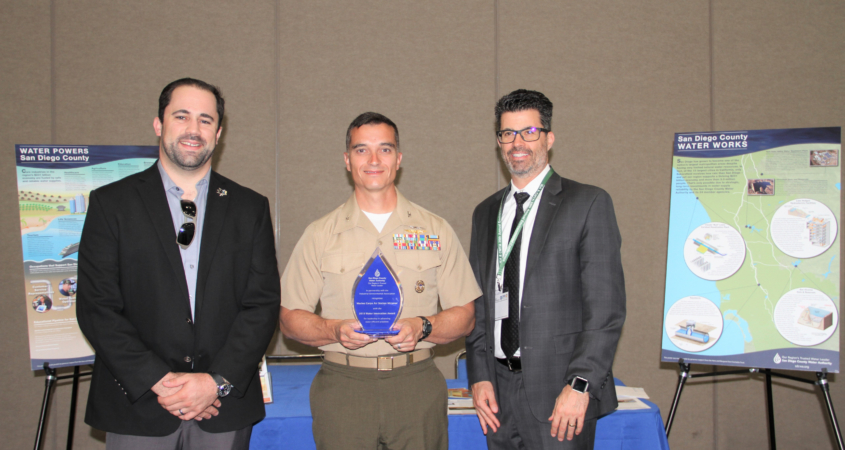 The San Diego County Water Authority today presented its 2019 Water Innovation & Efficiency Award to Marine Corps Air Station Miramar for significantly reducing its overall potable water use.
The reduction was achieved through a successful water conservation program and new infrastructure for distributing reclaimed water. The award was announced at the Industrial Environmental Association's 35th Annual Environmental Conference at the San Diego Convention Center.
The award is part of the Water Authority's Brought to You by Water outreach and education program, and an effort to recognize water-efficiency investments among the region's top industries and organizations in conjunction with the IEA.
Shared history in the region
"The Water Authority shares a unique history with our military – we were created in 1944 to deliver imported water supplies to support our troops and communities at the height of World War II," said Jim Madaffer, chair of the Water Authority's Board of Directors. "San Diego County has the largest concentration of military personnel in the world, and we are very proud that they are so committed to water efficiency and preserving our most important natural resource as they carry out their mission to protect our country."
As one of the largest Marine Corps Air Stations and with more than 12,000 civilian Marines, contracted employees, service members and their families aboard the base, MCAS Miramar plays a crucial role in the San Diego region and in supporting our nation's strategic defense. To that end, MCAS Miramar has and will continue to use unique and innovative solutions to maximize its resiliency, and lower dependence on natural resources. MCAS Miramar is a water customer of the City of San Diego.
"We are committed to implementing sustainability practices and principles that enhance training opportunities, sustain our incredible quality of life in San Diego County, and preserve the natural environment," said Captain Matthew Gregory, director of communications for MCAS Miramar. "We are honored to receive this acknowledgement of the good work we are doing at Miramar in a region that has made such incredible strides in improving water-use efficiency."
Investment in a multifaceted conservation program
MCAS Miramar embarked on a water conservation program about a decade ago, and through a $6 million investment, MCAS Miramar decreased its potable water use by more than 40% since 2007.
In 2015, the commanding officer formed a water conservation board tasked with reducing the base's overall potable water use. The base now has a total of more than 5 miles of reclaimed water distribution systems, an increase of 47% from two years ago. This reclaimed water infrastructure as well as other water efficiency projects has allowed the base to save more than 100 million gallons of potable water each year.
Reclaimed water at the base is now being used for irrigation, construction-related activities, dual-plumbed buildings, street sweeping and soon for evaporative cooling. In addition, MCAS Miramar converted all aircraft and vehicle wash racks to isolated recirculated water systems, conserving 75% of the water used to wash essential equipment.
Bringing industrial environmental leaders together
"MCAS Miramar is a prime example of efforts by our region's largest employers to make the most of every drop of water," said Jack Monger, CEO of IEA. "I'm confident that our members will continue to develop innovative water-saving practices and technologies."
The Water Authority's Brought to You by Water program, developed in partnership with its 24 member agencies, was designed to bolster regional appreciation for the value of safe and reliable water supplies. That effort includes enhanced partnerships to highlight the importance of water reliability to the region's economy.
https://www.waternewsnetwork.com/wp-content/uploads/2019/10/IEA-Innovation-Award-2019_845x450-e1570047347937.jpg
450
845
Kristiene Gong
https://www.waternewsnetwork.com/wp-content/uploads/2018/02/water-news-network.png
Kristiene Gong
2019-10-02 14:10:00
2019-10-02 14:10:00
Marine Corps Air Station Miramar Receives Water Efficiency Award