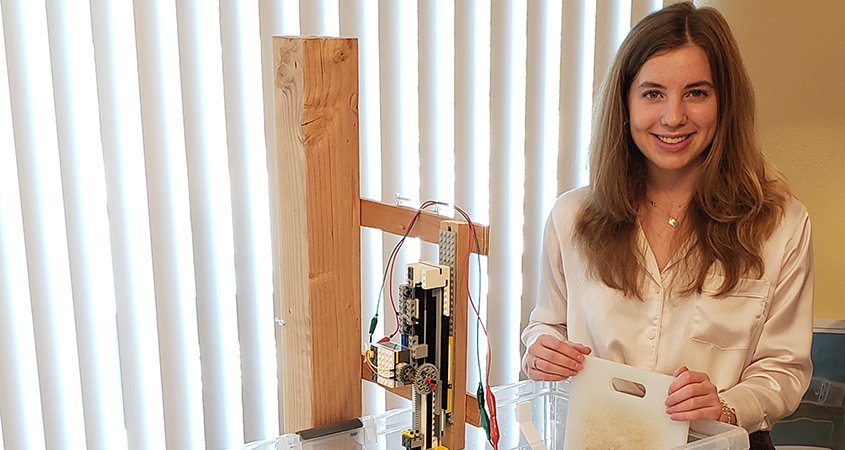 In March, Water Authority staff judged water-related projects by students at the 67th annual Greater San Diego Science and Engineering Fair. Judging the fair is a longstanding tradition at the Water Authority and a component of the education outreach program. For decades, the Water Authority has recognized the top water-related projects with a scholarship and award. This year's fair was conducted in a virtual format, but more than 280 students still brought their best projects to the table.
Each student who was interviewed by Water Authority staff demonstrated a strong knowledge of the scientific process, as well as an awareness of big picture issues that are important in the water industry and beyond. Five winners were selected, and each will receive a gift card and plaque. Water Authority staff also showcased a video of the five winners and their outstanding projects at the April San Diego County Water Authority Board of Directors meeting.
Students present top water-related projects
Forward-thinking students solve global and everyday water issues
In the senior division, first place winner Bella Rose Schremmer designed a piston-buoy rack and pinion wave energy converter device. The 10th grader from University City High School said she was inspired by the kinetic energy formed by ocean waves, and she wanted to create a project that could capture that energy as a renewable energy source to replace the burning of fossil fuels. Bella Rose attributed part of her success in this project to her father, who supported her by procuring materials and providing encouragement, and to her teacher and mentor, Mrs. Bosch, who guided her through the process.
In second place, Suvali Sengupta created a biodegradable microporous polymer that was designed to help soil water retention in an agricultural setting. The 11th grader from Westview High School shared that her inspiration came from her Indian heritage and the drought conditions that India's farmers struggle with each year.
Saltwater desalination, water purification, water conservation
In the junior division, Kristine Talaga from St. Gregory the Great Catholic School won first place with her project on saltwater desalination. The 7th grader designed a project to test the effects of different colored backgrounds – black, white or foil – on containers containing salt water and how quickly heat could desalinate the water in each container.
Samantha Rivera, an 8th grader from Chula Vista Middle School, claimed second place with her project about which methods of water purification removed the most dissolved solids.
In third place, 8th grader Sonria Rheiglene Simanski, also representing Chula Vista Middle School, tracked how much water is wasted when waiting for the shower to warm up, determining the best times of day to shower for optimal water-use efficiency.
https://www.waternewsnetwork.com/wp-content/uploads/2021/04/BellaRose_ScienceFair_Exhibit_845x450.jpg
450
845
Kristiene Gong
https://www.waternewsnetwork.com/wp-content/uploads/2018/02/water-news-network.png
Kristiene Gong
2021-04-22 16:38:58
2021-04-22 16:38:58
San Diego County Students Innovate to Solve Water Challenges