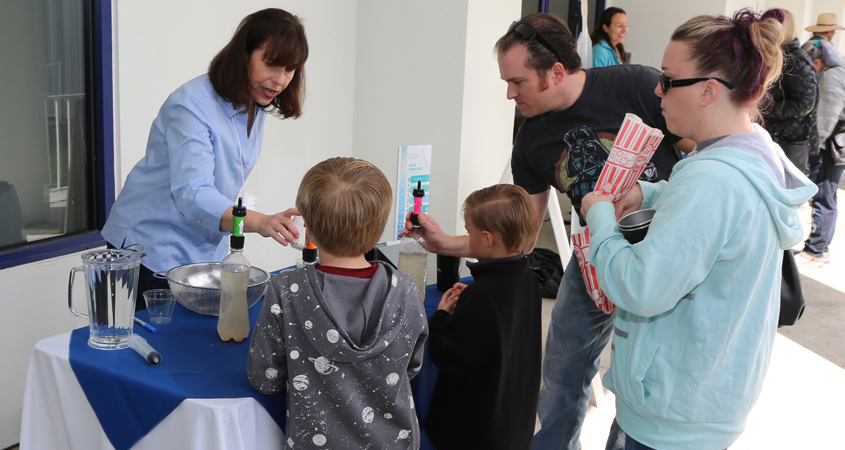 The City of Oceanside is joining the City of San Diego and East San Diego County in adding advanced purified water to its drinking water supply. The Pure Water Oceanside project is expected to break ground next spring and begin producing advanced purified water in 2022.
The Padre Dam Municipal Water District, Helix Water District and the City of San Diego, are among the water agencies in San Diego County that are developing or expanding water recycling to increase the local water supply.
The Oceanside project launched in March with a "World of Water" community open house attended by more than 400 people. Building on the interest generated at the event, the city opened its doors for the public, schools and scouts to experience Pure Water Oceanside on October 15. The next community event is scheduled for November 9.
"The incredible interest, success and feedback from the community event demonstrated a true thirst for water knowledge and a strong desire to see, first-hand, water facilities located in the community," said Cari Dale, water utilities director for the City of Oceanside. "Pure Water Oceanside is an important and smart investment and we find tremendous value in educating the public about the importance of diversifying the city's water supply."
Technology used to recycle and purify water on display
The tours offer a behind-the-scenes look of the San Luis Rey Water Reclamation and Mission Basin Groundwater Purification Facilities, where guests can take a hands-on approach and learn about the technology used to recycle and purify water.
Pure Water Oceanside will purify recycled water to create a new local source of high-quality drinking water that is clean, safe, drought-proof and environmentally sound. The project will produce enough water to provide 32% of the city's water supply, or between 3 and 5 million gallons of water per day.
In addition to tours, Oceanside has developed a comprehensive public education program for the water purification project, including a video, fact sheet, FAQ and community group presentations. To experience Pure Water Oceanside and sign up for an upcoming tour, go to: www.PureWaterOceanside.org.
READ MORE: Pure Water Day Delivers Pure Family Fun

https://www.waternewsnetwork.com/wp-content/uploads/2019/10/Oceanside-Pure-Water-Tour-WWC_150-845X450.jpg
450
845
Gayle Falkenthal
https://www.waternewsnetwork.com/wp-content/uploads/2018/02/water-news-network.png
Gayle Falkenthal
2019-10-15 16:20:23
2019-10-15 16:41:22
Pure Water Oceanside Project Construction Slated For 2020