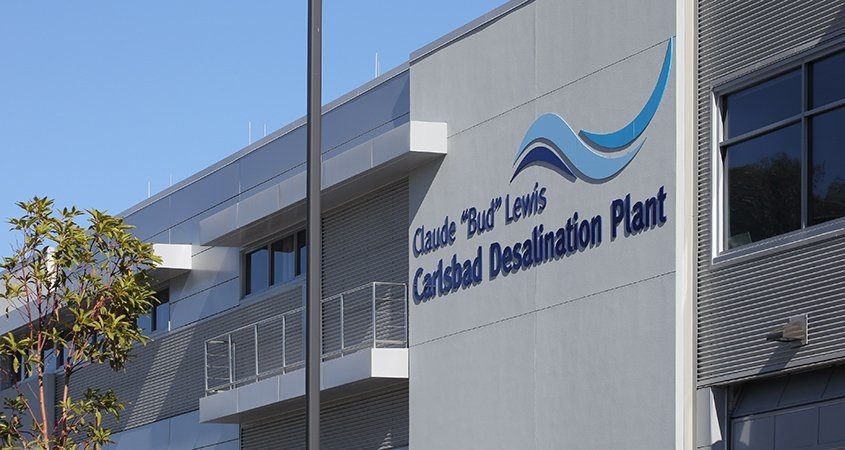 As the worst drought in 1,200 years grips the West, the Claude "Bud" Lewis Carlsbad Desalination Plant is protecting the San Diego region with 50 million gallons a day of drought-proof water.
Completed in 2015, the plant was built before the period of increasing inflation that's driving up prices for water infrastructure projects that are just starting. That means the desal plant is safeguarding the region's economy and quality of life today at a lower cost than it would be to build now.
Affordability and reliability
In fact, water from the plant costs average homeowners about $5 more a month – about the cost of a latte. The San Diego County Water Authority buys water produced at the plant from Poseidon Water under a contract that protects ratepayers. Because the plant was developed as a public-private partnership, key risks associated with the construction and operation of the plant were shifted to Poseidon.  Accordingly, water is paid for as it is produced and prices adjust predictably based on contractually specified indices.  Ratepayers do face less predictable cost impacts from rising energy prices, but that is no different from any other new publicly owned water supply project.
Drought-proof supply
"The Carlsbad plant is an important regional asset and its value is highlighted by the ongoing megadrought," said Jeremy Crutchfield, a water resources manager for the Water Authority. "The cost of water is higher than conventional sources, but so is the reliability – and that's never looked more important than it does today."
On the environmental front, Poseidon is committed to keeping the Carlsbad plant carbon-neutral through state-of-the-art energy recovery devices, mitigation projects and securing carbon credits. In addition, upgrades to the plant's intake and discharge systems will be completed by the end of 2023, in compliance with a 2019 permit.
Another positive: There's no signs of plant impacts to the coastal waters, which are protected by some of the world's most aggressive standards through the California Coastal Act and the California Ocean Plan. While the facility was cited by regulators in 2019, importantly, no enforcement action was taken as regulators recognized the problems were with formulas in the permit and not the actual plant discharges.
At the start of operations, project managers also navigated a series of ramp-up challenges common with any large industrial facility. Since then, Poseidon has made capital improvements to its pretreatment system and invested in advanced monitoring and control technologies at company expense.
Carlsbad Desalination Plant is part of diversified water supply portfolio
In 2021, the plant produced more than 51,000 acre-feet of water and the volumes are projected to be at least 50,000 acre-feet in 2022 as well. That's enough water to meet more than 10% of regional demand – which is met through a diversified portfolio of conserved water, groundwater, recycled water and other sources.
"Desalination remains a valuable tool for our community when it comes to ensuring safe and reliable water supplies no matter the weather," Crutchfield said.  "It has shown its value by generating nearly 90 billion gallons over the past six years, and I'm confident it will continue to do so in the years ahead."
https://www.waternewsnetwork.com/wp-content/uploads/2022/03/DeSalPlant.12.19.16x001-close-up-anniversary.jpg
450
845
Ed Joyce
https://www.waternewsnetwork.com/wp-content/uploads/2018/02/water-news-network.png
Ed Joyce
2022-03-16 14:04:43
2022-03-21 09:31:46
Carlsbad Desalination Plant Shields Region From Megadrought