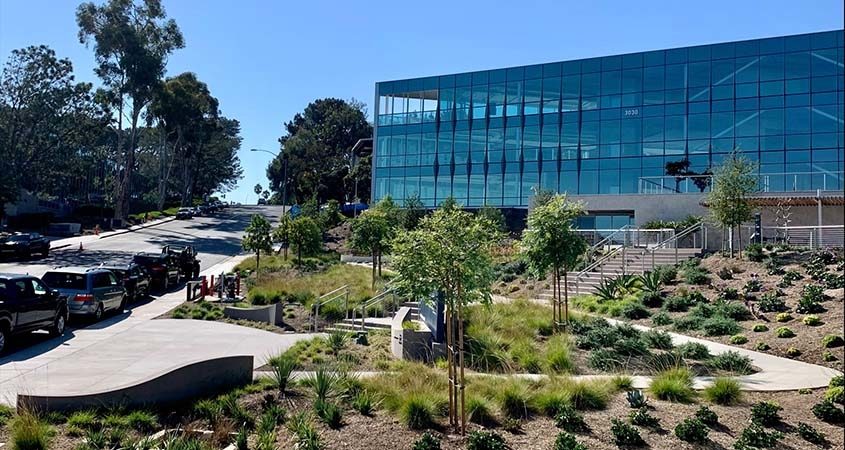 In the third year of drought, water agencies are providing opportunities, including rebates and resources, to increase water-use efficiency. A free webinar August 31 is geared for people who manage or own properties with large landscape areas.
Managers of homeowner associations, rental housing, commercial, industrial and public properties are invited to the webinar on the State of California's evolving drought response, status of the Colorado River Basin, regional impacts and landscape restrictions.
The San Diego County Water Authority leads a panel that includes arboriculture, irrigation, design and horticulture experts focused on information and resources applicable to large landscape decision makers. Topics include:
Local resources for property-specific drought information.
Tree watering options and turf zone exemptions.
Monitoring and measuring, plant choices and water budgets.
Landscape maintenance priorities.
Low-cost landscape maintenance strategies
The webinar is scheduled from 11:00 a.m. – 12:30 p.m. Along with clarifying current drought restrictions and options, participants will also hear about access to education and training programs, funding resources and low-cost landscape maintenance strategies that can help achieve significant water savings.
Registration and additional information about the "Demystifying Drought" webinar: https://qwel.watersmartsd.org/class-schedule/

Program partners include San Diego chapters of the American Society of Landscape Architects (ASLA), Association of Professional Landscape Designers (APLD) and the California Landscape Contractors Association (CLCA). The professional educational opportunity is a continuing education feature of the Water Authority's Qualified Water Efficient Landscaper (QWEL) professional certification training program.
Qualified Water Efficient Landscaper
From soils to water budgets, audits and controller programming, San Diego professionals have increased their knowledge of the science and principles of water-efficient landscapes in the Water Authority-sponsored QWEL training program. The professional certificate training is highly rated by industry pros and recognized with the WaterSense® label. In the San Diego region, the interactive and engaging live webinar classes are taught by leading industry educators. The fall and winter schedule includes certification and continuing education opportunities offered during the day and evening in English and Spanish.
https://www.waternewsnetwork.com/wp-content/uploads/2022/08/VDLA-RMR-Redesign_Elevated-view-PRIMARY-free-webinar.jpg
450
845
Ed Joyce
https://www.waternewsnetwork.com/wp-content/uploads/2018/02/water-news-network.png
Ed Joyce
2022-08-25 07:29:38
2022-08-25 07:37:09
Water-Use Efficiency for Large Landscapes Focus of Free Webinar