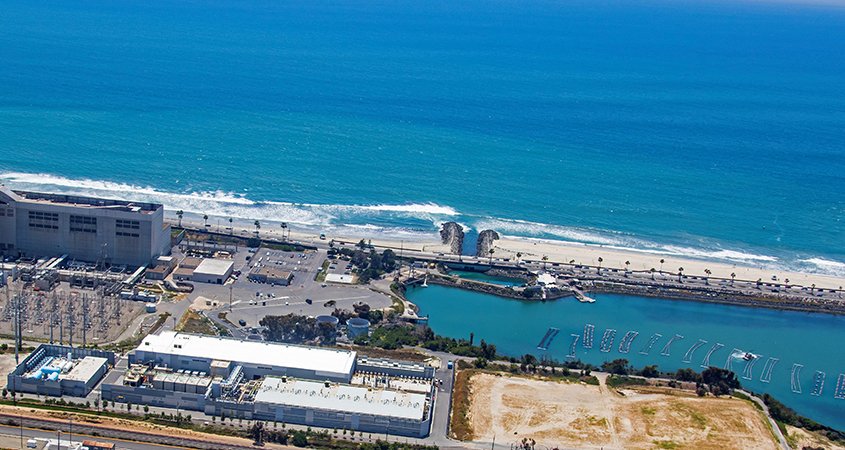 The Claude "Bud" Lewis Carlsbad Desalination Plant is celebrating its fifth year of operation this month. More than 65 billion gallons of water from the plant have provided a sustainable and reliable supply to businesses and residents of San Diego County since December 2015.
The Carlsbad Desalination Plant produces more than 50 million gallons of high-quality, locally controlled, water every day. It's a foundational water supply for the San Diego region that minimizes the region's vulnerability to drought or other water supply emergencies.
Desalination plant diversifies region's water supply sources
"The desalination plant is a key piece of the region's multi-decade strategy to diversify our water supply portfolio," said Sandra L. Kerl, general manager of the San Diego County Water Authority. "As we celebrate five years of operation, the plant continues to provide a drought-proof supply that reduces our dependence on imported water sources vulnerable to droughts, natural disasters, and regulatory restrictions."
A 30-year Water Purchase Agreement between Poseidon Water and the Water Authority allows for the production of up to 56,000 acre-feet of water per year, enough to meet the needs of approximately 400,000 people. The facility is the largest, most technologically advanced and energy-efficient desalination plant in the nation.
Carlsbad Desalination Plant celebrates water supply accomplishment
"The Carlsbad Desalination Plant was once merely an ambitious vision. Fast forward to today, and we are celebrating the plant's fifth anniversary of operations, during which we have successfully produced enough water to meet the needs of San Diego County residents," said Carlos Riva, CEO of Poseidon Water. "This is an incredible accomplishment and an example of how communities throughout California can invest in the state's future water security."
Desalination uses reverse osmosis technology to remove water molecules from seawater. Water from the ocean is forced through tightly-wrapped, semipermeable membranes under very high pressure. The membranes allow the smaller water molecules to pass through, leaving salt and other impurities to be discharged from the facility.
Milestones
July 22, 2020: New Seawater Intake Pumps Preserve Marine Environment
Installation of the new intake pumps is part of a phased program to replace the existing seawater intake and discharge facilities with state-of-the-art technology to protect marine life. The technology wasn't available when the plant was operating with source water from the Encina Power Station.
The next steps include adding new intake screens, designed to prevent any sea-life larger than 1 millimeter (thicker than a credit card) from entering the plant. The new intake screens are the final part of upgrades, which when complete in 2023, will make the Carlsbad Desalination Plant the first desalination facility in California to comply with the 2015 California Ocean Plan Amendment, among the most advanced sea-life protection measures.
December 13, 2018: Carlsbad Desalination Plant Celebrates 40 Billion Gallons Served
Desalination plant project partners Poseidon Water and the San Diego County Water Authority celebrated delivering 40 billion gallons of drought-resilient drinking water to San Diego County during three years of commercial operations at the plant.
"It's incredible what we've accomplished in three years," said Sandra L. Kerl, at the 2018 celebration event, general manager of the Water Authority. "Since coming online in 2015, the Carlsbad Desalination Plant has met nearly 10 percent of the region's water demand, and it will be a core water resource for decades to come."
December 14, 2015: Region Dedicates New Plant in Honor of Former Carlsbad Mayor Claude 'Bud' Lewis
Operations are under way at the nation's largest and most technologically advanced seawater desalination plant, which was dedicated today by more than 600 elected officials, community leaders and project partners. After successfully completing construction, the Claude "Bud" Lewis Carlsbad Desalination Plant has already produced more than 1.5 billion gallons of locally controlled water for San Diego County, helping to minimize the region's vulnerability to the statewide drought.
June 29, 2015: Pipeline Installation Completed
After more than two years of work, Carlsbad Desalination Project crews installed the final segment of the 10-mile conveyance pipeline that connects the Carlsbad Desalination Plant to the San Diego County Water Authority's regional water distribution system. Construction crews lowered the final piece of pipe – No. 2177 – into 
Macario
Canyon in Carlsbad on June 29, 2015, completing a major element of the historic project.
"This final piece of pipe is a significant milestone for the Carlsbad Desalination Project, and a sign that the entire construction project is entering its final phase," said Peter 
MacLaggan
, vice president of Poseidon Water, the project's private developer.
January 2014: Desalination Plant Completes First Year of Construction
December 28, 2012: Construction Starts for the Carlsbad Desalination Plant
November 29, 2012: Water Authority approves 30-year Water Purchase Agreement with Poseidon Resources
The San Diego County Water Authority approves a 30-year agreement for the purchase of up to 56,000 acre-feet of desalinated seawater per year from project developer Poseidon Resources. With the agreement approved, Poseidon and the Water Authority secured financing in the bond market and construction started a month later.
https://www.waternewsnetwork.com/wp-content/uploads/2020/12/CDP-ocean-May2019-anniversary-primary.jpg
450
845
Ed Joyce
https://www.waternewsnetwork.com/wp-content/uploads/2018/02/water-news-network.png
Ed Joyce
2020-12-14 07:37:08
2020-12-14 09:08:20
Carlsbad Desalination Plant Celebrates 5th Anniversary