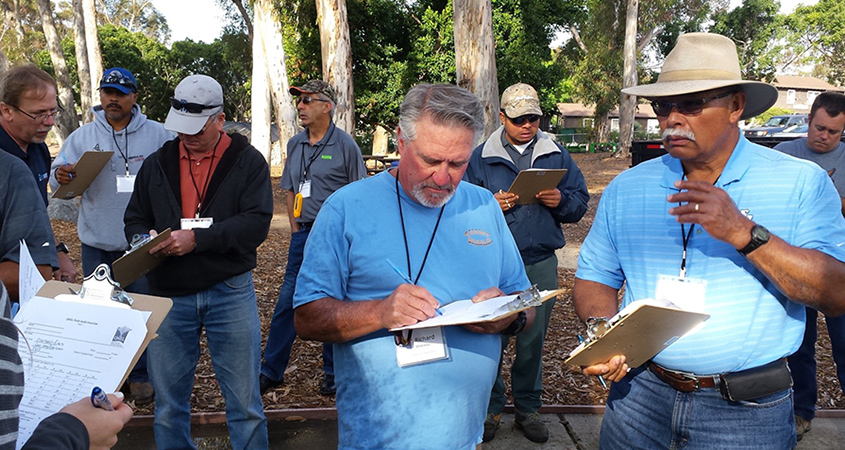 The U.S. Environmental Protection Agency today recognized the San Diego County Water Authority with a 2019 WaterSense Excellence Award for advancing water efficiency through its Qualified Water Efficient Landscape program, known as QWEL.
The Water Authority received one of 25 WaterSense awards at the national WaterSmart Innovations Conference in Las Vegas.
Water Authority wins second consecutive EPA award for QWEL program
This is the second consecutive year the Water Authority has achieved the Excellence Award for the QWEL program, which is certified by EPA to significantly increase water management skills and knowledge among landscape professionals. Program curriculum includes 20 hours of classroom and hands-on training on principles of plant care, irrigation system design, maintenance, programming, operations and troubleshooting.
"Partnering with EPA has helped the Water Authority promote water efficiency by training hundreds of landscape professionals each year to adopt best practices," said Jim Madaffer, chair of the Water Authority's Board of Directors. "This approach helps to ensure that water-saving measures embraced by homes and businesses can be supported and sustained over the long term."
As one of the first QWEL providers in Southern California, the Water Authority has helped to expand the program's branded outreach and educational outcomes. Since the January 2016 launch of QWEL, more than 1,000 San Diego landscape professionals have participated, making the region's program one of the largest in the nation. More than 690 landscape professionals have earned QWEL certificates in the San Diego region over the past four years by passing a rigorous national test.
Water Authority's landscape water efficiency classes
The Water Authority promotes English and Spanish QWEL training in collaboration with trade associations, faith-based organizations, English-as-a-Second-Language programs, community colleges and Master Gardeners associations. Nearly all (99%) program participants surveyed said the class would help them better manage landscape water efficiency, and 98% rated the class good or excellent.
Since 2006, the Water Authority and more than 2,000 other WaterSense partners nationwide have helped consumers save more than 3.4 trillion gallons of water. That's enough water to supply the nation's households for four months. In addition to water savings, WaterSense-labeled products and homes have helped reduce the amount of energy needed to heat, pump, and treat water by 462.5 billion kilowatt hours – enough to power more than 44.4 million homes for a year – and save $84.2 billion in water and energy bills, according to EPA.
"Our partners have made water-saving products, homes, and programs accessible across the nation and have educated millions on the importance of water conservation," said Veronica Blette, chief of the EPA WaterSense branch. "These WaterSense award winners are leading the fight against water waste to save our most precious resource."
The QWEL program is made possible in part from grants funds provided from voter-approved Proposition 84. The grant funds are administered by the California Department of Water Resources.
https://www.waternewsnetwork.com/wp-content/uploads/2019/10/QWEL-Class-Water-Authority-WaterSense-Award-Oct-2019.jpg
450
845
Mike Lee
https://www.waternewsnetwork.com/wp-content/uploads/2018/02/water-news-network.png
Mike Lee
2019-10-03 14:06:36
2019-10-24 12:25:13
Water Authority Wins National 2019 WaterSense Excellence Award