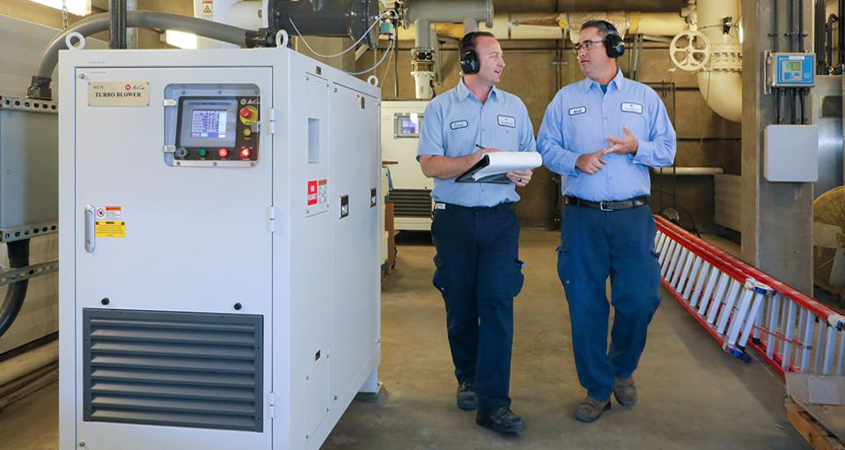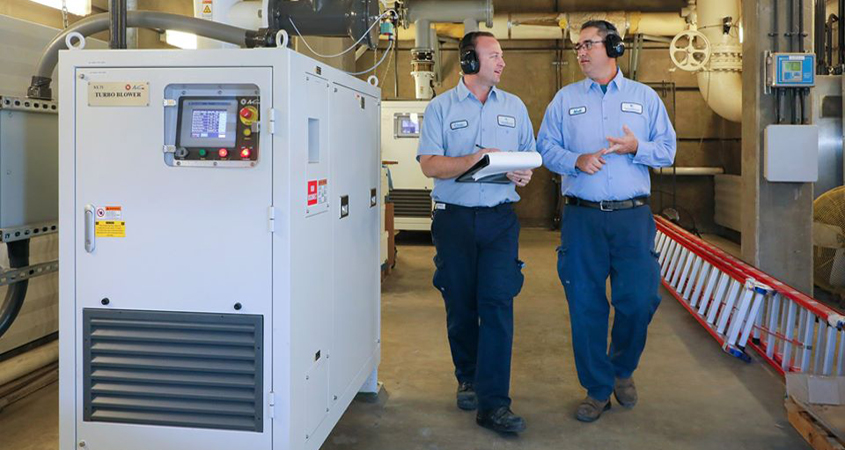 The new Waterworks Management Concentration in the Bachelor of Public Administration, offered by National University in partnership with Cuyamaca College, begins its second cohort of courses in August. Two new scholarship opportunities are now available to help prospective students overcome financial barriers and reach new career goals.
Developed in collaboration with regional employers, and driven by the rapidly growing demands for skilled career professionals in the water and wastewater industry, the Bachelor of Public Administration degree with a concentration in Waterworks Management, or BPA degree, allows graduates of the Cuyamaca College Center for Water Studies to transfer directly into National University bachelor's program after earning their associate's degree. Transfer scholarships are also available to graduates of other California community colleges.
Scholarship opportunities include:
The Opportunity Scholarship, which extends financial assistance to adult learned who are Pell Grant recipients
The Fast Track Scholarship, a merit-based award designed to help students complete their degree program by offering a free class for every three classes completed within six months, up to a 25% savings in tuition fees
The ADT Scholarship for CA CC Transfer Students
Dr. Joseph Allen, Director of Community College Pathways at National University, holds free live information webinars for prospective students every other Thursday. The next one is scheduled at 5 p.m. on May 20. Registration is free and open to anyone interested in the program. All courses in the program are taught online.
"While you are working from home, you now have digital access to a waterworks management education that can transform your career trajectory," said Dr. Allen.
Demand for skilled professionals
The water and wastewater industry's rapidly growing demand for highly skilled professionals shows no signs of slowing in the coming years. Impending retirements will create a need to fill 12,000 to 20,000 water and wastewater jobs throughout California in the near future. Many of the positions require a bachelor's degree such as the National University BPA degree.
The degree collaboration allows students to complete both an associate's and a bachelor's degree while reducing the time and cost. Student support services at both institutions help foster a seamless process for students to transfer from Cuyamaca College to National University.
The insight and recommendations of regional employers coordinated by the Center for Water Studies at Cuyamaca College and the San Diego County Water Authority, make the academic pathway possible.
Positive student reviews
Students from the first group completing the four-course concentration give the program positive feedback.
"I had a great experience in Waterworks Management in California," said Clinton Swanger. "The class enlightened me to fact that there are different ways to view this subject. I feel as if I have a better understanding of how water management works and what to expect in the future."
Graduates will be able to address the issues and challenges facing water and wastewater agencies at the state, regional, and local levels, including governing requirements and regulatory compliance while employing water management best practices.
Degree program well suited for military veterans  
National University offers all BPA courses online. Administrators plan to eventually offer onsite and hybrid courses involving the Cuyamaca College Center for Water Studies field operations skills yard for hands-on experience.
Students earning the Bachelor of Public Administration degree will complete National University's four-course concentration of upper-division courses studying:
Water and waterworks management in CA
California Waterworks Law & Compliance,
Human Resources & Labor Relations
Leadership in Water Management
Students can begin the BPA program at any time.
As a veteran-founded, private nonprofit institution, National University is dedicated to serving service members, veterans, and their families. This new BPA waterworks concentration is particularly well suited for veterans using their GI benefits to further their education. Veterans are eligible to apply their military experience and education toward certifications in the water industry.
https://www.waternewsnetwork.com/wp-content/uploads/2020/03/VWD-Two-Workers-845X450.jpg
450
845
Gayle Falkenthal
https://www.waternewsnetwork.com/wp-content/uploads/2018/02/water-news-network.png
Gayle Falkenthal
2021-05-12 09:52:42
2021-05-12 10:42:05
Water and Wastewater Scholarship Opportunities Available at National University