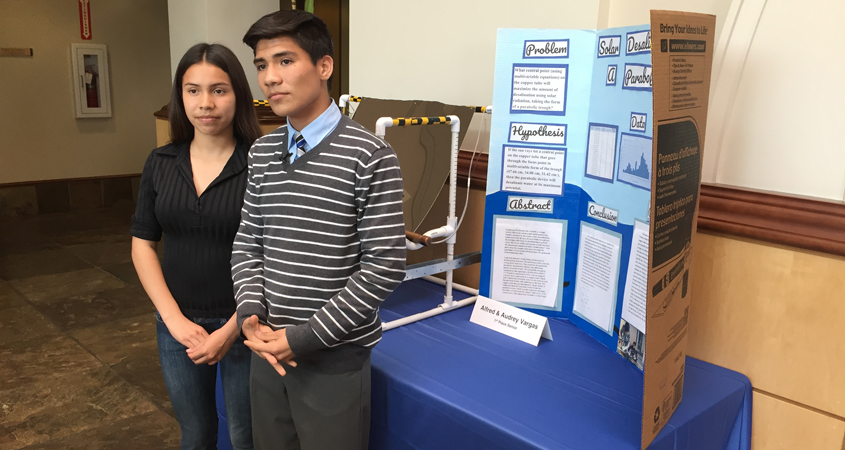 Audrey and Alfred Vargas are trying to expand access to clean drinking water one drop at a time.
The brother and sister duo, who live in National City and attend Sweetwater High School, have been refining a portable, low-cost, easy-to-use, simple-to-construct system that efficiently desalinates brackish water.
"We see it as one of many possible solutions that can help solve the water crisis occurring throughout the world today," said Audrey Vargas, 15.
Their endeavor is garnering growing attention. At the Greater San Diego Science & Engineering Fair, their project – Solar Desalination Using a Parabolic Trough – secured the top Senior Division award from the San Diego County Water Authority.
Water Authority promotes innovation in students
The Water Authority has sponsored the Science & Engineering Fair for decades, and the Water Authority's Board of Directors recognized Audrey and Alfred at its April 12 meeting, along with five other top water-related projects from the science fair.
Board member Frank Hilliker interviewed the Vargas team at the science fair and was impressed with their work. "The fact that they were able to take such a complex challenge and find a solution that seems so easy and without having to spend a lot of money was remarkable," he said. "There are no computers, no electronics, no fuel involved. It's a fascinating way to provide clean, reliable drinking water for people who don't have access to clean water."
Besides the Water Authority award, the siblings also won a Scripps Institute of Oceanography Climate Science Award, and their work was honored by the WateReuse Association (San Diego Regional Chapter) and the California Environmental Health Association – Southwest Chapter/San Diego County, Department of Environmental Health. They compete in the California State Science & Engineering Fair competition on April 23 and 24 at Exposition Park in Los Angeles.
Students set sights on solving global problem
Audrey and Alfred aspire to see their device used in impoverished communities around the world that don't have reliable sources of drinking water.
"My sister and I live in a very modest community, and we see people who are living in poverty every day," said Alfred. "This is a cost-effective and simple solution that can help anyone have access to a basic necessity."
Alfred and Audrey have been entering science fairs since they were middle schoolers and Alfred has been refining the desalination project for the past three years. Alfred and Audrey note that a pivotal manner of obtaining freshwater is by distilling seawater. But that can be a costly and time-consuming process. Their portable, parabolic desalination device, however, can efficiently purify brackish water through a simple yet complex process that uses PVC pipes, a copper tube, and the sun.
Sofia Sandoval, a chemistry teacher at Sweetwater High School who advised the students, said Alfred and Audrey are destined for greatness. Indeed, Alfred aspires to attend Massachusetts Institute of Technology and work as a chemical engineer. Audrey is determined to gain acceptance to Harvard, UC Berkeley, and Stanford en route to a career enforcing environmental regulations.
"Alfred and Audrey are not the typical high school students who were interested in conducting a cookie cutter science fair project," Sandoval said. "They have bigger dreams. They came to science fair orientation meeting with a firm belief that humans have a moral obligation to help humanity. They, themselves, feel obliged to enter careers that allow them to directly help humans.
"This conviction, along with Audrey's environmental passion and Alfred's engineering mind, drove them to their project topic selection. I think this project embodies exactly what our next generation scientists and innovators should focus on, namely a multi-dimensional approach to solving world problems."
https://www.waternewsnetwork.com/wp-content/uploads/2018/05/Science-Fair-Winner-2018_1694-845X450.jpg
450
845
Gayle Falkenthal
https://www.waternewsnetwork.com/wp-content/uploads/2018/02/water-news-network.png
Gayle Falkenthal
2018-05-02 19:06:55
2018-06-26 17:50:33
Sweetwater High Students Aim To Avert World Water Crisis