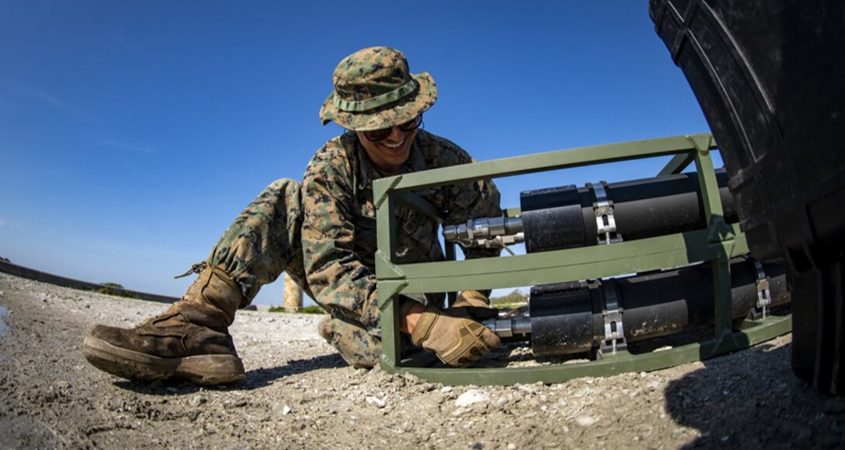 Water industry professionals and members of the U.S. armed forces have a shared commitment to serving the public. When they leave active-duty roles, military veterans tap their experience and skills to work in water sector jobs. The San Diego County Water Authority and its 24 member agencies, recognizes the contributions of veterans to the San Diego region's water industry on Veterans Day and throughout the year.
The San Diego County region employs approximately 4,500 water and wastewater workers, many of whom have successfully transitioned from the military to a new career. Vallecitos Water District Senior Water Systems Operator Richie Arballo said his experience in the U.S. Marine Corps planted the seed.
"Water, potable water, is always a great mission"
"My job in the military was a water support technician," said Arballo. "I didn't really know much about water. I just knew I loved working with water."
At Marine Corps Base Camp Lejeune in Jacksonville, North Carolina, Arballo worked with water distribution, water purification, and water installation.
"As a veteran, you're trained to always complete your job," he said. "You never leave anything undone. In the military, you never leave anyone behind. We know the mission comes first. Water, potable water, is always a great mission."
Water and wastewater careers are a good fit

Dr. Stuart Karasik, former training manager for the City of San Diego, listed these reasons why water industry careers are so well suited to veterans:
They develop leadership responsibilities early in their careers. Military squad leaders are frequently in their early 20s.
They respond calmly in stressful situations and maintain focus on their mission. Stressful situations can be the norm in the military and standard in the water sector.
They possess a personal sense of responsibility and duty.
There is consistent reinforcement of the importance of teamwork and individual responsibility to complete any mission.
They have good organization skills. Scheduling, planning, and workflow are critical activities in the water sector.
Arballo encouraged veterans to seek training at one of the many San Diego regional programs at community colleges, including Cuyamaca College Center for Water Studies, Palomar College, CSU San Marcos, and National University. Options range from certificate programs to public administration and engineering degrees.
"If you are making the decision to get out of the military, don't be scared," said Arballo. "The military has prepared you to be very reliable and responsible. Employers out here, that's what they're looking for."
For current jobs in the San Diego County region's water and wastewater industry, go to: www.sandiegowaterworks.org/
(Editor's note: The Vallecitos Water District and Marine Corps Base Camp Pendleton are two of the San Diego County Water Authority's 24 member agencies that deliver water across the metropolitan San Diego region.)
https://www.waternewsnetwork.com/wp-content/uploads/2021/11/Marine-M-MI258-0021-845X450.jpg
450
845
Gayle Falkenthal
https://www.waternewsnetwork.com/wp-content/uploads/2018/02/water-news-network.png
Gayle Falkenthal
2021-11-09 08:49:36
2021-11-09 11:10:12
Veterans Serving Public in Water Industry Careers