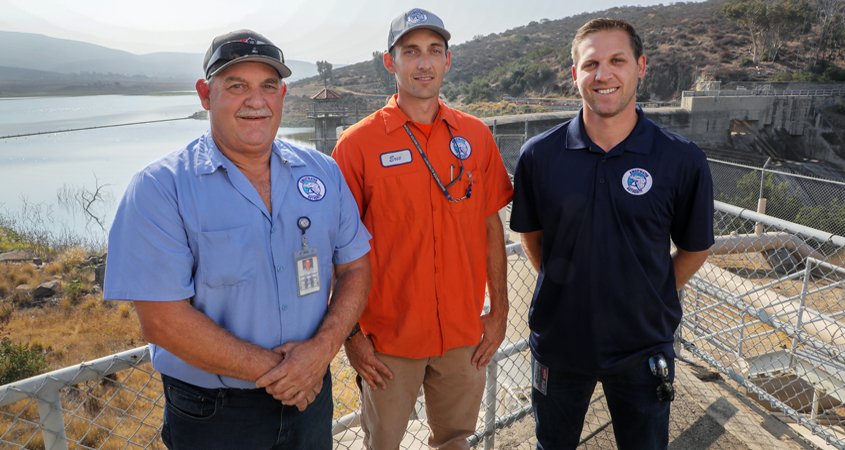 Jobs in the water and wastewater industry provide stable employment in meaningful careers, delivering a vital resource families and businesses depend on. With half of all current employees expected to retire in the next 15 years, recruitment efforts hope to fill many of these essential positions.
Family ties provide a positive influence in filling these roles with the next generation of water professionals in several water agencies in San Diego County.
In many professions, exposure to career choices at the dinner table has a statistically significant influence. For more than four decades, the University of Chicago has tracked family and career trends in its General Social Survey. The survey found that younger generations often pursue careers due to early exposure to career paths, how they value certain skills, and even inherited aptitudes for building things or language.
Rasmussens share sense of pride
Three members of the Rasmussen family are currently employed at the Sweetwater Authority.
Howard Rasmussen started 24 years ago after several attempts to land an entry-level job. He was working in construction and looking for a change.
"They're really great jobs," said Rasmussen, who is now a Maintenance Lead Worker helping maintain multiple facilities. "It's quite amazing and pretty gratifying knowing I'm contributing to my community."
Seven years ago, son Eric Rasmussen followed his father into the profession after working for a decade at a home improvement retailer and pursuing an electrical apprenticeship. His water career started as a Utility Worker, and four years ago he was promoted to Equipment Operator.
"I really do love operating," said Eric Rasmussen. "To tag along with what my dad said, it's so awesome. You have a sense of pride. You want to make everything so perfect when it's in your district. You don't want to take any shortcuts."
Eric's brother Craig became the third Rasmussen to work at Sweetwater Authority after earning a college degree at San Diego State University. He works as a Watershed Caretaker.
Craig Rasmussen said he applied multiple times over five years before he was hired.
"It's not like I was a shoe-in," said Craig. "It gave me time to do some schooling. You just don't want to let the family name down."
Craig and Eric's father is proud of his sons and co-workers.
"To have two boys work for the same company, for me it's been a blessing," said Howard Rasmussen. "Being here with my kids I hear how they work; I hear about their attitudes. I get complimented all the time what a great job I've done with my kids. Not many people experience that firsthand."
All three Rasmussens encourage others to consider water industry careers.
"My dad taught me, this is your opportunity, you have to take it," said Eric Rasmussen.
North County legacy spans three generations
Family ties span three generations at four different water agencies in North San Diego County.
Ed Pedrazzi works at the Vallecitos Water District as Operations and Maintenance Manager. His niece, Jessica Sherwood, is a Water Resources Assistant at the Vista Irrigation District. Jessica's father Jon Sherwood was a Water Operation Supervisor for the Vallecitos Water District. Grandfather Amos Sherwood worked at the San Dieguito Water District from 1960 to 1990, and her uncle Terry worked at the Olivenhain Municipal Water District.
Ed Pedrazzi was hired to work in the Construction Department at Vallecitos in 1989. After completing courses at Palomar College, he became certified in Water Distribution and Treatment. Until his recent retirement from teaching, Pedrazzi taught modern water technology courses at Palomar to a new generation of professionals.
Jessica Sherwood saw an opening at the Vista Irrigation District in 2012 for a meter reader and jumped at the chance, working her way up to her current position. She said her entire family has been a positive influence on her water industry career.
"My dad is a very open and honest person and sometimes it's hard to follow in his footsteps, but I know he's proud of me," said Sherwood. "My Uncle Terry is a quiet and modest man but had the same outlook as my dad.
"I think my dad and uncle's strong work ethics stem from my grandpa. Everything they taught me comes from him. He had both working for him at San Dieguito Water District during the summers when they were still in high school. I just have to say, that I'm very proud of these guys and it's a pretty cool legacy to be a part of."
Because they are at different agencies, Pedrazzi and Sherwood don't cross paths during their work hours, but they sometimes see each other at training meetings.
"He's only a city away or a phone call," said Sherwood.
Study shows families influence career choices
Eric Rasmussen said family ties help, but family lessons learned and applied make the difference.
"With my dad leading the way, you can do nothing but give thanks to him and my mom for what we've been blessed with, and the ethics we possess," said Eric.
Father Howard adds, "You may not think your kids are listening, but they do."
(Editor's note: The Sweetwater Authority, Vista Irrigation District, San Dieguito Water District, Vallecitos Water District and the Olivenhain Municipal Water District are five of the San Diego County Water Authority's 24 member agencies that deliver water across the metropolitan San Diego region.)
https://www.waternewsnetwork.com/wp-content/uploads/2021/09/RasmussenFamily.CN_.9.14.2021x001-845X450.jpg
450
845
Gayle Falkenthal
https://www.waternewsnetwork.com/wp-content/uploads/2018/02/water-news-network.png
Gayle Falkenthal
2021-10-05 07:35:20
2021-10-05 11:19:43
Dinner Table Lessons Launch Water Industry Careers