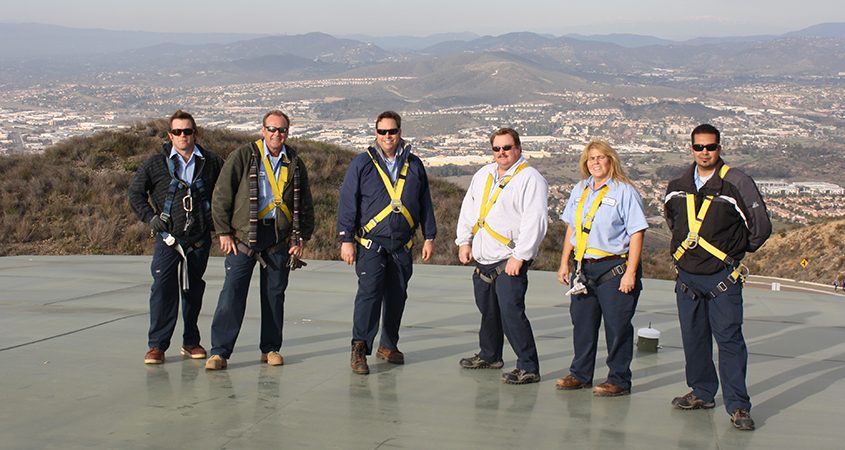 Vallecitos Water District Operations and Maintenance Manager Ed Pedrazzi is the ACWA 2023 "Excellence in Water Leadership" award winner. Pedrazzi received his career honor at the Association of California Water Agencies annual conference on May 9.
The award recognizes individuals who have "made a remarkable and visible contribution to the enhancement, protection, or development of water resources in California," according to ACWA.
Pedrazzi was nominated by his peers for his efforts toward improving operations and safety at the Vallecitos Water District as well as his dedication to public service.
Pedrazzi: 'Vallecitos is more than just a job to me'
"When I started here we were a very small district," said Pedrazzi. "There were only about 50 employees. We're over 100 employees now. We serve 96,000 customers over 40 square miles. To me, it's a fantastic place to work. I love it, love coming to work every day. Vallecitos is more than just a job to me. It's a career and it's a family."
Video features Ed Pedrazzi's career highlights
Protecting public health and preserving water resources
Pedrazzi has worked for the Vallecitos Water District 34 years. In his current role, Pedrazzi manages six operations departments. He began in 1989 on a construction crew, transferring a year later to the Water Systems Operations department. He quickly worked his way up through the department and was promoted to his current position as Operations and Maintenance Manager in 2014.
Pedrazzi's career in public service is devoted to protecting public health by working toward the best and safest water quality possible. He is also responsible for the operations of the wastewater system, striving to protect the public from any harmful wastewater discharges or leaks.
"The entire District has always taken water quality as job one. Everything that we do is to protect the public," said Pedrazzi.
He and his team work diligently to track the District's water usage and devise ways to stop water loss. Recently, Pedrazzi worked with a contractor to perform water main flushing services to minimize water loss via storm drains.
Infrastructure and asset management
Pedrazzi addresses the District's infrastructure needs by increasing maintenance where it is needed and developing the District's Asset Management Program with the Engineering Department.
Pedrazzi researched sonic technology to address algae issues at both the Mahr Reservoir and South Lake Reservoir. By implementing this solution, Pedrazzi improved water quality and protected the environment and nearby wildlife habitat. The District has been honored with national and state awards for Pedrazzi's innovative approach.
Pedrazzi Leads Safety Training and Response
Pedrazzi plays a key role in the District's safety training and emergency response. He serves on the District's Hazardous Materials team and can be called on as an incident commander to run the District's Emergency Operations Center during large-scale incidents such as wildfires. Pedrazzi has played a role in every major emergency operation at the District since 1989.
Training next generation of water industry pros
Pedrazzi also devoted his time to training the next generation of water and wastewater professionals. He taught courses at Palomar College, serving as program coordinator for 15 years. He is active with the California-Nevada Section of the American Water Works Association, and task forces including the North County Operating Heads Group, the Water Agency Emergency Collaborative and the San Diego Regional Internship Program, where he is a founding member.
He assists other staff with school and public tours of District facilities and had the opportunity to educate exchange students from Iraq about water conservation in California.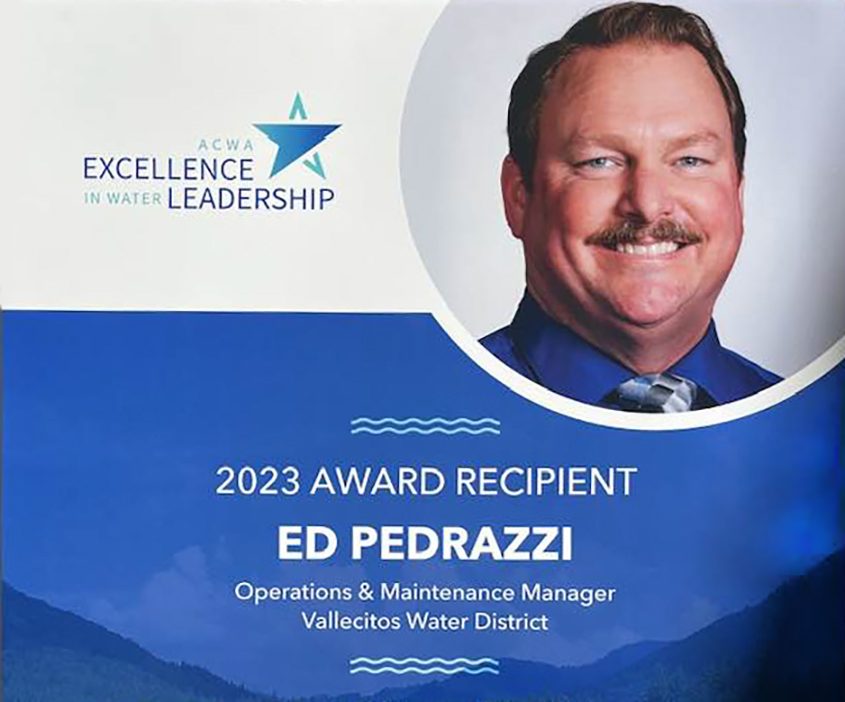 In conjunction with the award, Pedrazzi received a grant of $5,000 to donate to a nonprofit organization. Pedrazzi selected the California Farm Water Coalition, whose mission is to inform the public about agricultural water use and advocate for environmental safety.
Pedrazzi comes from an agricultural family as his father operated a farm in Salinas, California. The family's farm currently grows strawberries after previously farming small white beans and alfalfa hay.
ACWA is the largest statewide coalition of public water agencies in the country. Its more than 460 public agency members collectively are responsible for 90% of the water delivered to cities, farms, and businesses in California. Its mission is to provide comprehensive leadership, advocacy, and resources for California public water agencies to ensure a high-quality and reliable water supply in an environmentally sustainable and fiscally responsible manner.
(Editor's note: The Vallecitos Water District is one of the San Diego County Water Authority's 24 member agencies that deliver water across the San Diego County region.) 
https://www.waternewsnetwork.com/wp-content/uploads/2023/05/Ed-Pedrazzi-Ops-Group-845X450.jpg
450
845
Gayle Falkenthal
https://www.waternewsnetwork.com/wp-content/uploads/2018/02/water-news-network.png
Gayle Falkenthal
2023-05-15 08:54:54
2023-05-15 16:25:30
Vallecitos WD Employee Ed Pedrazzi Recognized for Leadership