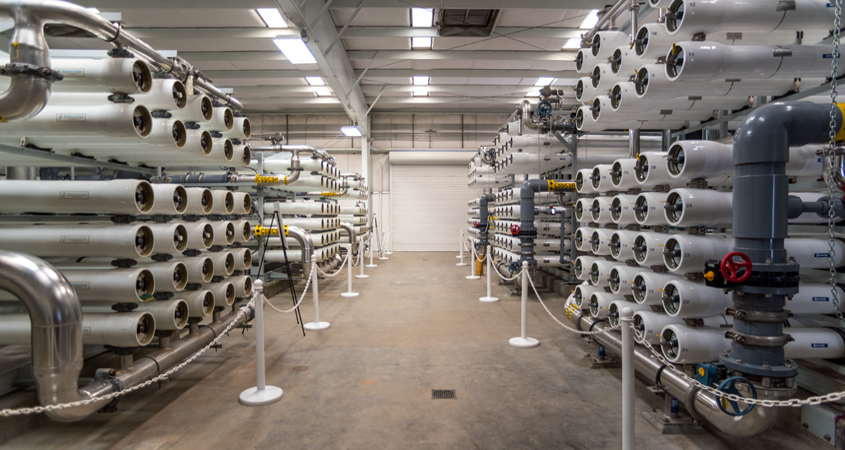 The Sweetwater Authority Governing Board was presented with the Southwest Membrane Operators Association (SWMOA) 'Best Tasting Membrane Water in the Southwest Region Award' at its July 24 board meeting.
The award recognizes the Authority's Richard A. Reynolds Desalination Facility as the winner of the Best Tasting Membrane Water Competition held during the SWMOA Annual Symposium in June.
The winning water sample was taken directly from the Richard A. Reynolds Desalination Facility, the same water provided to its customers. Judges based their assessment on the following criteria: taste, odor, color, clarity, mouthfeel, and aftertaste.
Among the participants in the competition representing water agencies from the Southwest United States, the Authority received the highest cumulative score.
Facility provides Authority customers with one-third of their annual water supply
The Richard A. Reynolds Desalination Facility in Chula Vista is a state-of-the-art groundwater desalination facility designed to use reverse-osmosis membrane treatment to remove dissolved salts and microscopic particles, such as bacteria and other contaminants which can be found in groundwater. The facility can produce up to 10 million gallons of drinking water per day, enough for approximately 18,000 families, and provides Authority customers with about one-third of their annual water supply.
The facility began operating in 1999 drawing brackish groundwater from five wells. That same year, the facility was honored with a San Diego Orchid award in the competition's environmental solutions category. Its phase two expansion was completed in 2017.
The facility's sustainable design also includes 2,950 ground-mounted solar PV panels as an alternative energy source. The solar array offsets the cost of treating water and reduces the facility's overall carbon footprint.
The facility was previously honored with the American Society of Civil Engineers' Project of the Year award, as well as the South County Economic Development Council's Corky McMillin/Best of South County Award.
The Southwest Membrane Operator Association is an affiliate of the American Membrane Technology Association and dedicated to the Southwest United States region including, but not limited to Arizona, California, Colorado, Hawaii, New Mexico, Nevada, and Utah.
https://www.waternewsnetwork.com/wp-content/uploads/2019/07/Sweetwater-Authority-HoffmanPhotoVideo-34-845X450.jpg
450
845
Gayle Falkenthal
https://www.waternewsnetwork.com/wp-content/uploads/2018/02/water-news-network.png
Gayle Falkenthal
2019-07-30 13:07:42
2019-07-30 13:07:42
Sweetwater Authority Wins 'Best Tasting Membrane Water' Award