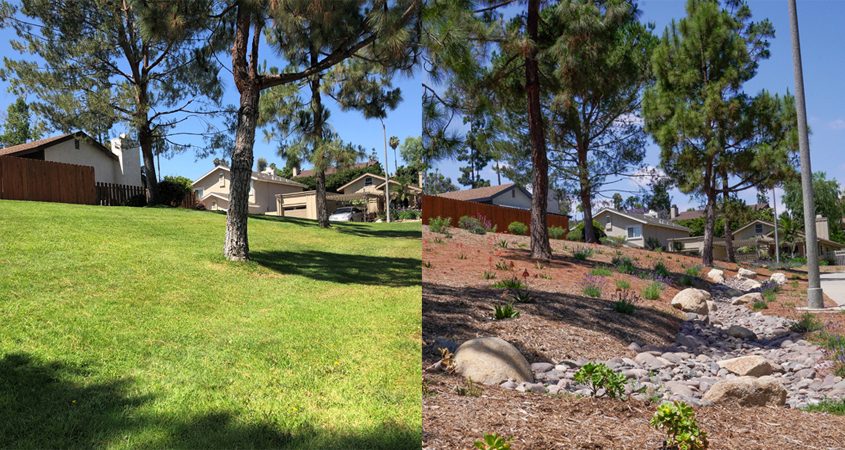 Conserving water and reducing pollution are two of many benefits from a new program in San Diego County.
Through a partnership between the County of San Diego's Watershed Protection Program and the San Diego County Water Authority, residences and businesses in unincorporated areas of the county became eligible for newly enhanced water-use efficiency rebates in 2021. The Waterscape Rebate Program saves money for residential, commercial, and agricultural customers who make landscape upgrades to improve the region's climate resilience and reduce the flow of pollutants into waterways.
The new concierge-style assistance program helped members of a Spring Valley homeowners association benefit from available incentives and rebates. As a result, residents saved money on landscape upgrades while reducing the flow of pollution into waterways and conserving water.
To make applying for rebates easier for large landscapes, the county added a Landscape Optimization Service, a unique technical assistance program for large-scale landscaping projects. The program helps applicants with large landscapes, such as HOAs and commercial properties, navigate the requirements, overcome barriers, and maximize their rebate eligibility.
LOS staff analyzes estimated water and cost savings, which details how quickly the project will pay for itself. The program also offers discounted designs to participants.
VIDEO: Learn more about the program and see the Rancho San Diego HOA transformation
First of its kind assistance program
"Many of our larger customers, such as HOAs, are run by volunteers who don't have the time or resources to undertake large landscape projects," said Joni German, Water Resources Specialist at the Water Authority. "Most of their landscapes were put in during the 1970s, and many are ready for a water-efficient upgrade. This partnership with the County enables us to offer HOA customers a first-of-its-kind program with assistance from start to finish."
Rancho San Diego Association, the first HOA to complete a project through the program and a customer of Otay Water District and Helix Water District, replaced nearly 40,000 square feet of unused grass and installed smart irrigation timers. The project is estimated to reduce water use by almost two million gallons annually. Total costs prior to the rebate were estimated at $120,000. After rebates, the HOA paid $13,000 for the project.
Currently, seven San Diego County HOAs are working through the process of removing common area grass with the support of County of San Diego contractor Environmental Incentives.
"The County is proud to partner with HOAs, like the Rancho San Diego Association, to help protect local waterways by transitioning to a more sustainable landscape," said Scott Norris, Land Use Environmental Planning Manager with the County Water Protection Program. "We look forward to expanding the Landscape Optimization Service in the coming years to assist more properties in upgrading their outdoor space and helping protect water quality."
Sustainable landscapes produce multiple benefits, which include reducing water use, enhancing habitat, increasing stormwater retention, and decreasing runoff.
The enhanced incentives include rebates starting at $3 per square foot for turf replacement, $60 per smart controller station, $65 per rain barrel, and up to $450 per cistern. In addition to offering technical assistance to upgrade larger landscapes on multifamily and commercial properties, a cost-share is available for agricultural growers to make water-saving upgrades.
Water customers in unincorporated San Diego County can determine their eligibility at SanDiegoCounty.gov/WatershedRebates. The Landscape Optimization Service is actively recruiting new participants.
Protecting our watershed by conserving water
The Waterscape Rebate Program helps to protect local waterways by reducing pollutants that enter storm drains. When irrigation systems overflow from landscaping, runoff may carry pollutants like pesticides, herbicides, and fertilizers into the storm drain system and cause the same adverse effects as runoff from rainfall. Reducing turf helps reduce irrigation use and runoff.
The program includes outreach and education to commercial, industrial, and residential properties in unincorporated areas of the county. San Diego County is also offering programs with rebates for upgrades, including rain gardens, gutters, permeable pavement, and regular septic system pumping.
(Editor's note: The Helix Water District and Otay Water District are two of the San Diego County Water Authority's 24 member agencies that deliver water across the metropolitan San Diego region.)
https://www.waternewsnetwork.com/wp-content/uploads/2022/04/RSD-HOA-BA-845X450.jpg
450
845
Gayle Falkenthal
https://www.waternewsnetwork.com/wp-content/uploads/2018/02/water-news-network.png
Gayle Falkenthal
2022-04-20 17:17:42
2022-04-20 17:18:43
Spring Valley HOA and Watershed Benefit From Landscape Optimization Service