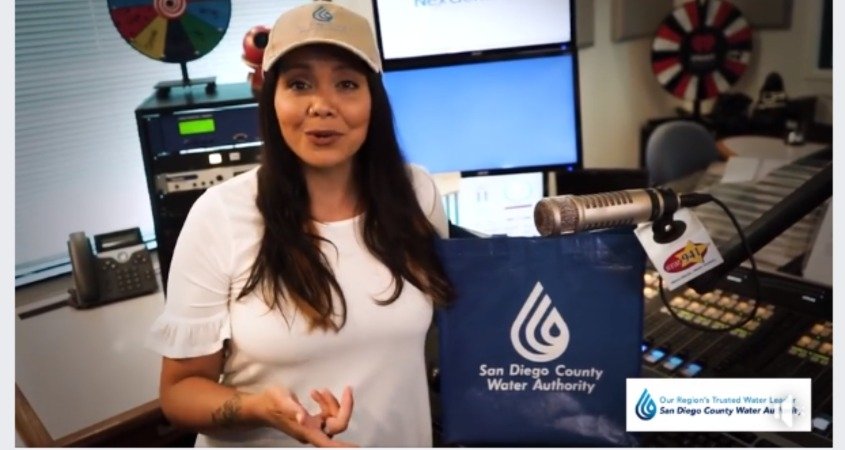 Well-known local radio DJs Geena the Latina from Channel 93.3, Beto Perez from Jam'n 95.7 and Tati from Star 94.1, are teaming up with the San Diego County Water Authority this summer to thank San Diegans for using water wisely and are encouraging residents to keep our region drought-safe.
While drought conditions persist across the western U.S., San Diego County has reliable water supplies thanks to investments made by the region's ratepayers, the Water Authority and its member agencies. 
San Diego region "drought-safe" thanks to WaterSmart practices
San Diegans have adopted WaterSmart practices and continue to make the most of every drop, helping ensure there's enough water to meet the region's needs now and for decades into the future. Simple but important steps like washing full loads of laundry and dishes, rinsing fruit and vegetables in a bowl, and checking for leaks save water.
Radio DJs thank San Diegans
"I do my daily routine to make sure I turn off my water when I brush my teeth," said Beto Perez. "I'm huge when it comes to preserving our water because a couple of years ago when we had the drought here in our county I was freaking out."
Beto Perez – Jam'n 95.7
Beto Perez from Jam'n 95.7 was born in Tijuana, Mexico, and raised in South San Diego. He is a well-known on-air DJ and local favorite with more than 13 years of experience at English and Spanish radio stations, including Magic 92.5 and Z90.3.
Geena the Latina – Channel 93.3
Originally from Los Angeles, Geena the Latina has been a staple on Channel 93.3 for more than a decade. As the co-host of the Geena the Latina & Frankie V morning show, she is one of the most recognized and beloved radio personalities in San Diego.
Tati – Star 94.1
Tati of Star 94.1 began her radio career in Honolulu, Hawaii, and has followed her career from coast to coast. Most recently, she worked as a morning co-host at Jam'n 95.7 before joining Jesse and Tati in the Morning on Star 94.1.
Jon Foreman of Switchfoot
The Water Authority also recently released a video featuring musician Jon Foreman of the San Diego band Switchfoot at San Vicente Reservoir. Foreman talks about the investments the region's water agencies and ratepayers have made to protect San Diego County's economy and quality of life, especially during dry times.
Previous video collaborations between Foreman and the Water Authority have collectively generated hundreds of thousands of views on various digital platforms. The videos also helped to introduce new audiences to the importance of safe and reliable water supplies.
To learn more about ways to stay WaterSmart, go to watersmartsd.org.
https://www.waternewsnetwork.com/wp-content/uploads/2021/07/Tati-845x450-1.jpg
450
845
Andrea Mora
https://www.waternewsnetwork.com/wp-content/uploads/2018/02/water-news-network.png
Andrea Mora
2021-07-28 15:21:27
2021-07-28 15:29:35
San Diego Radio DJs Promote WaterSmart Lifestyles