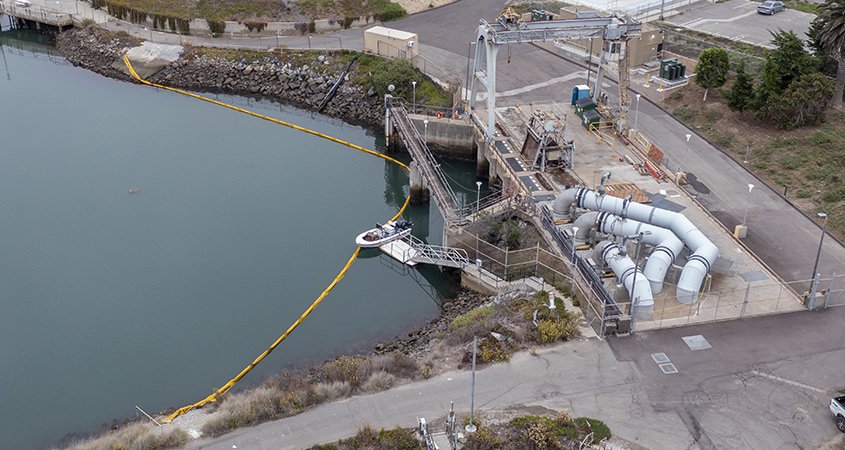 (Editor's note: As of Friday, October 8, the Carlsbad Desalination Plant continues operating at full production with no indication of oil in the feed water. As a precautionary measure, protective booms have been placed at several locations in the Aqua Hedionda Lagoon, including in front of the desalination plant intake).
Poseidon Water and the San Diego County Water Authority issued the following joint statement in response to emergency response efforts following the recent oil spill off the coast of Orange County. No oil has been detected by the plant's monitoring system.
"The San Diego County Water Authority and Poseidon Water appreciate precautionary efforts by state emergency response crews to install a protective boom at the mouth of Agua Hedionda Lagoon, which provides intake water for the Claude "Bud" Lewis Carlsbad Desalination Plant. State agencies are also installing a second barrier near the plant intake.
No oil detected
"The Carlsbad Desalination Plant continues to operate normally with no oil detected at the site, and there are no plans to shut it down. If operational changes are required, the Water Authority could shift water deliveries to ensure continued water service to its member agencies countywide. Per State of California requirements in the facility's drinking water permit, the desalination plant will shut down if the hydrocarbon concentration of source seawater reaches 300 parts per billion.
"We continue to monitor the situation closely, including ongoing testing for oil in the intake waters of the desal plant. And we continue to closely coordinate with the City of Carlsbad, the County of San Diego, Orange County, state agencies and others involved in the emergency response to ensure the plant remains a vital, drought-proof water source for San Diego County."
Drought-proof water supply
The Water Authority added desalinated seawater to its supply portfolio in 2015 with the start of commercial operations at the nation's largest seawater desalination plant – the result of a public-private partnership in the coastal town of Carlsbad. The drought-proof supply reduces the region's dependence on supplies that are vulnerable to droughts, natural disasters and regulatory restrictions.
Desalination uses reverse osmosis technology to separate water molecules from seawater. Water from the ocean is forced through thousands of tightly-wrapped, semipermeable membranes under very high pressure. The membranes allow the smaller water molecules to pass through, leaving salt and other impurities behind.
Landmark public-private partnership
In November 2012, the Water Authority approved a 30-year Water Purchase Agreement with Poseidon Water for the purchase of up to 56,000 acre-feet of desalinated seawater per year, approximately 10% of the San Diego region's water demand.
Poseidon is a private, investor-owned company that develops water and wastewater infrastructure. Under the Water Purchase Agreement, Poseidon built the Claude "Bud" Lewis Carlsbad Desalination Plant, and a 10-mile conveyance pipeline to deliver desalinated seawater to the Water Authority's aqueduct system.
For updates on the oil spill go to: https://socalspillresponse.com
https://www.waternewsnetwork.com/wp-content/uploads/2021/10/OilBoom.CN_.10.7.2021x005-8-Oct-2021-PRIMARY.jpg
450
845
Ed Joyce
https://www.waternewsnetwork.com/wp-content/uploads/2018/02/water-news-network.png
Ed Joyce
2021-10-07 16:58:12
2021-10-12 17:26:55
Desal Plant Operations Continue; Protective Boom Installed at Lagoon