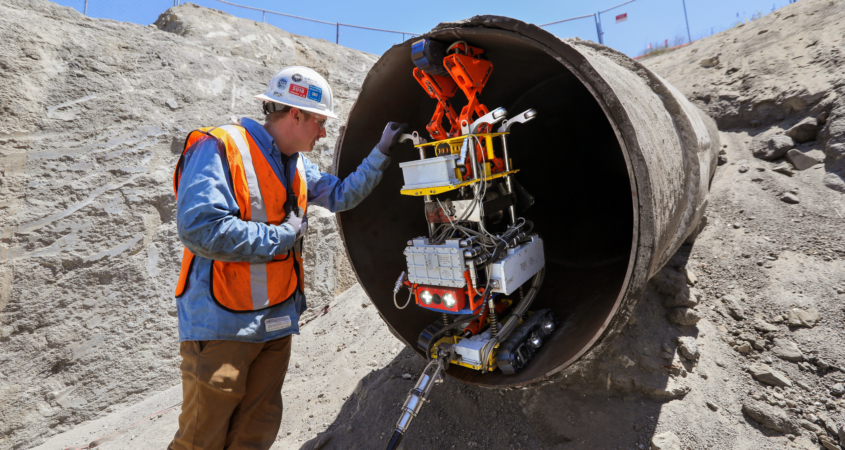 The San Diego County Water Authority's asset management team recently celebrated the completion of a comprehensive condition assessment of more than 27 miles of the agency's oldest pipelines. The assessment was performed in record time over just 16 months.
The work was part of a package of rehabilitative efforts on a portion of the First Aqueduct, which includes Pipelines 1 and 2 in North San Diego County. Built in 1947 and 1952, the two pipelines deliver treated water to the region and were constructed using various materials, including reinforced concrete and steel.
Proactive asset management team makes critical repairs
As the pipelines were inspected, areas that required immediate attention were identified and repaired, thereby minimizing future disruptions to water service and impacts to the surrounding environment. Sections of the pipelines requiring future repairs were added to a list of upcoming projects prioritized by the risks and associated costs.
"The asset management team took advantage of scheduled pipeline shutdowns, and with careful coordination, assessment work was performed concurrently with other major rehabilitation efforts in the region," said Martin Coghill, operations and maintenance manager at the Water Authority. "This innovative approach saved time and avoided unnecessary disruptions in service to our member agencies."
Throughout the condition assessment process, Water Authority staff worked closely with staff from member agencies to coordinate work being performed in their service areas and any potential impacts. Proactive repairs are crucial to ensuring the reliability of the regional water supply.
Collaboration with multiple contractors to perform complex work
In 2016, a search was conducted to find the best technologies to perform critical assessments to maintain the reliability of the pipelines. It resulted in a multi-technology, multi-contract approach.
The Water Authority partnered with multiple contractors to perform the complex work:
Diakont, based in Carlsbad, Calif., used its robotically-mounted technologies to inspect steel pipe sections. High-resolution LASER Profilometry and Electromagnetic Acoustic Transfer technology located internal and external corrosion defects that were then repaired by welding steel patches on the inside of the pipe. This method avoided costly excavations and environmental impacts.
Pipeline Inspection and Condition Analysis Corp., based in Edmonton, Alberta, brought its sophisticated Remote Field Technology to San Diego County to scan most of the reinforced concrete pipe using an innovative tool that moved through the pipe at a controlled speed. The technology had been previously used by the Water Authority and consistently demonstrated a high level of accuracy.
Pure Technologies, a Xylem company with an office in San Diego, deployed its Near Field and Remote Field electromagnetic inspection tools to assess portions of the reinforced concrete pipe. With a focus on lightweight components, both tools were successfully conveyed through the pipelines using personnel with rope and pulley support.
The focus on the Water Authority's First Aqueduct is the latest chapter in the agency's long-running strategy to assess critical pipelines and ensure the maximum lifespan is achieved with the most cost-effective methods. Proactive asset management efforts first began in the 1990s and were consolidated into the Asset Management Program in 2009. To date, more than 150 miles of the Water Authority's total 310 miles of large-diameter pipelines have been assessed using cutting-edge technologies.
The asset management team collaborates with local, national and international organizations in the asset management and water infrastructure fields, focusing on knowledge sharing and asset life optimization.
https://www.waternewsnetwork.com/wp-content/uploads/2020/07/Pipeline_Inspection_PRIMARY_v2-scaled-e1594771913865.jpg
450
845
Kristiene Gong
https://www.waternewsnetwork.com/wp-content/uploads/2018/02/water-news-network.png
Kristiene Gong
2020-07-15 09:46:48
2020-07-15 11:37:34
Pipelines Assessed in Record Time with Latest Technology