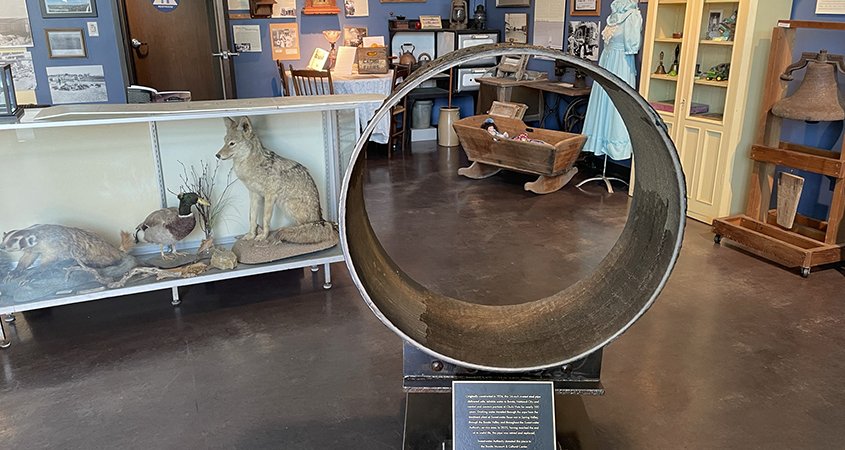 A key piece of water infrastructure  – a steel pipe that delivered water to residents of San Diego County –  is now on display at the Bonita Museum & Cultural Center.
Earlier this year, the Sweetwater Authority completed the replacement of its 36-inch transmission main in the Bonita Valley area. Portions of the large critical pipeline were nearing 100-years-old and due to be retired and replaced.
The 36-inch riveted steel pipe played a critical role in delivering water to residents and businesses in the South Bay for nearly a century before it was retired and replaced in 2020.
The original riveted steel pipeline was constructed in 1926 and played a key role in delivering safe, reliable water to Authority customers throughout the South Bay. Drinking water from the Authority's treatment plant in Spring Valley traveled through the pipe, through the Bonita Valley and throughout the Sweetwater Authority service area, which includes Bonita, western and central portions of Chula Vista and National City.
Major water infrastructure improvement
"Replacing the 36-inch transmission main was a major infrastructure improvement project for the Authority last year, and we're proud to be able to preserve a piece of our community's history now that the project is complete," said Authority Board Chair Hector Martinez. "The water we've delivered to our customers over the last century has passed through this pipe, and we are glad the Bonita Museum & Cultural Center is able to share this piece of history with the community."
The vintage pipe is now on permanent display at the Bonita Museum & Cultural Center.
The Sweetwater Authority is a publicly-owned water agency with policies and procedures established by a 7-member Board of Directors. The  Authority governing board is composed of five directors elected by division by the citizens of the South Bay Irrigation District, and two directors appointed by the Mayor of National City, subject to City Council confirmation.
(Editor's note: The Sweetwater Authority is one of the San Diego County Water Authority's 24 member agencies that deliver water across the metropolitan San Diego region.)
https://www.waternewsnetwork.com/wp-content/uploads/2021/06/Bonita-Museum-Pipe-Display-primary-1.jpg
450
850
Ed Joyce
https://www.waternewsnetwork.com/wp-content/uploads/2018/02/water-news-network.png
Ed Joyce
2021-06-14 15:19:39
2021-06-14 15:19:39
Vintage Water Pipeline Now at Bonita Museum