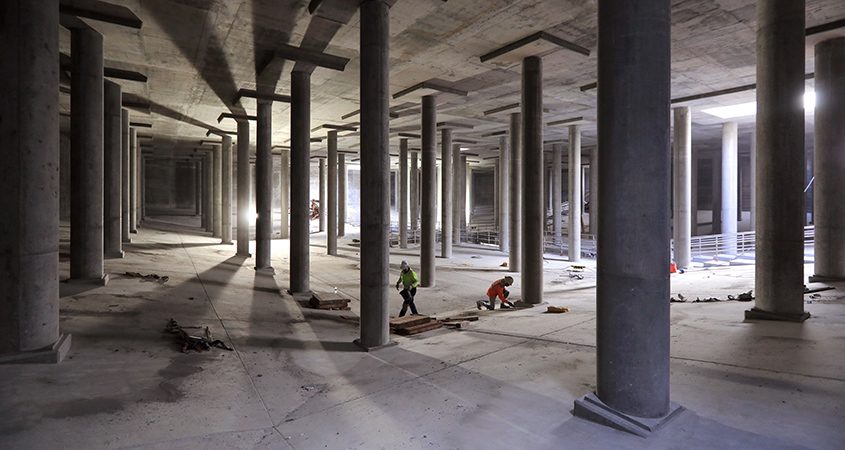 Construction of the new Flow Regulatory Structure II, or FRS II, in Mission Trails Regional Park is nearing completion. The structure is now completely enclosed on all sides and was successfully tested.
Construction crews have started placing soil around the exterior walls to begin burying the structure. In the next three weeks, the roof will be covered so the facility is concealed. Water is expected to begin flowing into FRS II in June 2022.
Mission Trails Regional Park project
The new structure, located in the northwest portion of Mission Trails Regional Park, is part of a San Diego County Water Authority project to upgrade the untreated water system that delivers water to treatment plants servicing the central and southern areas of the county, helping to balance the flow of untreated water. Once in operation, the FRS II will be capable of holding nearly five million gallons of water – enough water to fill seven Olympic-sized swimming pools.
Area will be restored with natural vegetation
Revegetation efforts will begin after FRS II is work is complete this fall. The topsoil was removed and stored onsite and will be returned help restore native plants and vegetation to pre-construction conditions.
Before the project began, 225 pounds of live seed was gathered from within Mission Trails Regional Park and taken to a dedicated nursery. From these seeds, more than 22,000 native plants are being grown and will be planted over a 17-acre area. Once planted, there will be a 120-day plant establishment period followed by five years of maintenance and monitoring to assure successful implementation.
Construction began in March 2020 just as the coronavirus pandemic began. As an essential infrastructure project, construction on the water project continued during the pandemic.
The Water Authority operates and maintains a regional water delivery system capable of delivering 900 million gallons of water per day.
Watch a recent news story about the project nearing completion.
https://www.waternewsnetwork.com/wp-content/uploads/2022/04/MissionTrails.4.18.2022-845x450-1.jpg
450
845
Kristiene Gong
https://www.waternewsnetwork.com/wp-content/uploads/2018/02/water-news-network.png
Kristiene Gong
2022-05-02 16:35:25
2022-05-02 16:35:55
New Water Tank in Mission Trails Nearly Complete and Will Soon Disappear