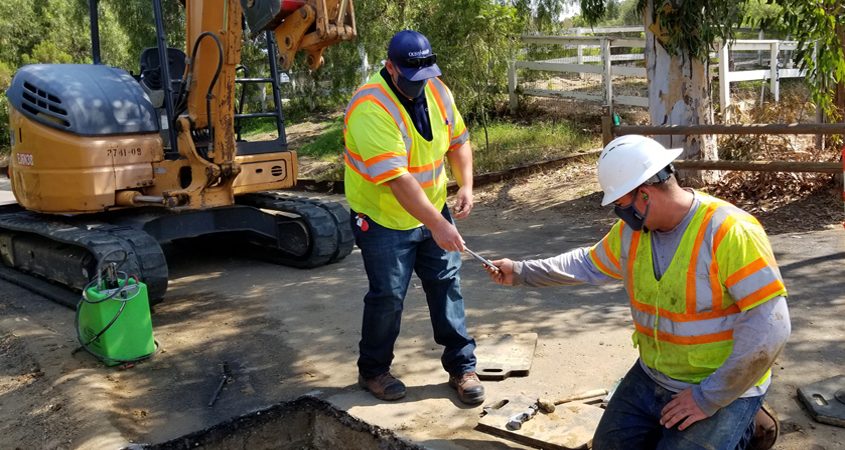 In its ongoing effort to keep ratepayers and the community informed, the Olivenhain Municipal Water District produced its first "Year In Review" video report for 2021.
The video showcases key achievements of the District, using an accessible digital video format to share details, images, and key facts with ratepayers through a familiar, trusted online platform posted to the District's YouTube channel.
"Most customers are not aware of the numerous projects and developments ongoing at OMWD, so this video is a great way to package all our wins into one place for easy viewing," said Joe Jansen, OMWD administrative analyst.
Jansen said many of the District's fiscal accomplishments aren't readily visible to the public like infrastructure projects.
"Videos are great informational tools to help keep our residents informed of everything we do and to help build trust with us as their water provider," said Jansen.
Eight achievements highlighted in the video
OMWD received an AAA bond rating from Fitch Ratings.
OMWD received over $3.6 million in refunds to be credited to customers over the next several years. Funds will be added to the Rate Stabilization Fund and applied as a direct credit to customers' water bills over the next several years.
OMWD achieved over $1.3 million of state and federal grant funds. Funding will offset the costs of important projects for ratepayers.
OMWD continues to receive the highest recognition from industry groups. Awards recognize the District for its fiscal governance and infrastructure projects.
Water quality continues to exceed state and federal standards. In addition, due to preventative maintenance, overall water loss decreased in 2021.
OMWD completed a pilot study on developing a local water supply through groundwater desalination. Results were favorable from the grant-funded project and the District will continue to assess the project's feasibility.
OMWD completed several replacement and upgrade projects at its 4S Ranch Water Reclamation Facility.
Proactive measures were taken to combat the spread of COVID-19. As a result, OMWD had no interruption to customer service and has completed all vital projects during the past year.
Award finalist in ACWA 2021 Huell Howser Excellence in Communication Award
(Editor's note: The Olivenhain Municipal Water District is one of the San Diego County Water Authority's 24 member agencies that deliver water across the metropolitan San Diego region.)
https://www.waternewsnetwork.com/wp-content/uploads/2022/01/OMWD-Field-Work-845X450.jpg
450
845
Gayle Falkenthal
https://www.waternewsnetwork.com/wp-content/uploads/2018/02/water-news-network.png
Gayle Falkenthal
2022-01-19 07:41:51
2022-01-19 08:03:33
New Video Highlights Olivenhain Municipal Water District Achievements in 2021