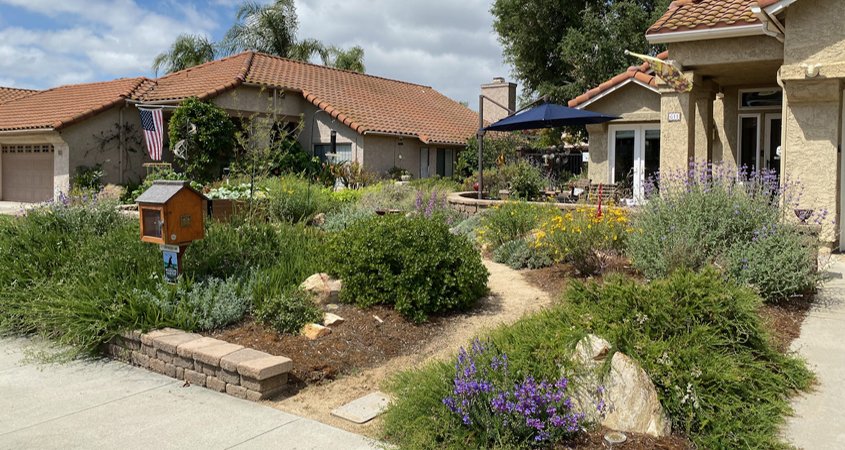 As California experiences another drought cycle, homeowners in the San Diego region continue to makeover their landscapes with native plants that need less water. An Escondido couple recently transformed their landscape to save water and won the City of Escondido Landscape Makeover Contest too.
Escondido homeowners Michael and Teresa Everett first learned about the 2021 Escondido Landscape Makeover Contest from Escondido family-owned El Pantio Nursery. It was the motivation they needed to makeover their landscaping with native plants.
"As concerned Californians, we wanted to do our part to lessen our impact on San Diego county's water resources," said Teresa Everett. "We decided to switch to a waterwise landscape using all California native plants. Landscaping with native plants can reduce water usage by 60% or more. There is also a reduction in one's carbon footprint as there is no need for mowing or trimming lawns."
Landscaping supports local ecosystem
The Everetts also reduced yard waste and the need for soil additives since California native plants are adapted to the lean clay soil in San Diego County.
While the environmental reasons were compelling, the Everetts also wanted to create a habitat garden that was both beautiful and supported the local ecosystem.
"California is in the top 25 most bio-diverse areas in the world," the couple pointed out. "Our housing developments have crowded out native plants. Native plants have evolved to provide exactly the right food in exactly the right package to attract and feed the animals that are unique to our California environment."
The Everetts planted native trees, including Coastal live oak, Western sycamore, Western redbud, and Palo Verde Desert Museum. They added shrubs, including manzanitas, ceanothus, Mexican elderberry, salvias, desert mallow, and wooly bluecurls. California fuchsias, San Diego sunflowers, and Pacific irises add color. Grasses and vines round out the landscape palette.
"Ever since we re-landscaped, we have observed a huge increase in birds, lizards, butterflies, and other pollinators in our yard. Waterwise native gardens are also extremely beautiful," said the couple.
Irrigation needs reduced using native plants
After the makeover, the Everetts rarely need to irrigate their landscape between late fall and late spring. During drier months, the landscape is irrigated twice monthly. The homeowners also maintain a vegetable and herb garden using rainwater collected in two rain barrels with 260-gallon capacity and by hand when necessary.
"We now spend many hours relaxing and bird watching in our yard," said the Everetts. "Our outdoor space is now a much more enriching experience that gives us a greater sense of our connection to nature and a sense of place."
"By re-landscaping our small property, we hope to take one small step in restoring San Diego county's rich biodiversity. Sharing the successes of our garden with others will hopefully encourage other homeowners to convert their gardens to water and habitat smart landscapes."
Find tips on how to create a WaterSmart home and garden, including details on rebates: www.watersmartsd.org/
(Editor's note: The City of Escondido is one of the San Diego County Water Authority's 24 member agencies that deliver water across the metropolitan San Diego region.)
https://www.waternewsnetwork.com/wp-content/uploads/2021/07/Escondido-Landscape-2021_8493-845X450.jpg
450
845
Gayle Falkenthal
https://www.waternewsnetwork.com/wp-content/uploads/2018/02/water-news-network.png
Gayle Falkenthal
2021-07-14 08:29:13
2021-07-14 08:29:13
Native Plants Garden Wins 2021 Escondido Landscape Makeover Contest