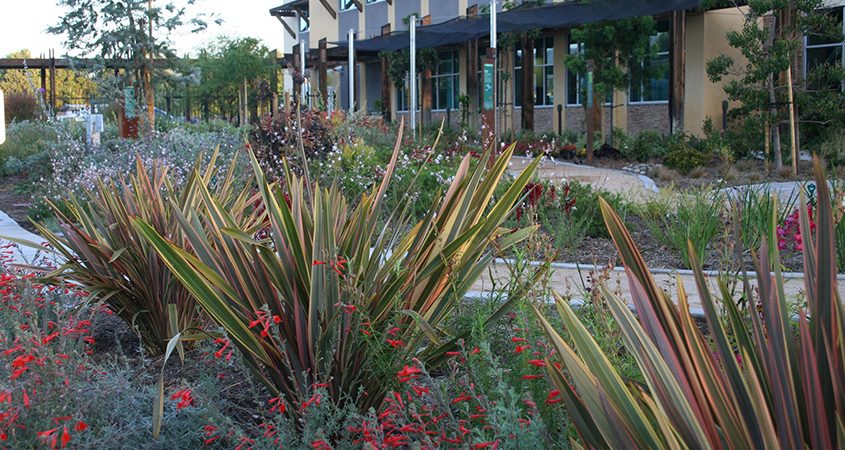 Sustainable landscape demonstration gardens inspire homeowners to create and maintain their own beautiful, water-efficient landscapes. In California, where more than half of urban water usage goes towards landscape irrigation, any reduction in water consumption contributes to successful conservation efforts.
The San Diego County Water Authority and several member agencies host demonstration gardens that residents can visit and gather ideas for their own landscape makeovers and water-efficient upgrades. With gardens flourishing in late spring, it's the perfect time for a self-guided garden tour.
San Diego County Water Authority
The Water Authority sustainable landscape demonstration garden at its Kearny Mesa headquarters showcases how homeowners can increase water efficiency and boost the environmental benefits of outdoor spaces through sustainable landscaping practices.
The 3,000-square-foot garden incorporates well-known water-efficient techniques such as climate-appropriate plants and high-efficiency irrigation. It also includes features to enhance water efficiency and reduce stormwater runoff.
Helix Water District
Helix Water District created its first demonstration landscape in July 2020 at the district's administration office in La Mesa. The project beautifies the neighborhood and serves as an inspiration to install low-water-use landscaping.
Three unique water-wise gardens include a Mediterranean garden on University Avenue, a desert landscape on Lee Avenue, and a California native landscape at the main entrance on Quince Street. Each garden boasts an array of flowers, colors, and textures and is easily visible from the sidewalk. The plants in these gardens are adapted to San Diego's climate, requiring half to a fifth of the water needed by a traditional lawn. The gardens, at 7811 University Avenue in La Mesa, are low maintenance and provide habitat for local wildlife.
Plant markers display each plant's name so visitors can write down their favorites and a QR code that can be scanned with a smartphone to access additional information such as light and water needs. Visitors can access hwd.fyi/get-inspired to download the garden plans, obtain plant lists, and view several resources available to help start their own garden.
Olivenhain Municipal Water District
The Olivenhain Municipal Water District headquarters houses a sustainable landscape demonstration garden showcasing water-efficient landscaping techniques. Customers can visit the California-friendly demonstration garden and hydroponic gardening tower free of charge throughout the year, either in person or online.
The garden highlights four key principles of sustainable landscaping: healthy soils, rainwater as a resource, climate-appropriate plants, and low-water use irrigation. Its location is 1966 Olivenhain Road, Encinitas.
Padre Dam Municipal Water District
The Padre Dam Municipal Water District encourages East San Diego County residents to explore its water-efficient demonstration landscape to see more than 175 water-efficient plant and tree species.  Padre Dam's Water Conservation Garden is open to the public during business hours and located at its Customer Service Center at 9300 Fanita Parkway in Santee.
City of Poway Kumeyaay Native Plant Demonstration Garden
The City of Poway honors its Native American heritage with its Native Plant Demonstration Garden as part of the Kumeyaay-Ipai Interpretive Center. It's open the third Saturday of each month from 10 a.m. to 1 p.m. for both docent-led and self-guided tours, located at 13104 Carriage Road, Poway.
A thriving community of Native Americans populated Pauwai long before the Spanish arrived. The evidence of their lives and work can be seen today at the Center, founded by a partnership with the City of Poway, Friends of the Kumeyaay, and the San Pasqual Band of Indians.
A video tour showcasing Native American plant uses can be viewed online here.
Vallecitos Water District
The Vallecitos Water District developed its demonstration garden in 2010 with design plans from Palomar College Environmental Architecture and Design students. The project received support from local businesses, organizations, and District employees.
The garden showcases sustainable practices and includes a rainwater harvesting system that collects rain from the roof into three storage tanks with a combined 2,500-gallon capacity. This system reduces the reliance on potable water, and the captured rainwater is used for the prominent water features in the garden which run on solar power.
California-friendly plants are supported with plant-nurturing mulch, compost, and biosolid pellets made from recycled wastewater solids produced at a treatment plant partially owned by Vallecitos, the plants are bolstered with moisture and nutrients. This eliminates the need for chemical fertilizers.
The garden features a weather-based irrigation controller display, durable aluminum shade structures, dry riverbeds, artificial turf, micro-irrigation, and an artistic sculpture highlighting the value of water. A new private patio area has been added, and all pathways are now ADA-accessible.
Vallecitos' sustainable demonstration garden has achieved recognition as a "Certified Wildlife Habitat" by the National Wildlife Federation in 2013 and has been acknowledged as a "Certified Earth Friendly Garden" by the Master Gardeners Association of San Diego County. In 2023, a Little Free Library was installed at the north end of the garden, stocked with garden books to inspire residents to adopt water-wise gardening practices. The garden is located at 201 Vallecitos De Oro, San Marcos.
The Water Conservation Garden
The Water Conservation Garden is a nearly five-acre display showcasing water conservation through a series of themed exhibits. Displays include a native plant garden and vegetable garden as well as how-to gardening and irrigation exhibits. Admission is free and the garden can be viewed on a self-guided tour or through one of its programs including classes and special events. The Water Conservation Garden is located at 12122 Cuyamaca College Drive West, El Cajon.
Rebates, resources, WaterSmart Landscape Contest winners
Using water efficiently is a way of life and responsibility in the San Diego region. Residents have adopted habits that not only save money, but also create vibrant yards, reduce energy use, protect natural resources, and reduce landscape maintenance.
In a 2007 survey published in The Journal of the American Association of Botanical Gardens and Arboreta, half of those surveyed during a visit to San Diego County's Water Conservation Garden found reported making a change to their landscape due to their visit to the water conservation demonstration garden, illustrating their value to the community.
Along with the sustainable landscape demonstration gardens, many of the Water Authority's member agencies provide opportunities for their customers to enter the annual WaterSmart Landscape Contest. The stories of the winners are regularly published in the Water News Network and can be found in the Features tab on the WNN homepage under the Conservation Corner category. The WaterSmart Living category, also under the Features tab, offers resources and tips on how to convert water-wasting landscapes to beautiful water-wise gardens.
(Editor's Note: The Helix Water District, City of Poway, Olivenhain Municipal Water District, Padre Dam Municipal Water District, and the Vallecitos Water District are five of the San Diego County Water Authority's 24 member agencies that deliver water across the San Diego region.)
https://www.waternewsnetwork.com/wp-content/uploads/2023/06/Padre-Dam-Demo-Garden-845X450.jpg
450
845
Gayle Falkenthal
https://www.waternewsnetwork.com/wp-content/uploads/2018/02/water-news-network.png
Gayle Falkenthal
2023-06-04 13:43:20
2023-06-04 13:43:20
Experience a Sustainable Demonstration Garden Self-Tour