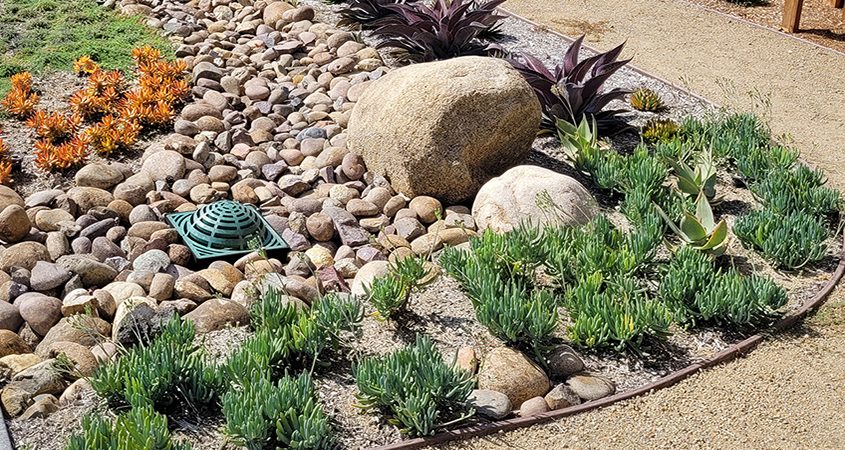 Using water efficiently is a way of life and an important responsibility in the San Diego region. Water users have learned how to make the most of every drop and avoid wasteful or careless habits. Homeowners are replacing impractical thirsty lawns with beautiful low-water-use landscaping.
Over the past decade, residents have adopted habits that not only save money, but also create vibrant yards, reduce energy use, protect natural resources, and reduce landscape maintenance.
The sustainable landscape demonstration garden at Olivenhain Municipal Water District's headquarters provides customers with examples of water-efficient landscaping techniques that can save water and money. Techniques include rain harvesting, and the garden features a rain barrel, a larger cistern, and a dry stream bed to capture water for later use.
Sustainable landscape demonstration gardens can help inspire homeowners to create and maintain their own beautiful, low-water-use landscapes at home. Since half of the water used in California's urban areas goes toward landscape irrigation, any reduction contributes to successful conservation efforts.
New hydroponic gardening system 
OMWD has added a hydroponic gardening unit to its demonstration garden. It was provided through a donation by Tower Garden. The Tower Garden unit displays a water-efficient form of growing produce in a compact and vertical system. It is of particular interest to people who are looking for more water-wise methods of growing produce than traditional growing practices.
"OMWD encourages ratepayers to continue to make conservation a way of life and explore the many innovative and water-use efficient products that are available on the market," said OMWD Board Treasurer Neal Meyers. "A great place to start is outdoors. We hope customers take advantage of free resources and rebates to design a water-efficient landscape, and consider other water-saving options like graywater and hydroponic systems."
Save water, money and go hydroponic
Hydroponic systems grow plants in a water-based nutrient solution rather than soil. Hydroponic systems use less water than traditional soil-based growing systems. In commercial agricultural settings and farms, hydroponic systems can produce faster growth and higher yields of crops. The systems can also be used in home gardens.  Some units can use up to 90% less water than traditional produce gardens.
The demo garden hydroponic unit is operational and will be maintained by BCK Programs. Local scout troops in the district will help maintain the unit under supervision. The scouts earn conservation patches for their volunteer work. Crops harvested will be donated to scout volunteers, or donated to a local community food bank. A second system donated by Tower Garden will be used by BCK Programs to provide hydroponic gardening lessons in local schools.
Customers can visit the California-friendly demonstration garden and hydroponic gardening tower at OMWD's headquarters free any day of the year. It is also viewable online. The garden highlights four key principles of sustainable landscaping. Visitors can learn about healthy soils, rainwater as a resource, climate-appropriate plants, and low-water-use irrigation.
Demonstration gardens inspire water savings
In a 2007 survey published in The Journal of the American Association of Botanical Gardens and Arboreta, half of those surveyed during a visit to the Water Conservation Garden at Cuyamaca College, found that making a change to their landscape was due to their visit to the water conservation demonstration garden. The results illustrate the value of demonstration gardens to the community.
The demonstration garden at Olivenhain's headquarters received financial support from the Hans & Margaret Doe Charitable Trust at San Diego Foundation, Hunter Industries, Grangetto's Farm & Garden Supply, and Bushman USA.
(Editor's note: The Olivenhain Municipal Water District is one of the San Diego County Water Authority's 24 member agencies that deliver water across the San Diego County region.) 
https://www.waternewsnetwork.com/wp-content/uploads/2023/05/OMWD-Demo-Garden-845X450-20220929_demo-garden-streambed.jpg
450
845
Gayle Falkenthal
https://www.waternewsnetwork.com/wp-content/uploads/2018/02/water-news-network.png
Gayle Falkenthal
2023-05-05 04:31:47
2023-05-05 04:31:47
Demonstration Garden is Inspiration for Olivenhain MWD Customers