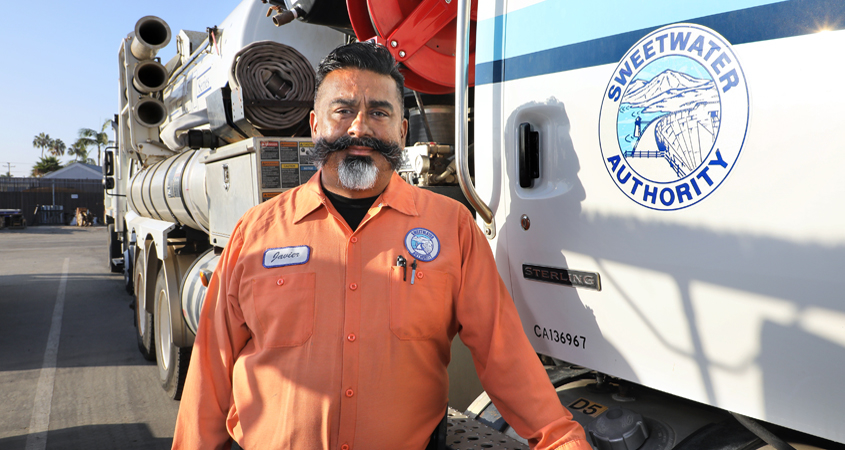 More than a month into the coronavirus crisis in California, water pros continue to work around the clock to deliver essential services to San Diego County residents.
From the Fallbrook Public Utilities District south to the Sweetwater Authority and east to the Padre Dam Municipal Water District, essential employees at the San Diego County Water Authority's 24 member agencies continue to maintain vital water systems and perform emergency repairs so customers have the water they depend on during this time.
"At a time when workforces are being challenged and stretched, the Fallbrook Public Utility District is fully operational," said Jack Bebee, Fallbrook PUD general manager. "During this outbreak, many employees are working remotely answering phones and questions. Other essential employees are in the field as necessary, practicing social distancing and wearing masks. They are responding to leaks and other critical operations."
Water and wastewater industry employees are among the essential critical infrastructure workers exempt from the California's stay home order that directs all state residents to stay home during the coronavirus pandemic.
"We are running at full capacity," said Beebe. "Calls are being answered, invoices are getting processed, our systems are being monitored remotely, and we are moving forward with essential construction projects."
'Rewarding knowing I can help people'
At the Sweetwater Authority, members of the Customer Service team continue to provide high-quality customer service.
"The most rewarding aspect of my work is knowing I can help people with their water needs," said Vanessa Olivares, Sweetwater customer service representative. "It's rewarding being able to provide great customer service by solving problems and offering solutions for customers."
"Knowing the public depends on me to do my job is a great motivator," said Valetin Martinez, Sweetwater instrument and control technician.
"Padre Dam staff continue to work daily to provide water and wastewater services to our customers," said Allen Carlisle, Padre Dam CEO/general manager. "During this time of uncertainty, our customers can be sure that crews continue to operate systems, lab analysts monitor water quality daily, customer service representatives are available to assist customers, and staff continue to perform all essential functions as public servants in our community."
As essential workers, water and wastewater system employees will continue to work to ensure safe and reliable water services. In some instances, routine maintenance projects that would require temporary water shutoffs are being delayed to ensure customers continue critically important hygiene habits such as washing their hands.
If you see water agency employees in your neighborhood feel free to wave and say thank you, but please remember to practice physical distancing.
https://www.waternewsnetwork.com/wp-content/uploads/2020/04/Javier.Natividad.Sweetwater-845X450.jpg
450
845
Gayle Falkenthal
https://www.waternewsnetwork.com/wp-content/uploads/2018/02/water-news-network.png
Gayle Falkenthal
2020-04-12 12:26:04
2020-04-12 12:54:18
Water Pros Working Round the Clock To Ensure Service