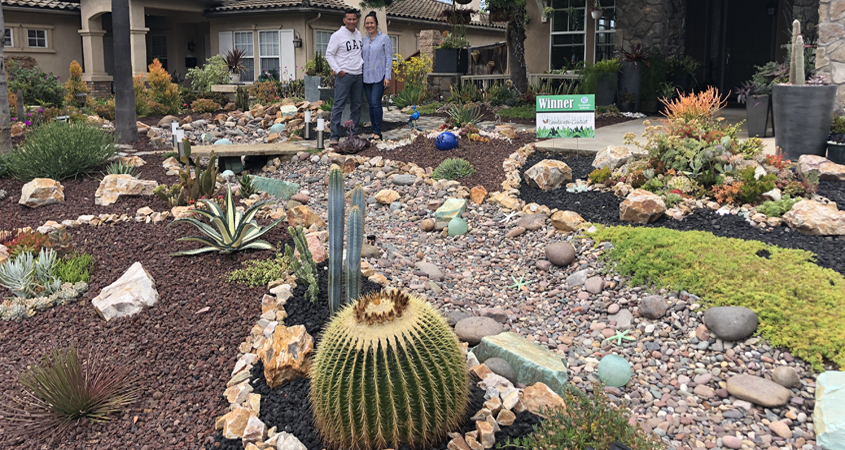 Fourteen water agencies in San Diego County seek the best in landscaping makeover projects for the regional WaterSmart 2020 Landscape Makeover competition. The annual contest offers the opportunity to showcase residential waterwise landscaping as a way to inspire other homeowners to consider replacing water-guzzling turf based designs.
The contest deadline for all participating agencies has now been extended to Friday, May 29. Homeowners may submit their entry online. You must be a resident within agency boundaries to participate. Each agency winner receives a $250 gift certificate and recognition on the agency website and social media channels.
Participating agencies include California American Water, the cities of Escondido, Oceanside, and San Diego, Fallbrook Public Utility District, Helix Water District, Olivenhain Municipal Water District, Otay Water District, Padre Dam Municipal Water District, Rincon Del Diablo Water District, San Dieguito Water District, Sweetwater Authority, Vallecitos Water District, and Vista Irrigation District.
"With rebates available for turf removal, now is a great time to replace your lawn with a beautiful WaterSmart landscape," said Brent Reyes, water conservation specialist for the Vista Irrigation District.
Turf removal saves estimated 36 million gallons annually
With a majority of residential water use in San Diego County attributed to watering landscapes, regional water efficiency efforts focus on outdoor water use.  By showcasing their beautiful landscape in the WaterSmart Landscape Contest, homeowners can offer ideas and demonstrate how waterwise landscaping can be attractive as well.
Thanks to ongoing education and incentives, San Diego County residents have targeted more than one million square feet of turf grass for replacement with WaterSmart landscaping through free landscape makeover classes sponsored by the San Diego County Water Authority between 2013 and 2018. The Water Authority has documented an estimated savings of 33 million gallons annually,
Online landscape makeover tips available
If you need some inspiration or guidance, WaterSmartSD offers landscape makeover videos you can view on demand. This series of videos mirrors the content of the in-person workshops and four-class series. Each video takes you step-by-step through the process of creating your own beautiful, water-efficient landscape.
From measuring your property to getting to know your soil to picking the right plants for the right place, these entertaining and informative videos will guide you along the path to a WaterSmart landscape.
In addition, WaterSmartSD provides a list of online resources and guides to planning your landscape design project, soil analysis, compost and mulch, plant choices, and irrigation.
For additional information on 2020 Landscape Makeover Contest entry rules, go to WaterSmartLandscapes.
Click on the gallery below for more 2020 landscape makeover inspiration from past winners.
https://www.waternewsnetwork.com/wp-content/uploads/2019/08/SWA-Landscape-Winners-_2336-845X450.jpg
450
845
Gayle Falkenthal
https://www.waternewsnetwork.com/wp-content/uploads/2018/02/water-news-network.png
Gayle Falkenthal
2020-03-26 17:06:09
2020-05-04 10:56:48
2020 Landscape Makeover Competition Opens Call For Entries