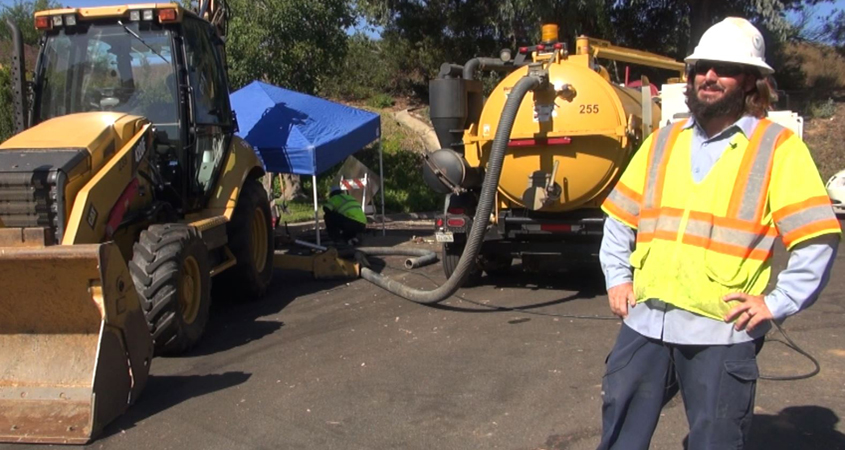 The Vallecitos Water District is moving beyond traditional bill mailers and tri-fold brochures to communicate with its customers in a more effective and dynamic way by using video.
Vallecitos Board President Hal Martin conceived the idea to create "Work We Do" videos to help customers see and understand first hand the complex work Vallecitos water professionals perform to ensure reliable water and wastewater services. Viewers see and hear from the workers in the field as they complete tasks such as replacing outdated equipment or using smoke testing to detect sewer leaks and protect the environment.
"I've seen the quality of staff videos and I realized it was the perfect way to show our customers exactly what we do," said Martin of the series and the initiative.
Watching crews in action providing the community with reliable drinking water and wastewater services, protecting the environment, and developing the next generation of water workers, makes customers better informed citizens about the area's vital infrastructure in a transparent way.
The video series also includes helpful information such as how to read water meters.
Online tools transforming community outreach efforts
"We're working to change our Public Information Department and keep up with current technology," said Chris Robbins, Vallecitos public information and conservation supervisor.
Robbins said the goal is to feature each department within the district and focus on topics that lend themselves to visual communication. Videos run three minutes or less to keep the audience engaged.
The latest 'Work We Do' video in the series features a recent valve replacement
Finished videos are posted to the district website, YouTube, Facebook and Twitter. The videos can also be seen on the City of San Marcos news channel, San Marcos TV. Videos are also shared through water industry news websites such as Water News Network.
Alicia Yerman, a Vallecitos public information representative, shoots and edits the video series. She schedules time to join crews at work when performing a specific task. She also plays talent scout, finding a knowledgeable employee who can describe the work on camera.
Not all staff want to talk, but Yerman is able to coax at least one Vallecitos staff member to be the 'on camera talent,' and she also has a knack for bringing out their best. She finds ways to make staff more comfortable being on camera—either by asking questions or placing staff members in comfortable settings.
Yerman and Public Information Representative Lisa Urabe were recently certified as drone pilots. Future videos will feature district work from a bird's eye point of view.
https://www.waternewsnetwork.com/wp-content/uploads/2019/10/VWD-Steve-Worker-845X450.jpg
450
845
Gayle Falkenthal
https://www.waternewsnetwork.com/wp-content/uploads/2018/02/water-news-network.png
Gayle Falkenthal
2019-10-24 08:39:39
2019-10-24 11:32:10
Vallecitos Water District 'Work We Do' Videos Connect With Community