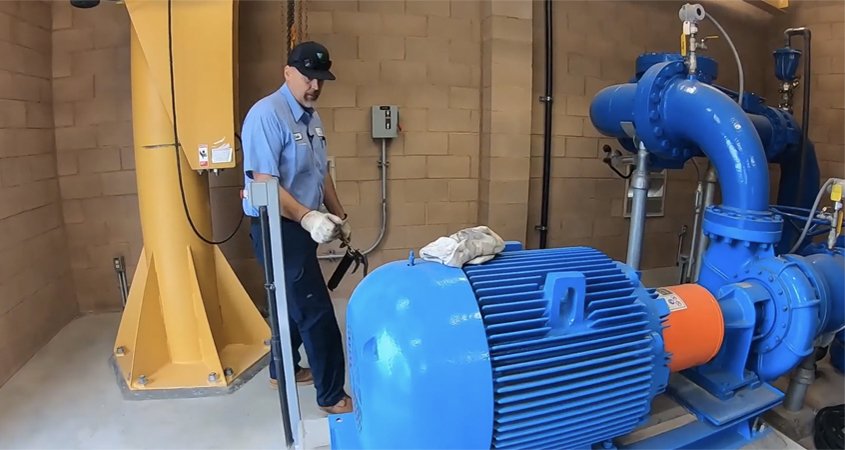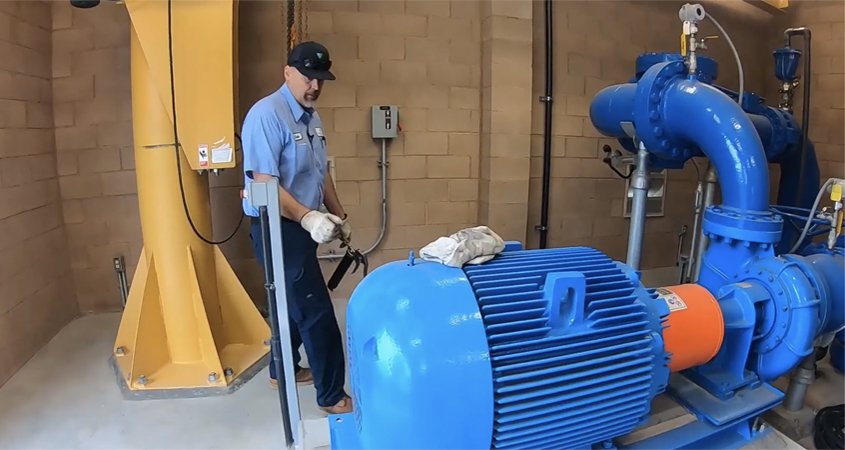 Vallecitos Water District Senior Pump and Motor Technician Dale Austin is a strong advocate and one-person recruiting program, encouraging military veterans to consider water and wastewater industry careers. As an eighth-generation military veteran with 20 years of service, he successfully transitioned to his current profession and wants to help others do the same.
"Every job in the military can be transferred into a water agency," said Austin. "I'm a proud veteran. I will support veterans 110% any way I can, any time of the day.
"One of the things I can tell a veteran preparing for a job or seeking a job within this field is be prepared. Prepare yourself. You're always training for a deployment or another duty assignment. This job is no different."
Half of all water and wastewater industry employees are expected to retire in the next 15 years. Many of those workers hold essential positions. The value of these essential workers became especially clear due to the pandemic.
Retirement wave creates career opportunities for veterans
In just the next five years, about 1,400 water and wastewater industry jobs are expected to open across the San Diego region. In addition to engineers and plant operators, the industry relies on technicians, accountants, electricians, mechanics, information technology specialists, and many other occupations.
Austin encourages veterans to explore their options through opportunities available for education and training, such as the certificate and degree programs at Cuyamaca College and Palomar College.
"Seek out volunteer programs. Seek out tours. Call a water agency. There are programs there. Take full advantage of those," said Austin. "Go to job fairs. Read job postings, even if you don't know what kind of job you may qualify for."
Water and wastewater industry jobs allow veterans to continue serving their community by providing safe, sanitary water and ensuring public health and safety. Careers are stable with good salaries and benefits. Water and wastewater professionals serve in communities and agencies of all sizes.
"I want to do the best for the ratepayers. I really take pride in that.  I think the military instilled that in me. It's a team environment here. It's like a military coalition. I love working with my team. I believe the military helped me achieve that," said Austin.
Vets receive credit for military experience and education
San Diego area veterans can learn about career opportunities at a dedicated web portal for veterans, SanDiegoWaterWorks.org.  New laws in California supported by the Water Authority and its 24 member agencies offer credit for military education and experience when applying for industry jobs.
Austin especially encourages women veterans to consider water industry careers. "I work with great women leaders here [Vallecitos Water District]. Your career choices are endless. You're focused on doing well. As a veteran, you have a hand up," said Austin.
Austin said his 11 years working at the Vallecitos Water District feels like working in a military environment in positive ways.
"We take care of each other. Everyone helps everyone else. I love the sense of accomplishment and the sense of satisfaction of doing a job well," said Austin. "A lot of our jobs are unrecognized by the public. You turn your tap on, you flush your toilet. Everything works. I get a sense of satisfaction with my group knowing we did a job well."
(Editor's note: The Vallecitos Water District is one of the San Diego County Water Authority's 24 member agencies that deliver water across the metropolitan San Diego region.)
https://www.waternewsnetwork.com/wp-content/uploads/2021/06/Dale-Austin-2021G-845X450.jpg
450
845
Gayle Falkenthal
https://www.waternewsnetwork.com/wp-content/uploads/2018/02/water-news-network.png
Gayle Falkenthal
2021-07-07 07:52:04
2021-07-07 07:52:04
Vallecitos Employee Encourages Veterans to Work in Water Industry