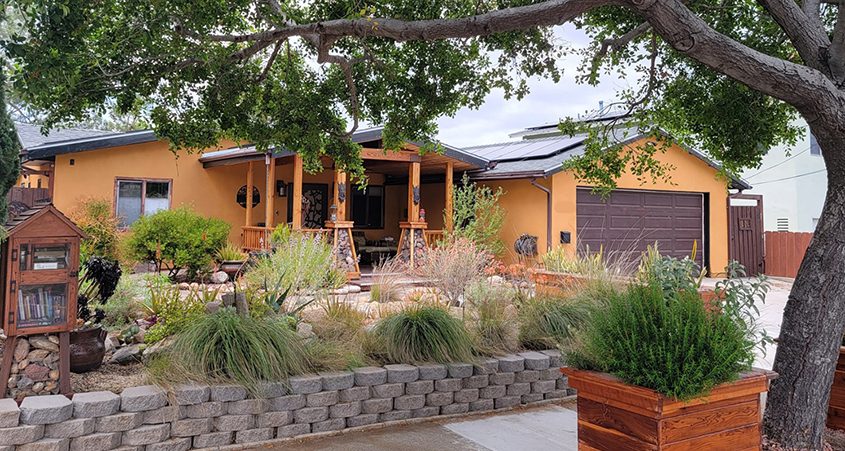 Santee homeowners Edie and Tate Thomas created a beautiful landscape with California native plants to save water, beautify their home, and support the region's wildlife. Their effort won the 2023 Padre Dam Municipal Water District landscape makeover contest.
Preserving rainfall by design 
In 2018, the couple began working on their makeover project. Edie Thomas is an architect, and Tate Thomas is a contractor. They took advantage of their building and design skills by creating a topography to capture and preserve the rainwater falling on their yard.
Their landscape is irrigated through underground rock ravines that collect rainwater in a rock-lined underground cistern reservoir which flows water to plants through gravity. They also buried large unglazed clay pots in their yard called ollas, which have above-ground access points to refill them with water. Plants wrap their roots around the porous ollas, which seep water out as needed, watering the plants with minimal water loss.
Edit Thomas advises other homeowners to do the same with their landscape topography.
"I always recommend people visualize a single drop of rainwater falling at the highest point of your landscape," she said. "Watch where gravity takes that raindrop and plan your landscape around that flow."
The pair also use drip irrigation about once a month along with occasional hand watering during extended dry periods.
Colorful variety of native plants featured

Long nature walks and information from the California Native Plant Society inspired the Thomas's to use native plants for most of their landscape, mixing colors and texture to be visually appealing. They have been richly rewarded with an ecosystem of butterflies, caterpillars, bees, birds, and bunnies. They describe their design concept as "playful chaos."
Community space
The sidewalk in front of the garden is designed to be a community space for those walking by. The large California Coastal Live Oak provides shade to the retaining wall, designed as a place to sit and rest. Visitors can browse through books from the couple's Little Free Library. Water-efficient herbs growing in the planter boxes under the tree are offered to those who pass by.
Edie and Tate Thomas spend most evenings on their patio, enjoying the space and watching their ecosystem thrive. They look forward to watching the plants grow and mature in the coming years and even decades.
"It's so rewarding to see people come by and rest in the shade or take some rosemary for their dinner," said Edie Thomas. "I love that we get to give a small square of land back to nature and that our neighbors enjoy it as much as we do."
(Editor's note: The Padre Dam Municipal Water District is one of the San Diego County Water Authority's 24 member agencies that deliver water across the San Diego County region.) 
https://www.waternewsnetwork.com/wp-content/uploads/2023/08/Padre-Dam-2023-Landscape-3-845X450.jpg
451
845
Gayle Falkenthal
https://www.waternewsnetwork.com/wp-content/uploads/2018/02/water-news-network.png
Gayle Falkenthal
2023-08-01 16:31:24
2023-08-01 16:35:41
Santee Garden Oasis Wins 2023 Padre Dam Municipal Water District Landscape Contest