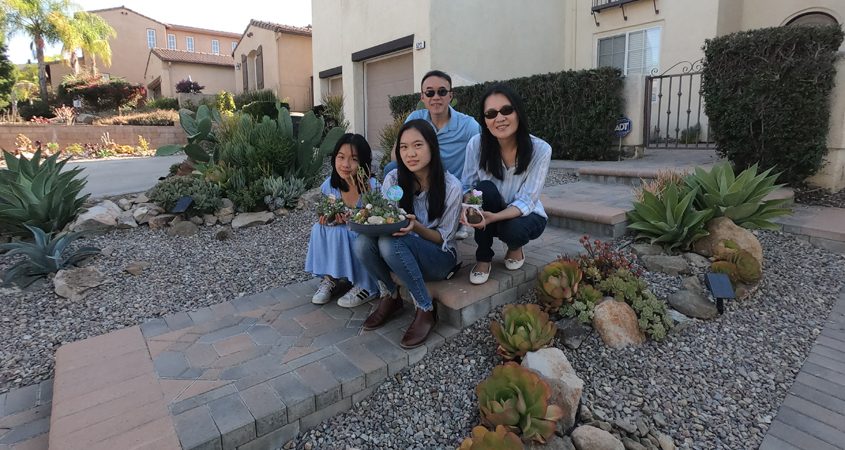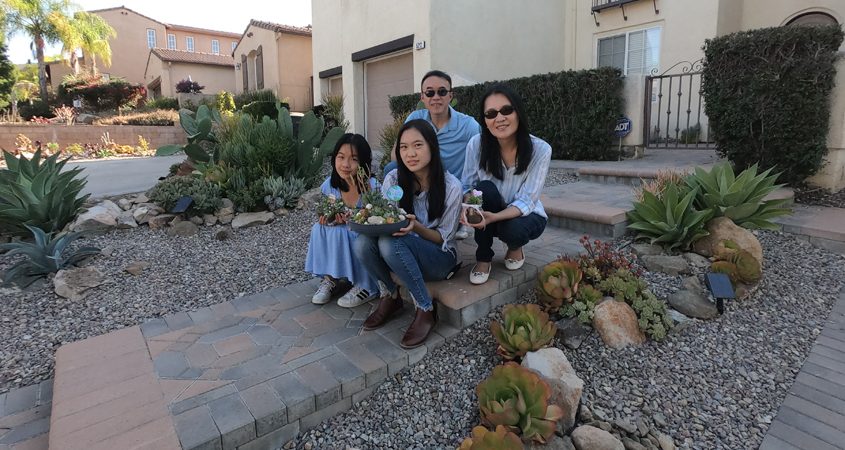 The 2023 regional WaterSmart Landscape Makeover competition is open. The annual contest seeks the best in landscaping makeover projects from 12 participating San Diego County water agencies.
Showcasing residential water-saving landscaping projects highlights water conservation efforts, as a hotter, drier climate is forecast for the region. Winning examples also help inform and inspire other homeowners to consider replacing their water-guzzling, turf-based yard designs.
Participating agencies in 2023 include: the cities of Escondido, and Oceanside, Helix Water District, Olivenhain Municipal Water District, Otay Water District, Padre Dam Municipal Water District, Rincon Del Diablo Water District, San Dieguito Water District, Sweetwater Authority, Vallecitos Water District, Vista Irrigation District and California American Water.
Each agency winner receives a $250 gift certificate and public recognition for their efforts. Homeowners may also be eligible for turf removal rebates and additional incentives.
This year's contest deadline for all participating agencies is Friday, May 12, 2023. Homeowners may submit their entries online through their participating agency. You must be a resident within agency boundaries to participate.
Turf removal saves 36.5 million gallons per year
Half of urban residential water consumption in California is used for outdoor landscaping – as much as 75% of an average home's water use. With drought becoming the norm despite this season's generous rainfall, the San Diego County Water Authority encourages low-water use landscaping among residents who haven't considered removing turf and reducing landscape irrigation.
When yards contain a lot of turf, it can significantly increase overall water consumption. This is why conservation education efforts focus on replacing turf.
In the last five years,1,290 participants created new landscape plans through the Water Authority's workshops. They converted 1,479,180 sq. ft. of turf with a documented 33% water savings equal to 36.5 million gallons per year.
Waterwise landscaping
By showcasing how beautiful landscape designs can be without relying on lawns through the WaterSmart Landscape Contest, homeowners can showcase their creativity to encourage their neighbors to consider the attractive options for waterwise landscaping.
"We're encouraged by the enthusiastic participation of San Diego County homeowners who are moving away from lawn-intensive landscaping as the default choice," said Water Authority Water Resources Specialist Joni German. "Homeowners are creating lush, colorful, thriving landscapes which are water-efficient and beautiful at the same time."
Free landscape makeover classes offered by Water Authority
The Water Authority offers free options to help homeowners plan their makeovers. Homeowners can start with the Water Authority's free three-hour introductory landscaping workshops.
In-person workshops return this spring for the first time since 2019, starting on Saturday, March 18, at The Water Conservation Garden in Rancho San Diego. Workshops are also available through a virtual option as a convenient alternative.
The Water Authority's WaterSmart Landscape Makeover four-class workshop series offers more specific planning for homeowners. See the course page for the most current schedule and to sign up.
(Editor's Note: The cities of Escondido, and Oceanside, Helix Water District, Olivenhain Municipal Water District, Otay Water District, Padre Dam Municipal Water District, Rincon Del Diablo Water District, San Dieguito Water District, Sweetwater Authority, Vallecitos Water District, and Vista Irrigation District are 11 of the San Diego County Water Authority's 24 member agencies that deliver water across the San Diego County region.) 
https://www.waternewsnetwork.com/wp-content/uploads/2022/09/VWD-Chen-Family-845X450.jpg
450
845
Gayle Falkenthal
https://www.waternewsnetwork.com/wp-content/uploads/2018/02/water-news-network.png
Gayle Falkenthal
2023-03-03 15:31:13
2023-03-04 11:54:26
Landscape Makeover Contest Open For 2023 Entries