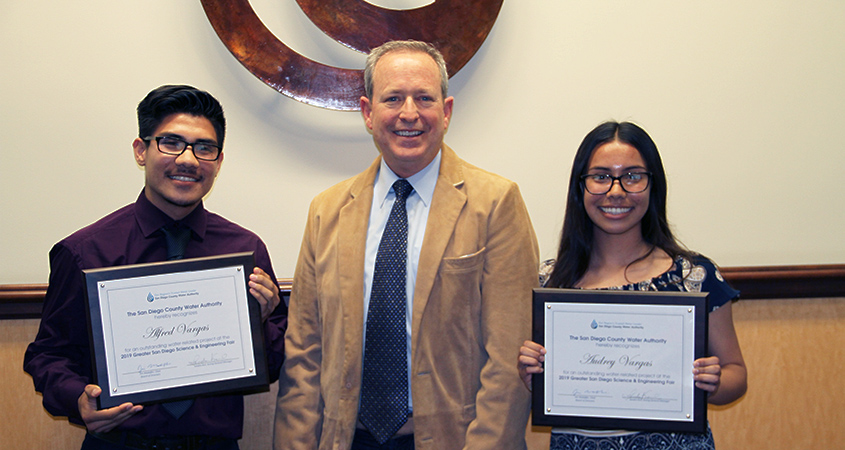 On April 25, the San Diego County Water Authority Board of Directors honored the latest group of water-related award winners from the Greater San Diego Science and Engineering Fair as part of the agency's effort to inspire young people to pursue water industry careers.
This year's middle school and high school science and engineering projects displayed a wide range of innovative ways to solve a variety of water issues people face today.
In the senior division, Alfred and Audrey Vargas won the first place award with the design of a new device to treat wastewater and generate electricity simultaneously using hydrogen fuel cell technology. The siblings, who attend Sweetwater High School, also won their division last year and continue their work in designing devices and systems that can potentially be used in developing countries where resources are scarce.
Alfred and Audrey have been competing in science fairs since they were in middle school and have always been inspired by a drive to solve world water issues in affordable ways.
"As we're looking for the next generation of water industry professionals, events like the Greater San Diego Science and Engineering Fair are the perfect opportunity to connect with and support students who are already interested in relevant water issues," said Water Authority principal public affairs representative Risa Baron, who helped select the winners. "These young thinkers and inventors can make huge strides in solving future water challenges around the world."
Finding inspiration in the natural world
Cambridge School student Emily Tianshi won the second place award in the senior division. She looked beyond the ocean views at Torrey Pines State Park to see the intelligent ways that nature sustains itself and how those can be imitated.
Emily spent the past three years perfecting a design for a device that can capture moisture from the air like Torrey Pine needles do. Using 3-D printing technology to bring her project to life, Emily demonstrated that the naturally occurring ridges of Torrey Pine needles efficiently collect water, and she designed a model of a device that would mimic the shape of the needles.
Middle school students display stellar scientific knowledge and creativity
In the junior division, Brendan Cordaro and Max Shaffer from Saint John School in Encinitas teamed up to win first place with "The Water Maker," a homemade device that transformed a miniature refrigerator into a means of collecting water from the air.
Oliver Trojanowski, who is also a middle school student at the Saint John School, won the second place award in the junior division. Oliver surveyed several sites in the region to test for water quality and determine toxicity levels in stormwater runoff.
Matthew Angulo from the Corfman School in El Centro earned the third place award in the junior division. He travelled over 100 miles to showcase his results from several tests of water samples from the Colorado River.
Welcoming the next generation of water professionals and leaders
More than 2,800 people across all levels of educational attainment work at the Water Authority and its 24 member agencies to provide safe and reliable water supplies to the region.
The Water Authority and its member agencies are committed to fostering the next generation of industry professionals and leaders. Engineers, system operators, maintenance technicians, customer service representatives and utility workers are just some of the many careers available in the water industry.
https://www.waternewsnetwork.com/wp-content/uploads/2019/04/Seniors-and-Chair-845x450_2.jpg
450
845
Kristiene Gong
https://www.waternewsnetwork.com/wp-content/uploads/2018/02/water-news-network.png
Kristiene Gong
2019-04-30 09:25:34
2019-05-06 14:45:47
San Diego County Students Shape the Future of Water