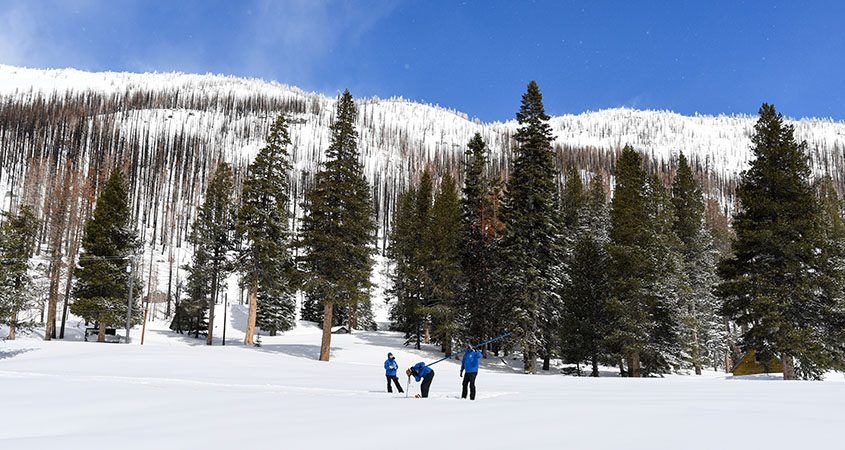 After a three-year drought in California and throughout the Southwest, many states throughout the West are measuring record snowpack conditions at NRCS SNOTEL stations and snow courses. Utah especially has seen a benchmark year for snowfall levels throughout the state.
Record snowpack
In California, the statewide snowpack (April 5) was 243% of normal, with the Northern Sierra at 198%, Central Sierra at 242%, and Southern Sierra at 302%. The California Department of Water Resources reported that the 2022-23 season will go down as one of the largest snowpacks on record in California.
California's snowpack is one of the biggest ever. DWR is reaching new heights to capture data to inform water supply forecasting and help local agencies plan for the spring snowmelt season.
–#california #water #cawater #snow pic.twitter.com/M2dbcy3Ej0

— CA – DWR (@CA_DWR) April 5, 2023
In Nevada and Utah, current SWE percentages of median for select basins are as follows: Central Lahontan 273%, Central Nevada Desert Basins 267%, Great Salt Lake 224%, Lower Green 202%, Upper Colorado-Dolores 207%, and Upper Colorado-Dirty Devil 219%, according to the NRCS SNOTEL network.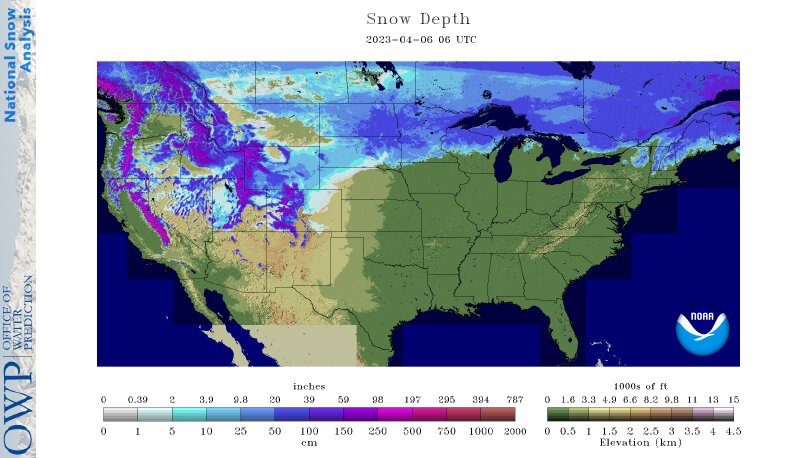 In Arizona and New Mexico, snowpack levels are above normal, especially in the ranges of northern and central Arizona. In Arizona, the total reservoir system (Salt and Verde River system) is currently 100% full as compared to 72% full at the same time last year, according to the Salt River Project. For the Colorado River system, the U.S. Bureau of Reclamation is reporting (April 4) Lake Mead at 28% full and Lake Powell at 23% full."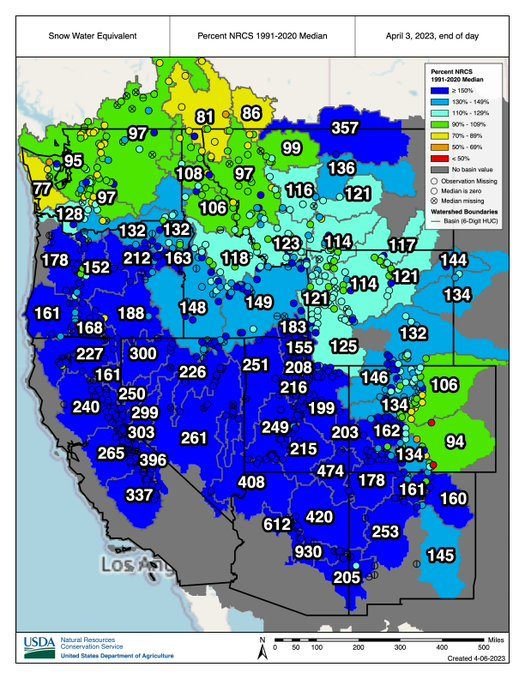 Agricultural weather highlights
"A significant Western warming trend during the weekend and early next week will increase streamflow due to melting snow. On April 10-11, temperatures should briefly top 95°F in lower elevations of the Desert Southwest. Periods of Northwestern precipitation will add to the runoff potential in that region. Meanwhile, little or no precipitation will fall during the next 5 days across a vast swath of the country, including southern California and the Plains, Southwest, Midwest, and Northeast.
The #Sierra snowpack is near its climatological peak, and looking at today's numbers from @CA_DWR, the statewide percent of avg sits at 243% for April 5. The southern Sierra is an "eye-popping" 302% of avg. Track the melt into area rivers at https://t.co/Vab3udGkyz #CAwater #CAwx pic.twitter.com/k7FKQP92kl

— NWS California-Nevada RFC (@NWSCNRFC) April 5, 2023
Farther south, however, 5-day rainfall could total 1 to 3 inches or more from eastern Texas to the Carolinas, with the bulk of the rain falling by Saturday. The NWS 6- to 10-day outlook for April 11 – 15 calls for the likelihood of below-normal temperatures in California, the Great Basin, and the Northwest, while warmerthan-normal weather will dominate the central and eastern U.S. Meanwhile, above-normal precipitation from the Rockies into the Plains and upper Midwest should contrast with drier-than-normal conditions in the East (excluding Florida's peninsula) and much of California."
(Editor's Note: The Natural Resources Conservation Service produces the weekly Water and Climate Update using data and products from the National Water and Climate Center and other agencies. The report focuses on seasonal snowpack, precipitation, temperature, and drought conditions in the U.S.)
https://www.waternewsnetwork.com/wp-content/uploads/2023/04/CA-DWR-Snow-Survey-Primary-April-2023-Record-Snowpack.jpg
450
845
Ed Joyce
https://www.waternewsnetwork.com/wp-content/uploads/2018/02/water-news-network.png
Ed Joyce
2023-04-07 17:04:56
2023-04-07 17:04:56
Record Snowpack Conditions in California, Parts of Southwest