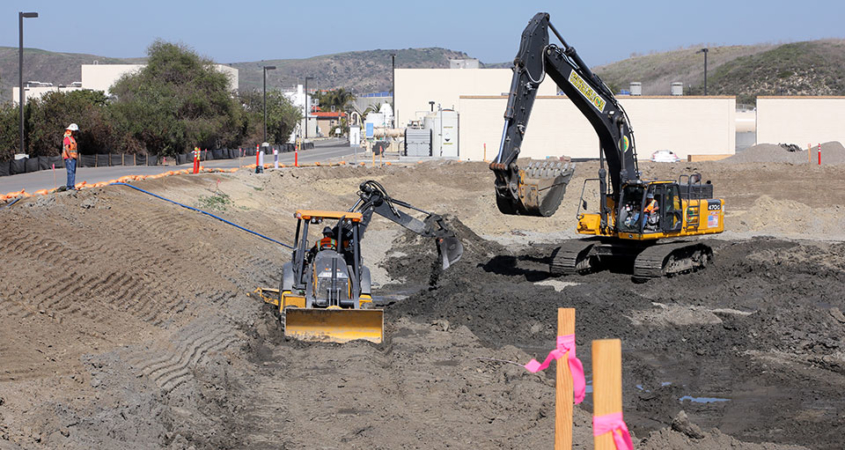 The Pure Water Oceanside project is getting a $69 million loan from the U.S. EPA that will finance nearly half of the project's construction cost.
EPA officials announced the loan at an event today in Oceanside attended by federal, regional and local officials.
The innovative water reuse project will purify recycled water to create a new source of high-quality drinking water that is clean, safe, drought-proof and sustainable. It also will benefit the environment by reducing discharges into the Pacific Ocean. Construction and operation of the plant is expected to create 622 jobs.
Scheduled to be completed in 2022, Pure Water Oceanside will be the first operating advanced water purification facility in San Diego County. The project will provide more than 32% of the City of Oceanside's water supply, or 3 to 5 million gallons per day.
Sustainability, drought-proof water supply
"The City of Oceanside is proud to be a leader in sustainability and water reliability," said Oceanside Mayor Peter Weiss. "Pure Water Oceanside marks the next big step for our City as the project will safeguard against drought, reduce our dependence on imported water, and create an exceptionally pure drinking water supply."
"I appreciate the U.S. EPA in their funding support as it is a critical aspect for Oceanside's ability to continue to improve our local water supplies while minimizing our impact to our ratepayers," said Weiss.
Loan supports infrastructure investments
"At the City of Oceanside, we are focused not only on today, but also are committed to planning for tomorrow to ensure future generations will have access to high-quality drinking water," said Oceanside Water Utilities Director Cari Dale. "This loan will be instrumental in moving our Pure Water Oceanside project forward to completion and aligns with our long-term goal to have 50% of our city's water supply be locally sourced by 2030."
The Water Infrastructure Finance and Innovation Act (WIFIA) loan to help finance the Pure Water Oceanside Project comes at a critical time, as the federal government, EPA, and water industry work to offset the public health and financial impacts of COVID-19.
The Pure Water Oceanside project is estimated to cost $158 million, and the WIFIA loan will finance nearly half of that cost, according to the EPA. The remaining project funds will come from a combination of grants, water system revenue backed obligations, and system funds.
"EPA's support for this project illustrates two agency priorities as we work to meet 21st century water demands — reusing the water that we have and revamping our nation's water infrastructure," said EPA Assistant Administrator for Water David Ross. "With WIFIA's support, Pure Water Oceanside will be a landmark project as EPA looks to foster additional innovative water reuse strategies and infrastructure investments across the country."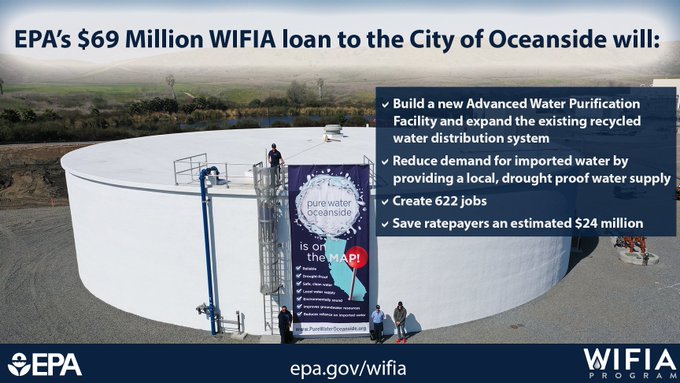 "I am proud and excited for the City of Oceanside and everyone who has worked so hard on the Pure Water Oceanside project," said Congressman Mike Levin, who represents north San Diego County. "Now more than ever, it's critically important that we diversify our water supply. Thanks to Pure Water Oceanside, the City of Oceanside, and this EPA loan, we are one step closer to achieving that independence. This is an extraordinary milestone and will make a huge difference for countless families in North County."
National Water Reuse Action Plan
The water reuse benefits of the project highlight commitments made under the National Water Reuse Action Plan—a collaborative effort and the first initiative of its magnitude aimed at strengthening the sustainability, security and resilience of our nation's water resources. The Action Plan frames the business case that water reuse is a viable and growing means of supporting our economy and improving the availability of freshwater for farmers, industry, communities, and ecosystems.
"By improving water infrastructure, we are improving the quality of life and public health in our communities," said EPA Pacific Southwest Regional Administrator John Busterud. "Through the WIFIA loan program, EPA is happy to support the Pure Water Oceanside Project in ensuring access to clean and safe drinking water for decades to come."
https://www.waternewsnetwork.com/wp-content/uploads/2020/09/PureWaterOside.2.19.2020x016-Water-Authority-WNN.jpg
511
960
Ed Joyce
https://www.waternewsnetwork.com/wp-content/uploads/2018/02/water-news-network.png
Ed Joyce
2020-09-17 13:09:39
2020-09-17 15:07:04
Pure Water Oceanside Recycling Project Gets $69 Million EPA Loan