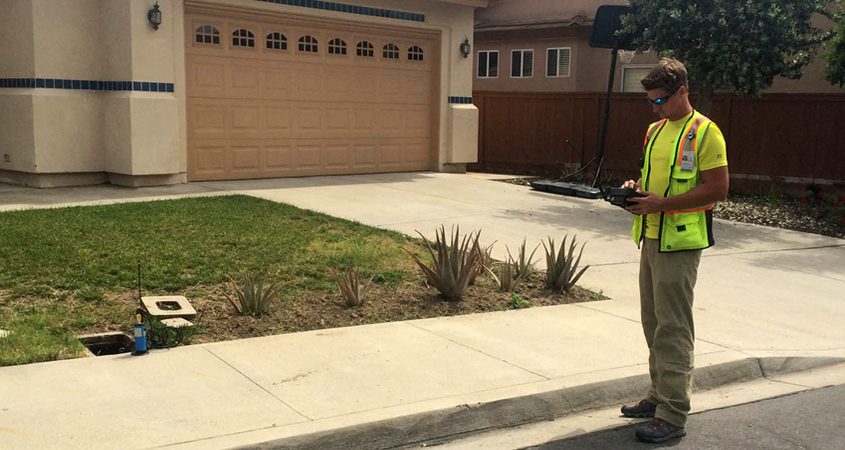 As part of its preventive maintenance program to safeguard its water supply and reduce water loss, the Otay Water District is conducting leak inspections of its pipeline system. Leak detection and repair programs save water by ensuring water system integrity. The District uses state-of-the-art equipment to inspect its water distribution system for leaks in pipelines, meters, and valves. The equipment is designed to "listen" for leaks and can pinpoint the location of even the smallest water leak. Once identified, crews will schedule the needed repairs.
Otay's contractor, Utility Services Associates, will inspect approximately 173 miles of potable water mains in Rancho San Diego, El Cajon, and Jamul, along with potable and recycled water mains in areas of Chula Vista. The work is now underway.
Water leaks often account for a substantial portion of lost revenue in water utility systems. If just small single-digit percentages of water carried by the Otay Water District's pipelines were lost to leaks, it would cost hundreds of thousands of dollars per year and waste a precious resource.
System maintenance: Leak inspections underway at homes and businesses
Otay Water District customers may see workers inspecting the meter in front of their home or business, typically between 7 a.m. and 5 p.m., Monday through Friday. Some weekend and night work may also be required. The duration of the inspection can range from a few minutes to one day.
Workers will be wearing a Utility Services Associates logo and carry company identification. They will not need access to customers' homes or property but may contact customers if they need to momentarily shut off their water supply for further testing. They will not shut off the water supply without permission from someone at the home or property.
Workers may be lifting water meter covers, inspecting, and attaching equipment to meters or valves. If a leak is suspected, the Otay Water District will contact the customer and advise them of the potential leak.
The inspection has an estimated completion date of Friday, April 29, 2022, subject to weather and other circumstances.
Customers with questions on the Leak Detection Program can contact Otay Water District's customer service representatives at (619) 670-2222.
(Editor's note: The Otay Water District is one of the San Diego County Water Authority's 24 member agencies that deliver water across the metropolitan San Diego region.)
https://www.waternewsnetwork.com/wp-content/uploads/2022/01/OtayLeak-Detection-Program-845X450.jpg
450
845
Gayle Falkenthal
https://www.waternewsnetwork.com/wp-content/uploads/2018/02/water-news-network.png
Gayle Falkenthal
2022-02-01 07:00:01
2022-02-01 07:28:51
Otay Water District Invests in Preventive System Maintenance