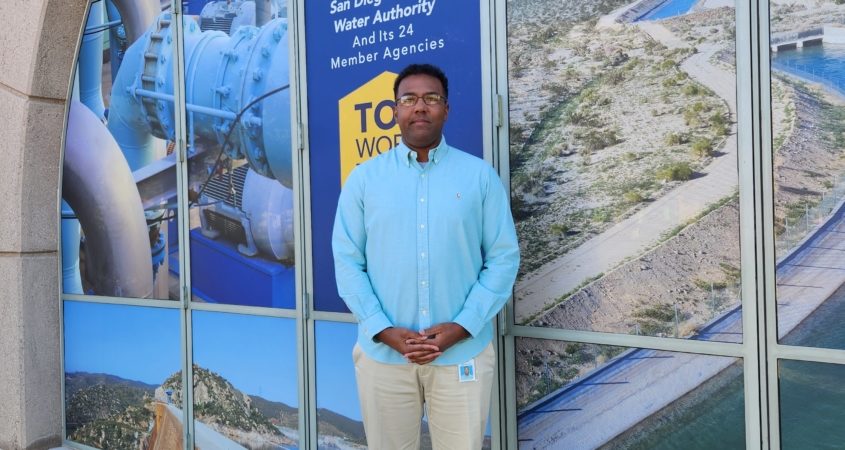 As Shawntrel McCoy closes out his 20 years in the U.S. Marine Corps, he'll be spending his last six months pursuing his passion for environmental science in the SkillBridge Program at the San Diego County Water Authority. The program is helping military veterans transition to career-track training opportunities, including work in the water and wastewater industry.
There wasn't originally a SkillBridge position in the environmental section of the Water Resources Department, but after discovering that the Water Authority was looking for SkillBridge interns McCoy decided it was worth looking into.
Marine Corps veteran lands at Water Authority
"That's when I realized they [the Water Authority] had a whole webpage dedicated to SkillBridge. So that's when I made the phone call and started working on the process," McCoy said.
This phone call led to an interview, which ultimately landed McCoy his spot as the Water Authority's newest SkillBridge intern. McCoy's education – Bachelor of Arts in Environmental Science with a concentration in Fish and Wildlife management and sustainability – gave him most of the background needed to start off strong in his new position.
SkillBridge Program a "win-win"
Since joining the federal program in June 2020, the Water Authority has had six SkillBridge interns working in various departments. The program is a win-win for both employers and the transitioning military service member – the military service member can work fulltime in a participating agency for the last 180 days of their active duty gaining valuable civilian work experience, and the employer gains early access to the extensive experience, skills, and unmatched work ethos service members bring to the workforce, all at a very low cost. The service member continues to earn his wages and benefits from the military during the internship.
Even though his official start date wasn't until early January, McCoy opted to begin preparing for his role two months before his first day as a part of the SkillBridge program. The environmental section of the Water Resources Department is a very specific niche, McCoy said, and he didn't want to spend more time than he had to "trying to play catch up." McCoy remembers the support he received during these early months:
"There's only two people under the environmental section and they've both taken me under their wings and have been mentoring me. Just yesterday we visited three different sites to make sure that they were close to being complete. They've been doing great with the mentoring aspect."
Valuable training
With McCoy's internship well underway, a typical day of work can involve anything from planning meetings with contractors, screening documentation and analyzing data as well as the occasional site visit, which McCoy said is his favorite aspect of the job. His main project right now is tied with the newly finished FRS II structure in Mission Trails Regional Park.
"I'm currently helping the contractors to implement revegetation at that site so all the bare soil, after five years, can establish native vegetation," McCoy said.
A job in the water industry was an option that stood out to McCoy when he was going through school since it involved social, economical and environmental factors. What drew McCoy into working specifically in the environmental section of the Water Resources Department was the opportunity to give back to the community, just like in his military service, while pursuing his passion for science in nature conservation.
"Ideally I'd love to stay at the Water Authority. I love it right now, it's exactly what I wanted to do," McCoy said. "I would love to stay with the company that's teaching and mentoring me right now and just keep it going."
Job opportunities in the water industry
The opportunities for both transitioning servicemembers and local water agencies are significant. More than 30,000 service members separate from the military each year in California, and more than half are transitioning out of active duty in the San Diego region.
Roughly half of the current water industry workforce in the San Diego region will be eligible to retire in the next 15 years – and approximately 1,400 water and wastewater industry jobs are expected to open in the region in the next five years.
https://www.waternewsnetwork.com/wp-content/uploads/2023/02/20230201_102025-scaled.jpg
2560
1920
Noah Harrel
https://www.waternewsnetwork.com/wp-content/uploads/2018/02/water-news-network.png
Noah Harrel
2023-02-07 08:22:33
2023-02-07 10:54:01
Marine Corps Veteran Shawntrel McCoy Finds His Perfect Fit in the SkillBridge Program