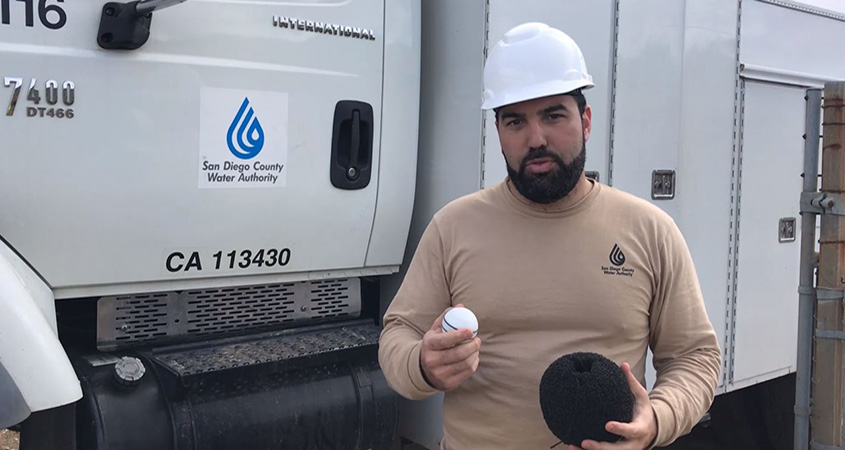 It's a whole new ballgame for the San Diego County Water Authority when it comes to finding leaks in major pipelines with cutting-edge technology.
One new tech tool deployed for the first time in February actually looks like a tennis ball that floats through water-filled pipelines scanning for potential trouble.
Of course, the new device is much more complex inside than a tennis ball – in fact, the Nautilus is among the most advanced tools of its kind in the world.  It not only detects defects that are invisible to the human eye, it does so without requiring pipes to be drained, which saves a significant amount of water and disruption to customers.
Innovation Leader
The Nautilus is just the latest component of the Water Authority's cutting-edge Asset Management Program that has been adopting and developing innovative tools for more than two decades. In fact, the Water Authority has been recognized by the American Water Works Association as a leader in the water industry for its focus on asset condition assessment, risk management, proactive pipeline replacement, and use of cutting-edge technology that saves ratepayers money.
"These high-tech tools are cost-effective and fit perfectly with our proactive approach to managing our infrastructure, including 310 miles of large diameter pipelines and 1,400 pipeline structures," said Nathan Faber, an operations and maintenance manager with the Water Authority. "Our mission is to find potential failures in the system in advance, rather than react after a failure."
'Listening' for leaks
The Nautilus uses acoustic feedback to detect leaks or abnormalities in active pipelines without causing any disruption to water service or supply, Faber said. About the size of a tennis ball, the Nautilus is placed inside a larger, sterilized foam ball, to float through operating pipelines.
For the First Aqueduct scan, 26 sensors, called synchronizers, were installed on various structures on the outside of the pipeline. Those sensors relayed information to the Nautilus as it floated between checkpoints. No leaks were discovered in the tested portions of the pipeline.
Digital Resolution
Leveraging new technology to gather data and pinpoint pipeline problems saves water and money.
"Responding or reacting after failures can cost up to six times the cost of proactive repairs," Faber said.
He pointed to a recent pipeline repair project in La Mesa, where a Light Detection and Ranging device, or LIDAR, was used inside a pipe to provide highly-accurate digital measurements.
"The LIDAR took 1,600 measurements in five seconds," Faber said. "The high-resolution images showed stressed pipe and verified cracking issues that allowed crews to make an efficient, proactive repair."
https://www.waternewsnetwork.com/wp-content/uploads/2019/03/Nautilus-Tech-Sami-Sweis-WNN-845x450.jpg
450
845
Ed Joyce
https://www.waternewsnetwork.com/wp-content/uploads/2018/02/water-news-network.png
Ed Joyce
2019-03-28 14:59:09
2019-04-02 10:40:29
High-Tech Tools Help Detect Possible Pipeline Problems