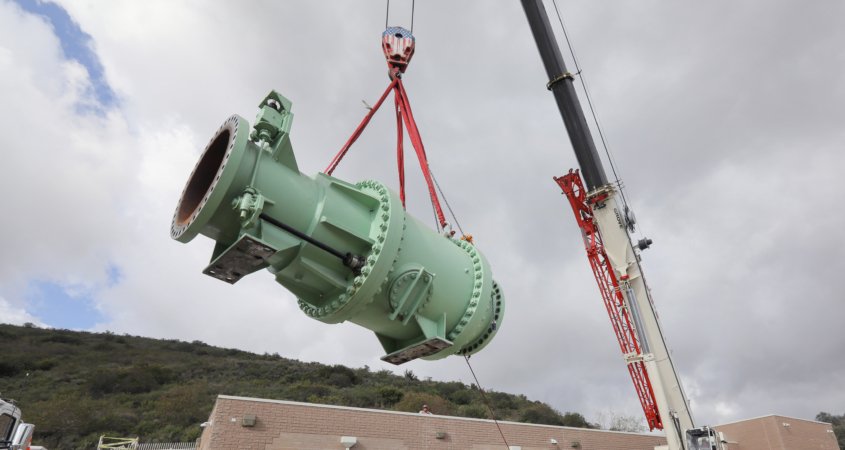 San Diego County Water Authority crews recently replaced two pickup truck-sized valves at the agency's Pressure Control and Hydroelectric Facility in central San Diego – each valve weighing about 35,000 pounds.
The replacement project took place during a scheduled shutdown of a portion of Pipeline 5, which delivers untreated water throughout the county. The pressure-control facility is a key piece of the Emergency and Carryover Storage Project, which ensures water is available around the region if imported water deliveries are disrupted.
Several large-diameter valves in the facility control the pressure and quantity of water delivered to reservoirs and water treatment plants in eastern and southern parts of the county. In addition, a hydroelectric turbine in the facility generates supplemental electricity that reduces the Water Authority's energy costs while supplying surplus power to the region.
Facility upgrades for infrastructure efficiency
"The new valves will allow the facility to function efficiently at both low and high water flows, depending on regional demand," said Kirk Whitaker, a senior engineer at the Water Authority. "The project is part of ongoing improvements that enhance the flexibility of our regional water delivery system."
To perform the valve replacement, a large crane lifted the existing valves out of the facility through the roof and placed them onto flatbed trucks for delivery to a disposal and recycling site. The new valves were then lowered into the facility through the roof and fitted with new 42-inch pipeline sections. Concrete was poured to build pedestals that secure the valves in place.
The new valves were produced in Germany and transported to San Diego by ship. The valve installation process took four days to complete.
Enhancing regional aqueduct operations
The Pressure Control and Hydroelectric Facility serves an important function in improving aqueduct operations and enhancing the flexibility of the Water Authority's extensive water delivery system. The $21 million facility was completed in 2007 and pressurizes a 22-mile-long section of the Water Authority's large-diameter Pipeline 5 between San Marcos and Mira Mesa.
The pipeline previously conveyed water in one direction only, from north to south, by gravity. This limited the Water Authority's ability to move water around the county in the event of a supply disruption. Upgrades to Pipeline 5 now allow water to be transported either north or south using water stored at San Vicente Reservoir, which greatly improves pipeline operations and ensures that water can continue flowing to member agencies.
https://www.waternewsnetwork.com/wp-content/uploads/2021/03/Valves.03.09.2021x014-845x450-1-scaled-e1616531659413.jpg
450
845
Kristiene Gong
https://www.waternewsnetwork.com/wp-content/uploads/2018/02/water-news-network.png
Kristiene Gong
2021-03-23 16:14:57
2021-03-26 07:22:03
Heavy Metal: Facility Upgrades Enhance Flexibility of Regional Water System